Wide Labor Support Helps Grocery Warehouse Workers Hang Tough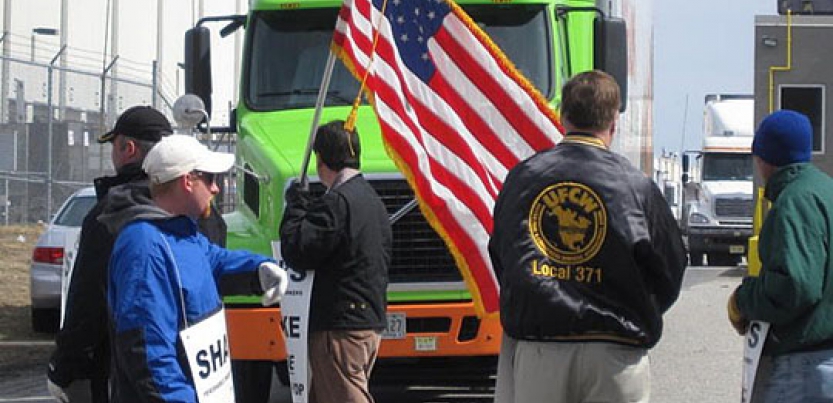 Grocery warehouse workers in northern Massachusetts are putting up a spirited fight with wide support from the rest of labor as their strike ends its sixth week. Workers and allies are making Shaw's Supermarkets the poster child for corporate greed in the state.
The 310 members of Food and Commercial Workers Local 791 (UFCW) at Shaw's Distribution Center in Methuen, 30 miles north of Boston, voted overwhelmingly to reject the company's demand for increased employee health care contributions, which would result in a net loss for workers during the term of the contract.
The warehouse delivers food to Shaw's supermarkets across New England. Shaw's is a division of food giant Supervalu, which has remained profitable in the recession (as people eat out less), announcing a quarterly profit in January of $109 million.
The new CEO of Supervalu, Craig Herkert, is the former president/CEO of Wal-Mart's operations in North and South America. Supervalu could pay Herkert a bonus of $2.5 million if the company meets certain targets for net earnings.
Shaw's took a tough line from the beginning, hoping to exploit workers' economic anxieties; many have young families. On April 1 the company cut off their health care coverage, including to pregnant women and children with serious medical conditions.
Shaw's followed up its refusal to bargain by announcing it would lay off 4 percent of its workforce in its supermarkets, inviting those workers to apply for the warehouse jobs. Management announced strikers would be permanently replaced and has begun hiring scabs.
ENTHUSIASTIC SUPPORT
What the company didn't count on was the determination of the workers, their decision to take their fight to the public, and the rallying behind them of the whole labor movement with broad community support. With help from Massachusetts Jobs with Justice, the Mass AFL-CIO, central labor councils, and the UFCW regional and national union, an aggressive campaign is keeping the strike in the news and the company on the defensive.
The first decision was to expand picketing to Shaw's non-union stores rather than just the distribution center itself. (Local 791 also represents some Shaw's stores in southeastern Massachusetts and Rhode Island.) Picket lines are up at 15 stores full-time, and business at those stores is way down.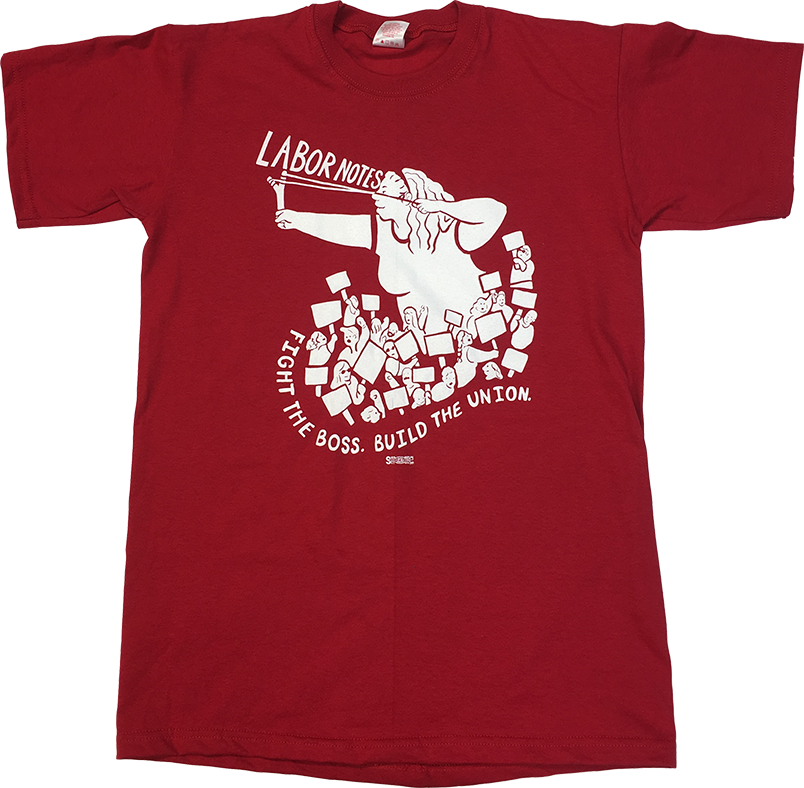 Help Put the Movement Back in the Labor Movement
Become a Labor Notes Monthly Sustaining Donor
Monthly donors receive a free "Fight the Boss, Build the Union" T-shirt and a subscription to our magazine. Donate Now. »
Twenty-five unions have stepped in to adopt other stores, leafleting and picketing there to great effect. Community delegations are visiting their local stores and vowing to boycott until the strike ends. Students, religious and political leaders, health care activists, and just plain angry people have made the lives of store managers a misery.
Plans are under way to expand picketing to more stores while developing more militant and creative actions and a major push to bring political and economic pressure for a fair settlement. The workers are determined to last one day longer than the greed-addled executives who have clearly bitten off more then they can chew.
"Despite difficult circumstances our members remain strong and committed," said Peter Derouen, political director of Local 791 and strike coordinator. "We're inspired by the outpouring of support from the community and our brothers and sisters in the labor movement. We won't back down."
---
Checks for the strike fund can be made payable to "UFCW Local 791 Methuen D.C. Strike Fund" and mailed to UFCW Local 791, 55 Norfolk Ave., South Easton, MA 02375.
Russ Davis is executive director of Massachusetts Jobs with Justice.