Put an ENDA to Discrimination
It is legal to fire lesbian, gay, bisexual, or transgender workers for no other reason than their sexual orientation or gender in most states. LGBT people are organizing to change that, and have gotten the Employment Non-Discrimination Act introduced in Congress.
Even though a 2007 Gallup poll found that 89 percent of Americans believe that LGBT people deserve protections on the job, Washington has proved elusive.
A 2007 study by the UCLA School of Law found up to 43 percent of LGB people reported being discriminated against on the job, including harassment and firings based on sexual orientation.
Many organizations are taking on the fight for ENDA. The website of Pride at Work, the AFL-CIO affiliate, has resources for LGBT workers and information on how unions can support ENDA.
Donna Cartwright, Pride at Work co-president, explains, "It is vital that Congress pass ENDA in its current, fully inclusive form." ENDA will help "those who are not protected by union contracts or state or local legislation" who are "extremely vulnerable to bias on the job."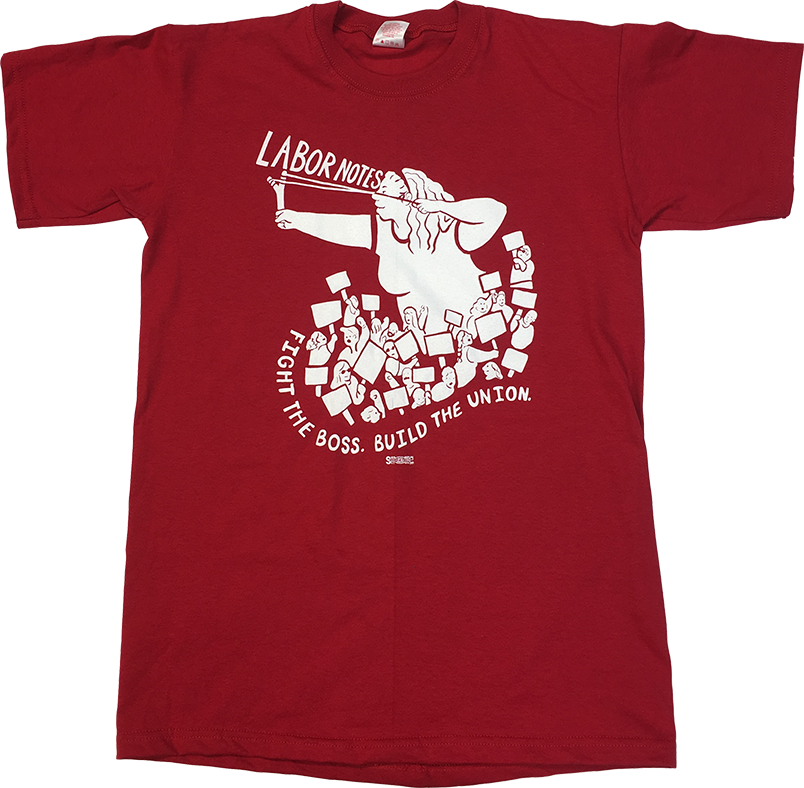 Help Put the Movement Back in the Labor Movement
Become a Labor Notes Monthly Sustaining Donor
Monthly donors receive a free "Fight the Boss, Build the Union" T-shirt and a subscription to our magazine. Donate Now. »
The situation is dire for transgender people, 57 percent of whom have faced workplace discrimination. According to Cartwright, unemployment among transgender people is twice the national average, similar to the African American unemployment rate.
Workplace discrimination reinforces homelessness in the LGBT community, with LGBT youth making up 25 to 40 percent of all homeless young people.
If you are one of the many LGBT people who have been discriminated against at work, the American Civil Liberties Union wants to hear your story, to help mount an attack on workplace discrimination. Visit tiny.cc/js75x to speak up for your rights.
GetEqual, a new organization devoted to full social and legal equality for LGBT people, has staged sit-ins at Speaker Nancy Pelosi's offices in California and D.C. to demand a vote on ENDA. Add your name to the protest. The Human Rights Campaign has also set up a site to write to Congresspeople.