Bus Drivers Win First Contract After Strike and Lockout at University of Alabama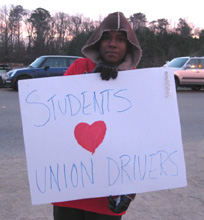 updated March 9
Bus drivers at the University of Alabama in Tuscaloosa won a first contract after they were locked out last week following a one-day strike. The deal secures a $1.50 an hour raise and employment security, key sticking points that led to the strike. The drivers endured nine months of bargaining where their employer—a contractor—demanded at-will employment and frozen wages.
On March 1 about 60 drivers, members of Amalgamated Transit Union Local 1208, authorized a strike and took to the picket line to achieve a first contract. Just more than half the drivers honored the strike.
By mid-afternoon a negotiator for the contracted bus operator, First Transit, called ATU International Vice President Kenneth Kirk and asked to hold negotiations immediately. Drivers voted to come back to work.
Talks on March 2 produced no resolution and the university locked drivers out Wednesday, reducing service by two-thirds and sending home drivers who reported for work.
Tia Brown, a steward, said drivers make only $9.50 per hour. "That is not a fair wage for people who have a commercial driver's license," she said.
The contract, ratified Monday in a 23-1 vote, secures top wages of $12.48 an hour, a grievance procedure, and up to three weeks of vacation, but doesn't improve the health plan or provide sick leave.
"We fought for this and we got it," said driver Kenneth Crout. "I hoped for something a little better but this is a real improvement."
Another driver, Willie Coley, said, "You can't get every single thing you want in a first contract. This is the foundation that we build on."
SMALL VICTORIES, BIG PLANS
The university brought in scabs for the one-day strike and had them drive university vans around the bus routes, but students had longer waiting times because so few buses made it out.
Student activists distributed flyers encouraging people not to ride buses driven by scabs.
Strikers reported small successes, including convincing one scab to drive off after a confrontation. Two other workers who were going to cross the line took off their company jackets and joined the pickets.
"Nothing's ever going to change if you go in there and work for $9.50!" strikers yelled.
When the contract was up for ratification, even a couple of people who scabbed during the strike showed up to the meeting. It seemed perhaps that they changed their mind about the union.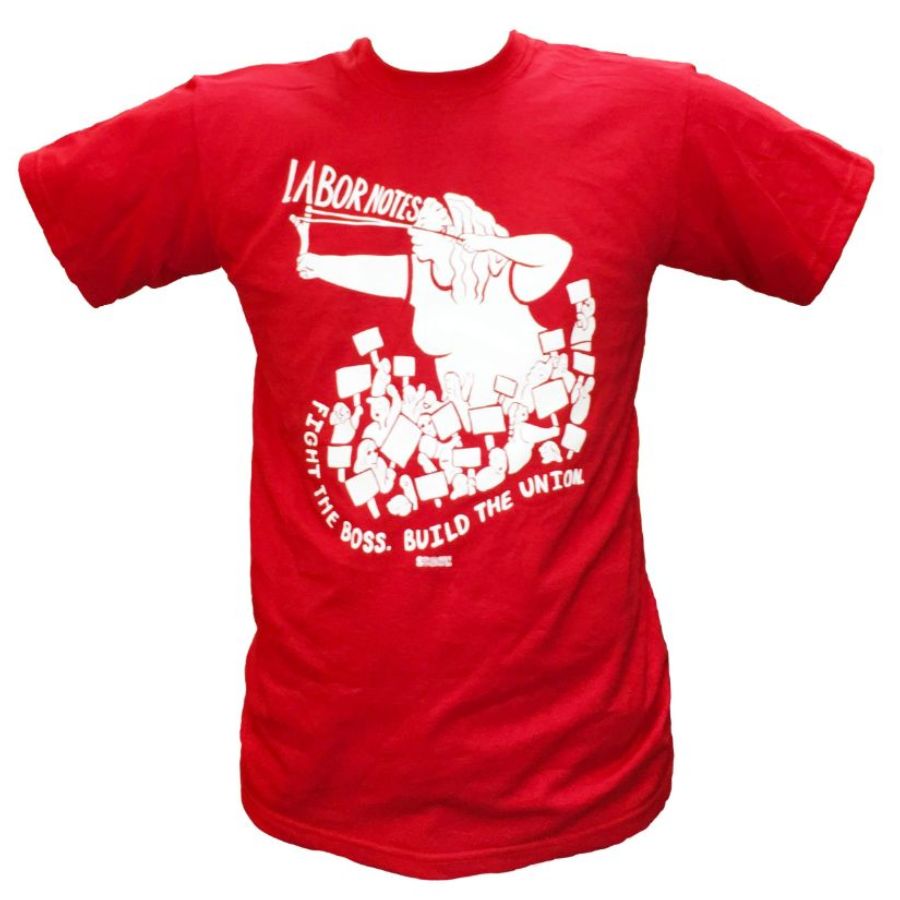 The union's members, officers, and staff are predominantly Black and their fight has given labor struggle a visibility not normally accorded to unions and workers in the Deep South.
The drivers at the University of Alabama formed their union last summer, fed up with low wages, a lack of benefits, and inadequate time off. Their vote was unanimous.
First Transit, a UK-based multinational, spent the next nine months stalling in negotiations. The drivers met with negotiators several times but the offers were abysmal.
First Transit offered the drivers either less than they are getting currently or about the same in wages and benefits. The company had said its contract with the university mandates at-will employment. The union filed several unfair labor practice charges over the company's firing workers for union activity. ATU represents 12,000 workers nationwide at First Transit.
The union used a Freedom of Information Act request to reveal that the university pays $55 an hour per driver to First Transit, helping its parent company score a $200 million profit through the first half of last year.
Drivers at the University of Texas, also under contract with First Transit, make $11.75 an hour starting pay and top out at $17.
The disparity came to light on Alabama's campus as the two schools prepared to face off at the Rose Bowl, college football's championship game.
"It upset a whole lot of people to find out how badly the drivers were being treated," said Clayton Sinyai, ATU"s director of strategic campaigns.
Students leapt on the opportunity to support the drivers. Students for a Democratic Society phone-banked, collected petitions, talked to riders on the buses, and wrote letters to the student newspaper. Together with documentary filmmaker Ginger Jolly and members of the Student Labor Action Movement, they're making a YouTube documentary about the bus drivers' fight for a living wage.
West Alabama's union community pulled together to support the drivers, too. The powerful Steelworkers Local 351L gave ATU space at their hall for its base of operations.
Student activists and the union targeted Robert Witt, the University of Alabama's president. Like countless administrators only too eager to outsource responsibility for the wages and working conditions of people working on their campuses, he has refused to acknowledge the hundreds and hundreds of expressions of support for the drivers.
"We've seen increasing numbers of private contractors coming in to provide service, and this one has come in with the most hostile attitude," Sinyai said. "They used a lot of orthodox union-busting at first, and they are still the most difficult to work with on wages and working conditions."
---
Jake DaSilva is a graduate student in Library and Information Studies and works with the Student Labor Action Movement.