In a Year of Bad News, Stories of Courage and Resistance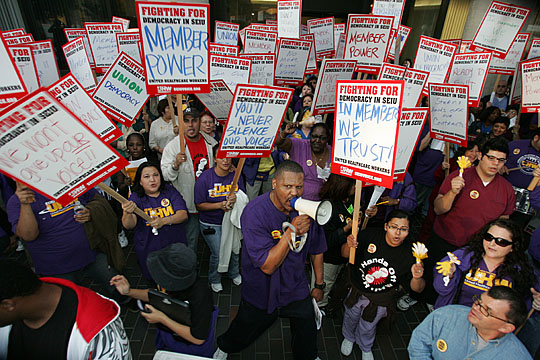 After an exuberant opening of 2009, the year brought mostly bad news for workers and the labor movement. The millions of jobs lost to the recession, unions' tepid response, the crushing disappointments in Congress and unions' role in those defeats, our own internal strife and power struggles—it was not a pretty picture.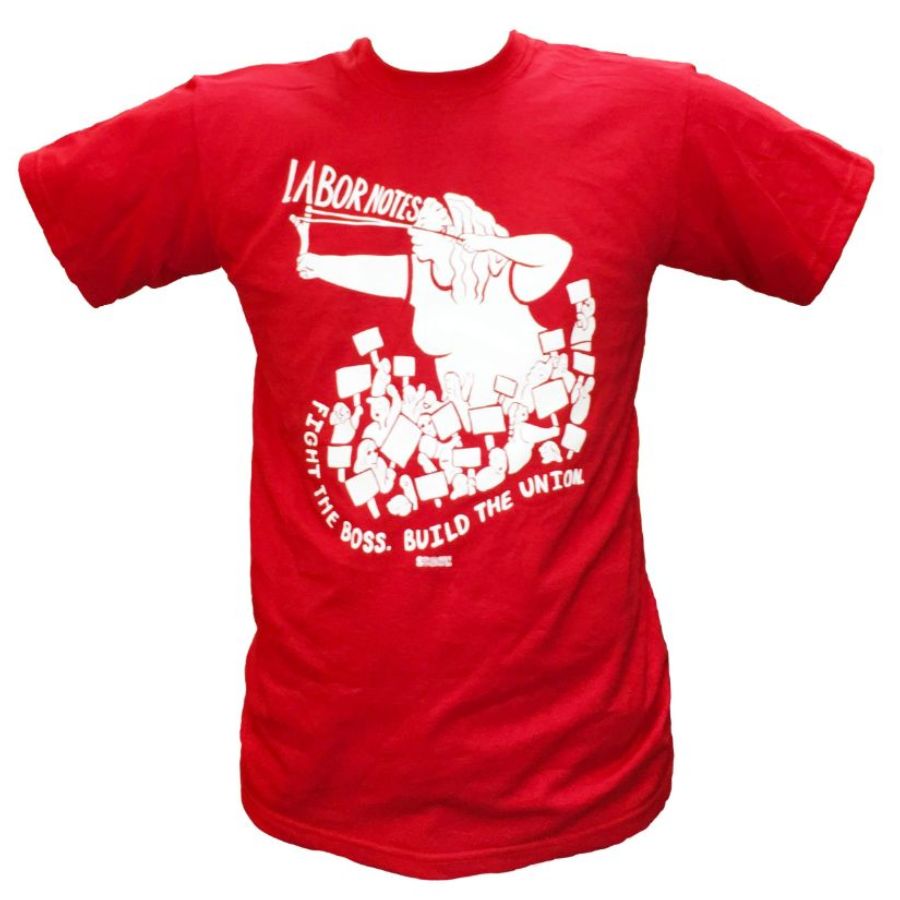 As always, though, someone, somewhere was soldiering on, creating the stories of courage and resistance to inspire the rest of us.
Concessions Sought by Ailing & Healthy.
Concessions were sought by companies both ailing and doing just fine. They were forced on workers in grocery, auto, trucking (pension freeze and a 15 percent wage cut), telecom (cost shifting for health insurance), health care, universities, and public employment (furloughs, pay and pension cuts). Meanwhile the pervasiveness of wage theft against low-paid non-union workers was widely publicized. Photo: CWA Local 1037.

Health Care? Employee Free Choice?
Months of tortured health care reform negotiations finally produced a House bill that promised to bring 2 percent of the population into a government-run insurance plan (down from original estimates of 50 percent). The Senate seems unable to stomach even a shriveled public plan, despite a big lobbying effort by union tops—and the courageous actions of single-payer diehards, who made the health care fight feel like a movement.
After a big push early on, lobbying for the Employee Free Choice Act sputtered out in the fall, although union leaders promised they had reached compromises with hold-out senators. With one-third of 36 open Senate seats expected to be hotly contested next November, expect to hear union bigs counseling patience. Photo: Jim West | jimwestphoto.com.

Teachers Resist. The ills of public education were blamed on teachers, as charter schools nationwide received a boost from billionaire philanthropists, saber-rattling superintendents, and President Obama. His "Race to the Top" makes billions available to school districts that open more charters and tie teacher pay to test scores.
In Los Angeles, Washington, D.C., and Chicago, teacher unions and rank and filers resisted layoffs, merit pay, and school closings with demonstrations, civil disobedience, hunger strikes, community coalitions—and voracious blogging. In several cities unions opened their own schools. Photo: UTLA.

Strikes Short and Rare. Strikes, an endangered species, shrank almost to the vanishing point. Most were short, demonstration strikes, a day or so: University of California workers joining with students to protest concessions and tuition hikes; UNITE HERE in its national Hotel Workers Rising campaign; tens of thousands of Puerto Rican workers against layoffs.
An 11-month strike against cookie maker Stella D'oro won community support in New York City, but management closed the plant and ran away. In Ontario, Steelworker miners at Vale Inco are still out against two-tier after five months. Photo: David Bacon | dbacon.igc.org.

Splits and Unity.
The AFL-CIO and Change to Win considered reunification at the outset of 2009, but a series of internal battles broke out—replete with raids, recriminations, and reform movements—that left labor battered and still divided.
Some internal fights clarified important differences in the movement, though. When the Service Employees trusteed a giant California health care local in January, dissidents created their own union—the National Union of Healthcare Workers. On the power of its activist-volunteer members, NUHW struggled all year to replace SEIU, which stalled representation elections in unit after unit.
NUHW found an ally in UNITE HERE, which was embroiled in its own internal war. That union split in March as UNITE leaders led a quarter of the membership into SEIU, sparking a legal battle over the union's resources and a ground war for members. Big Purple soon joined in with campaigns to undermine or co-opt UNITE HERE—which shot back with some of the same.
The California Nurses Association backed away from the fighting, calling a truce in their long-running feud with SEIU and promising not to compete for nurses. Nurses brought together disparate groups to form their own national union.
By mid-year, a roundabout version of unity had taken shape—in the form of nearly wholesale opposition to the Service Employees' tactics. Twenty-five union presidents pledged to support UNITE HERE against SEIU raids, and UNITE HERE rejoined the AFL-CIO in the fall. Photo: SEIU-UHW.

Government Gives...and Takes Away. The government stepped in to rescue General Motors and Chrysler, but in the process imposed stiff concessions—and a heap of blame—on auto workers. The surprise came later when workers at profitable Ford refused the same cuts—like giving up the right to strike—by nearly 3 to 1. Photo: CAW Local 195.

Union Reform Gains. In New York City union reformers won victories that promised a shake-up. The "Take Back Our Union" slate took over in 38,000-member Transport Workers Local 100, the city's bus and subway workers, who shut down the city for three days in December 2005. And reformers were back in the saddle in 7,000-member Teamsters Local 804 at UPS, the home of former International President Ron Carey. Photo: 804 Members United.