Philadelphia Museum Guards Finally Win Their Own Union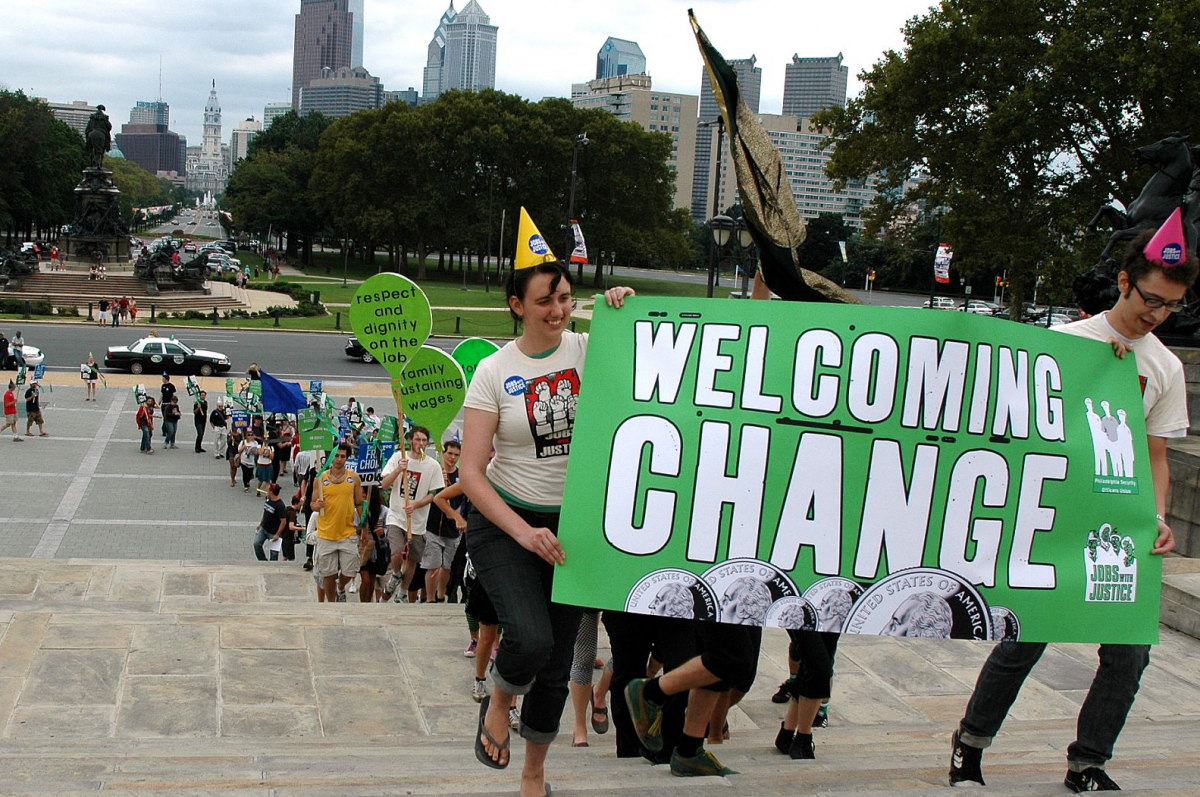 Seventeen years after security guards at Philadelphia's Museum of Art lost their union in a Democratic mayor's privatization spree, they beat long odds in early October and voted in an independent union.
The victory came after a committee of guards organized for years before seeking legal recognition for their union. The success of this unusual "non-majority" union was aided by a tireless Jobs with Justice chapter and the Student Labor Action Project (SLAP) at Temple University.
The 68 to 53 win followed weeks of non-stop activity: a spirited rally on the museum steps, a prayer vigil, and pickets by volunteers, who also infiltrated museum events to call attention to the drive.
Museum management claimed to be neutral but allowed the guards' employer, AlliedBarton, to use textbook union-busting tactics.
Supervisors held mandatory meetings insisting the company's contract would be cancelled if the union won and that any gains would be wiped out by union dues, and implying that supporters risked firing. The guards turned the meetings into grievance sessions, shouting down the supervisors.
In the final days, JwJ and SLAP activists blitzed workers leaving their shifts, the media responded with favorable accounts of the campaign, and supervisors were hounded out of their own mandatory meetings. On both election days volunteers waited outside every door of the museum to gauge how guards would vote, while others gave workers rides from all over the city to vote.
Nervous supporters and off-duty guards waited by the main worker entrance for the final tally, knowing it would be close.
When the count came down, champagne corks and text messages flew, as victorious guards climbed the museum's steps, famous from the "Rocky" film, to celebrate.
ON THEIR OWN
Organizing among the 130 or so guards started about a decade before the vote. The Service Employees (SEIU) had initiated a campaign to unionize security guards nationwide.
The National Labor Relations Board will certify a union for security guards only if no other types of workers belong to the union, even in other workplaces or other states. But SEIU was hoping to pressure employers into voluntary recognition. The largest security firm, AlliedBarton, was controlled by Philadelphia billionaire Ron Perelman, a huge benefactor of the museum and the University of Pennsylvania.
In a surprise move in September 2006, SEIU agreed not to organize the estimated 10,000 AlliedBarton guards in Philadelphia, in exchange for access to guards elsewhere.
Despite SEIU's pull-out, AlliedBarton guards at the University of Pennsylvania, Temple University, and the museum continued to organize, creating a non-majority union called Philadelphia Security Officers Union.
PSOU members agitated with fellow members despite their lack of legal recognition, going up against a behemoth employer. "They are battling with a Goliath of the security industry," said Bishop Dwayne Royster, a longtime supporter.
A joint campaign with Philly JwJ called Philadelphia Officers and Workers Rising (POWR) culminated in 2008, winning one day's sick leave per year of service, up to three.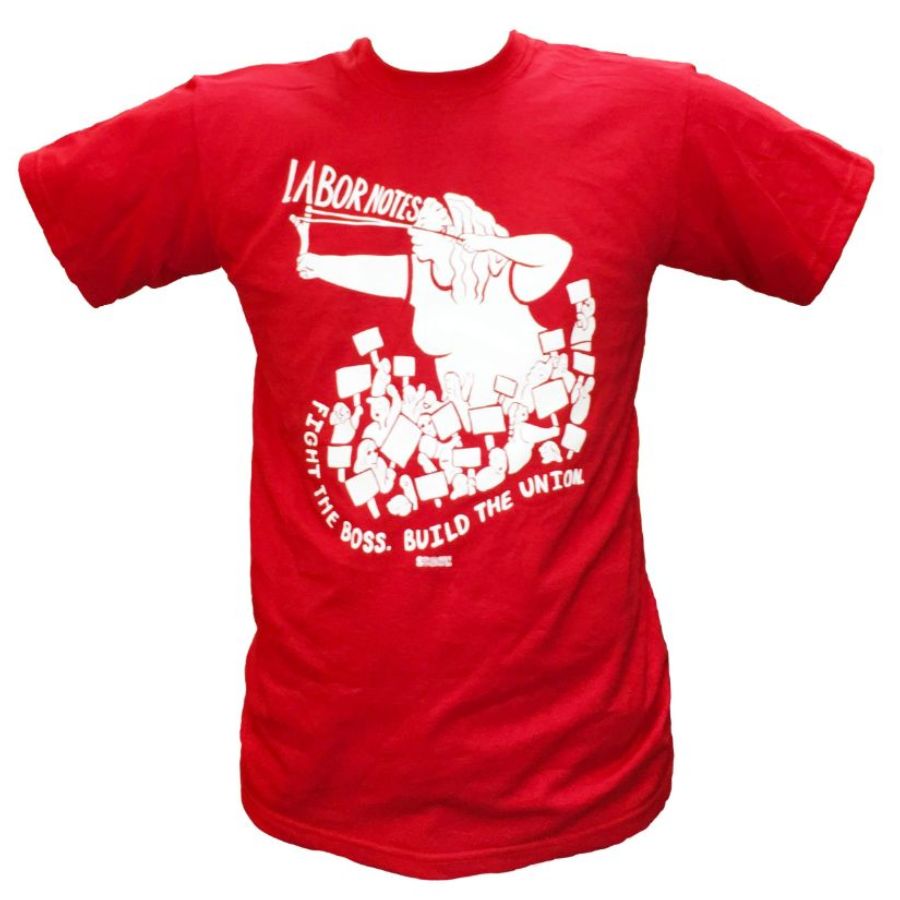 Museum guards, however, still weathered daily abuse from supervisors while making $19,000 a year before taxes—without paid leave or affordable health care.
Cecilia Lynch, a guard with AlliedBarton for 10 years, began to ask why they shouldn't demand more, and why they shouldn't form their own union.
JwJ organizer Eduardo Soriano-Castillo began to help the guards self-organize on Labor Day 2008. A committee formed and began signing up supporters on union cards, with difficulty.
"When workers are this poor and distressed, basic things like phone numbers and addresses can change anytime," he said. "And with workers repeatedly moved to different sites, our job is even harder."
WIN WITHOUT EFCA
Part of the strategy was to fight for passage of the Employee Free Choice Act, which would allow the PSOU to be instantly certified when a majority of guards signed up. By this Labor Day it was evident that a legislative solution would not arrive quickly enough.
The committee voted unanimously to file with the NLRB for recognition despite the odds. Members updated cards and reassessed their strength, devising literature to inoculate guards against union-bashing and recruiting help from a law firm, along with dozens of community supporters from labor, faith, and student groups.
The Museum of Art relies on tourist traffic, patrons, and city cash, buildings, and land. Philadelphia JwJ director Fabricio Rodriguez thought pressure from museum members and press coverage could ensure the museum's neutrality and in turn marginalize AlliedBarton.
Critically, local organizers Daniel Duffy and Dorian Lam signed up. Both unpaid volunteers, Duffy had just left Change to Win, while Lam joined from SEIU1199 Healthcare Pennsylvania. The United Electrical Workers donated the services of organizer Omar El-Malah to manage the final push.
House visits and on-the-job chats helped convince the guards they could win. Community support intensified, politicians announced their backing, and guards could see public attention was focused on them.
Now, after the victory, activist guards like POWR chair Thomas Robinson are thinking the strategy might work elsewhere. "I won't be satisfied until the entire security industry is unionized," he said.
After catching a collective breath, museum officer Jennifer Collazo says the core committee knows it will be a challenge to negotiate a contract and structure its leadership without big union support.
"JwJ has been crucial to this victory and will be indispensable going forward," she said. "We know that with their help we can make our own independent union inclusive and democratic."
[Warren Davis is solidarity co-chair for Philadelphia JwJ.]