Smithfield Workers To Vote on Union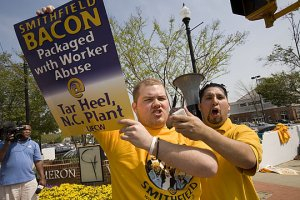 In a surprise settlement, Smithfield Foods dropped its multimillion-dollar racketeering lawsuit against the United Food and Commercial Workers, Jobs with Justice, and the Change to Win federation October 27.
The company agreed instead to a set of rules that will govern a vote on December 10 and 11 for union representation at its hog slaughterhouse in Tar Heel, North Carolina.
UFCW Organizer Carl Green reported from North Carolina, "The activists are extremely excited. They always were wondering when they were going to vote. And now their wish has come true."
The election will cap 16 years of organizing at the world's largest pork processing facility, with nearly 5,000 workers. The UFCW lost elections there in 1994 and 1997, but in 2006 a Circuit Court of Appeals upheld numerous charges brought by the National Labor Relations Board (NLRB) against Smithfield. The union had said the company spied on workers and had some beaten up on voting day. The company had to pay $1.5 million to workers it had illegally fired.
But UFCW wasn't convinced the guilty verdict was enough to make Smithfield stop intimidating workers. In June 2006 the union began a Justice@Smithfield campaign to pressure the company to drop its law-breaking ways and allow a "free and fair" election.
UFCW and allies such as Jobs with Justice and religious groups asked city councils to pass resolutions and boycott Smithfield products, leafleted supermarkets, and demonstrated at shareholder meetings. The union also supported workers who filed a back-pay lawsuit over unpaid time spent putting on and taking off protective gear, as well as a community group that was fighting pollution from giant hog farm waste lagoons in North Carolina.
This campaign provoked Smithfield to sue the union and its "co-conspirators" in October 2007, under the Racketeer Influenced and Corrupt Organizations (RICO) Act, which was originally designed to counter gangsters' extortion plots.
Smithfield claimed that the value of its stock dropped $900 million as a result of the campaign—a figure which, if even close to correct, would have made this corporate campaign the most successful in history.
THE SETTLEMENT
The parties reached a settlement at 4 a.m., just hours before the racketeering trial was due to start. Its provisions:
• The company drops its suit, and the union drops its boycott and public pressure campaign. The Justice@Smithfield website, for example, was quickly dismantled. Funding for the environmental justice group will end. (The group had been told at the outset funding was probably temporary, because UFCW's priority was starting a local. Community-initiated lawsuits against hog farm pollution will continue.)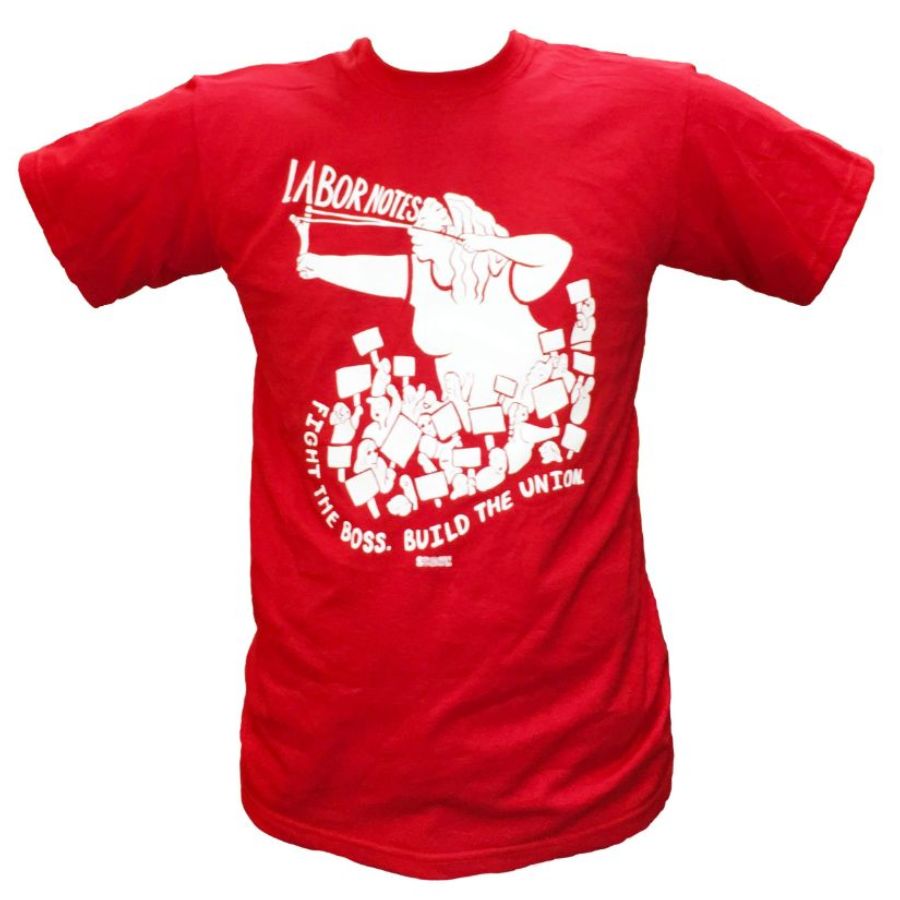 • In the run-up to the election, neither party may attack the other. If one party objects to the other side's literature, a monitor rules on any violations and can order changes before the piece is circulated.
• The union has a regular schedule for access to workers inside the plant.
• The two parties will jointly establish a "Feed the Hungry" campaign. (The union sees this move as Smithfield's attempt to repair its image.)
WHOSE BENEFIT?
The settlement is more favorable to the union than many "neutrality" agreements that unions and companies have arrived at, where both sides are limited to "factual" language. Under the "factual" criterion, companies have distributed details about the worst union contracts in the country, talked about union officials' salaries, or made statements such as, "If you go on strike, we can permanently replace you."
The UFCW-Smithfield deal, though, uses a different standard: negativity. Both company and union may talk themselves up, but neither may disrespect the other. Smithfield can brag, for example, about its wages and working conditions—and if that impresses any workers in the plant, they can vote accordingly. UFCW can talk about what unions do for workers.
Why did Smithfield drop its suit? In the lead-up to the trial, the union had suffered a string of pro-company rulings by Judge Robert Payne. Payne decreed, for example, that the truth was no defense. In other words, just because the UFCW's statements about Smithfield's working conditions were true, that didn't mean they didn't amount to extortion.
One ruling, however, would have made it very difficult for Smithfield to prevail: the company would have had to prove that the union acted with malice.
A second factor was that UFCW did not call off its campaign even when faced with the RICO suit. It continued to urge a consumer boycott and asked local governments to get involved. Rank-and-file organizers in Tar Heel stepped up in-plant organizing.
The RICO suit did not have the immediate impact that Smithfield intended. Having already spent tens of millions of dollars on the suit, and faced with the prospect of its dirty laundry—including a grisly health and safety record—being aired in open court for weeks, company strategists apparently decided to take their chances in an election.
Activists and strategists in the union had felt for some time that matters needed to come to a head. "It's long overdue, and I think we just got to hope that the company doesn't interfere in the process," said Keith Ludlum, a livestock department worker fired for his union activity and now working as an organizer.
The three-quarters Black, one-quarter Latino workforce is also feeling emboldened by the election of Barack Obama. "Considering history is being made in the country, the workers are somewhat seeing a parallel," said Green, the organizer. "They see themselves also on the verge of making history."