With a Little Help from My Friends: How Taco Bell Workers and Many More Are Self-Organizing in the Pandemic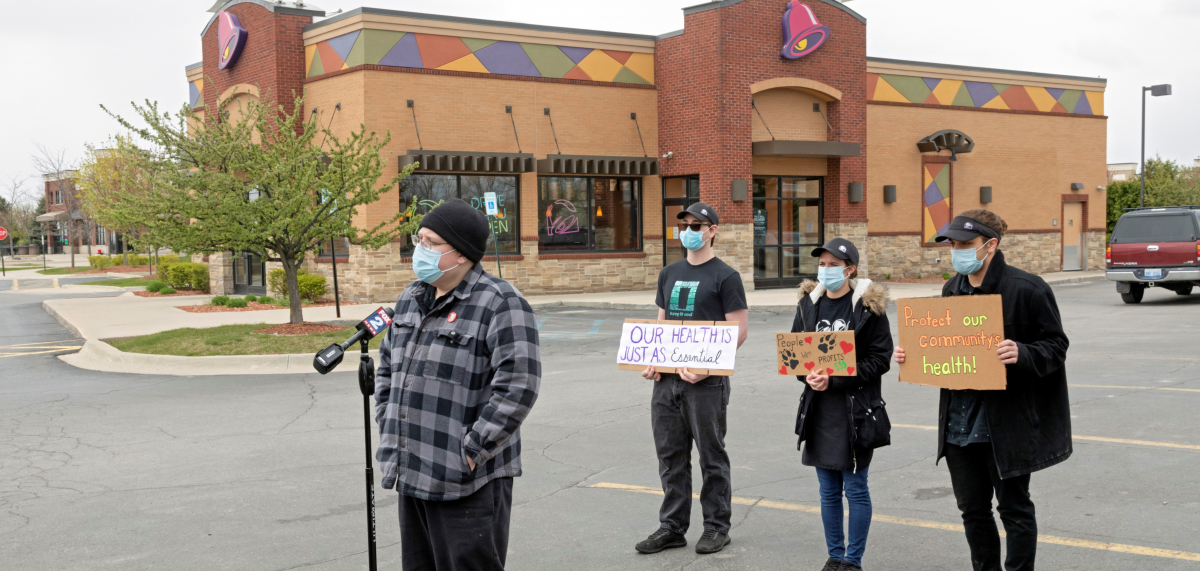 At a Taco Bell in Washington Township, Michigan, the action began when Jonathon Foster, a shift leader, approached the district manager about paid sick leave during the pandemic. She flat-out refused, despite pledges from Taco Bell's CEO.
Foster then reached out to the Emergency Workplace Organizing Committee (EWOC), a joint project of the Democratic Socialists of America (DSA) and the United Electrical Workers (UE) to respond to non-union workers' requests for organizing support.
EWOC helped Foster and others at his shop organize to demand $3-an-hour hazard pay with back pay, paid sick leave for those experiencing COVID-19 symptoms, and thermometers to screen workers' temperatures.
Foster and a supermajority of his co-workers delivered a petition to store management on May 6. They won their demands—not only for their own shop but also for more than 250 Taco Bell workers at SRS Management, a franchise including seven other shops near Michigan's Thumb area.
ORGANIZING DURING AND BECAUSE OF COVID
The COVID crisis has embroiled workers across the country in urgent struggles for safety and fairness on the job. This has led to an uptick in worker actions far beyond what today's unions are capable of supporting, and sometimes in areas where there is little to no union presence. Whether out of choice or necessity, unions have been watching from the sidelines.
In response to these emerging needs, UE, as a union committed to training workers in the tools of shop floor struggle during the crisis, and DSA, as a membership organization committed to strengthening the labor movement, came together to form EWOC.
Since EWOC began in mid-March, it has been contacted by more than 1,500 workers, and has recruited an all-volunteer staff of several hundred organizers to address the volume of requests. With a core of former staff and volunteers from the Bernie Sanders campaign, EWOC has used the digital tools that were pioneered by the campaign to process and assign these requests at the scale demanded. EWOC works with organizers from a range of backgrounds and experience levels, offering training and introductory organizing roles to the newest organizers and assigning more complex campaigns to more experienced ones.
Newer organizers begin in EWOC as intake callers, responding to workers who fill out our survey with a short phone call to assess campaign readiness in a given shop. As organizers continue through our training program, they are paired with more experienced organizers to take on more complex organizing. They can then help guide workers in the shops that are ready for escalation.
In some cases, EWOC organizers support workers in drafting a petition, developing strategy for circulating it, and planning how to approach management with supermajority support. Our media team helps those who want to go to local press or develop social media campaigns. Our legal team can offer guidance as needed. And all workers are invited to regular trainings that teach the tools of shop floor organizing.
The primary goal is helping workers win COVID-19-related protections in their workplaces. But each campaign has a different trajectory. Some become traditional union organizing drives, either with UE or with other unions. Others remain in EWOC networks as workers build out committees and form organizing relationships with other workers they've found through EWOC.
So far EWOC has aided organizing efforts in more than 30 states, in meatpacking plants, hair salons, fast food chains, social services, coffee shops, restaurants, legal offices, grocery stores, utilities, dog food plants, pharmaceutical companies, and Amazon warehouses with our partners at Amazonians United. Some are public; others remain underground for now.
EWOC will hold a livestream event with workers and organizers on Thursday, June 11, at 8 p.m. EDT. RSVP here.
Workers looking to organize their workplace should fill out this easy form. Organizers who want to join EWOC should apply here
TACO BELL TRIUMPH
Foster, the worker organizer and shift lead at Taco Bell, reflected back on the successful campaign he organized with EWOC's support:
EWOC: What were the conditions in your shop that led to your initial organizing and petition?
Jon Foster: One of the things we didn't have is any sufficient labor to clean the store. We weren't initially provided masks. There was a lack of communication, or no communication. It seemed like the owners didn't care, and we didn't have hazard pay or paid sick leave. Specifically on the last point, when I tried to bring it up to my district manager we were flat-out told, "No, that's not an option."
What has been Taco Bell's and your franchise owners' response to you starting to organize?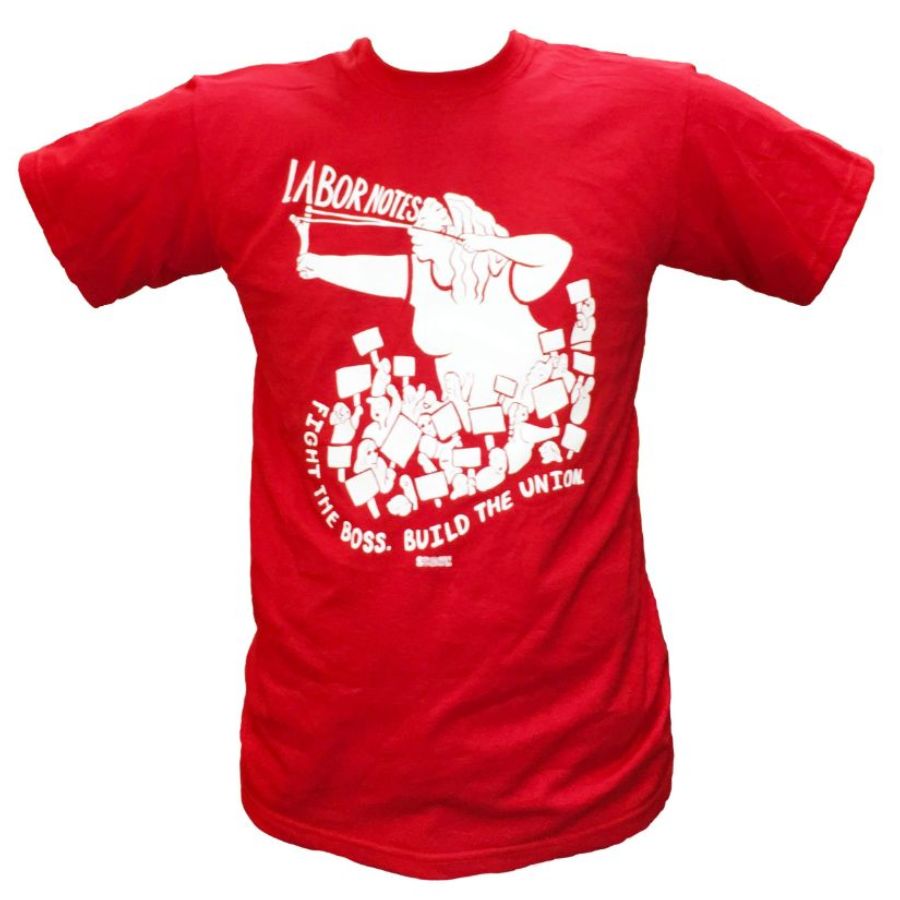 Initially it was frustration. They weren't happy with what we were doing, but once we made it clear that our demands were reasonable—$3 an hour of hazard pay with back pay, four weeks of paid sick leave, better access to personal protective equipment (PPE)—and that we had 90 percent of our shop on board, and when she realized there were 800+ signatures on the petition online, her response was to give us our demands.
We got $2 an hour instead of $3, that's acceptable, including back pay. We got two weeks of paid sick leave, and we have now better access to PPE. So while her response at first was understandably frustrated, she did give us what we wanted, which was fantastic.
So what do you think the key things were that led to this victory?
One of the biggest things was having 90 percent of our store sign on to this petition and the collective power of it's not just one person speaking out, it's all of us using our federally protected rights to organize and come together and demand better, demand change.
One of the other things was that we went to the press. We did interviews with our local paper and our local TV station. On the same day that we were giving those interviews, it was announced that everybody had thermometers to check temperatures to do health screenings at the door.
That's not coincidental. That's because we demanded those things from our bosses. So it's the public pressure, like I said, 800 people signed the online petition, but the biggest one was that we all worked together as one collective unit to raise our voice in the shop.
So what has been the role of EWOC in your shop?
They've been incredibly helpful, just having somebody with experience doing this or having seen these things. I have no experience organizing any sort of petition drive, labor organizing, or anything like that. So having access to somebody who's familiar with what to do was incredibly beneficial.
Also just knowing that we had access to resources, community support and people that were willing to step in and help us [exert public pressure on management]. Thankfully, we didn't need to access those resources, but just knowing that that's there, in case of further escalation or worst-case scenario.
How did you first hear about EWOC?
I'm a member of DSA and they had put out a tweet asking people if they wanted help organizing their shop because of unsatisfactory working conditions during COVID-19. And I felt that since individually we were getting nowhere it was worth a shot.
If you had to talk to other fast food workers in this country, what do you think the next steps are for organizing in response to the COVID-19 pandemic?
I think the first step you can take is to realize that you've always been essential, and make sure that our employers know that we've always been essential. We've always been here serving our communities and taking care of people. The first step is making sure that we realize our own value in what we do.
And then just coming together and using your voice and speaking out and saying, "Hey, we need better treatment from our employers."
Emily Lemmerman and Colette Perold work with EWOC.
Contact EWOC here.