Teamster Election: Why Five More Years for Hoffa?
James P. Hoffa is headed for re-election this week for another five-year term, which could extend his reign over the Teamsters to 18 years.
Teamster members—unlike most North American unionists—directly elect their president and international officers. Thanks to our rank-and-file movement, Teamsters for a Democratic Union, these are hotly contested affairs, where top leaders are held accountable to the members.
Hoffa has come out on top in the last three races, with the TDU-backed candidate taking about 35 percent of the vote. This week, TDU is scoring lower, due to a split in the opposition ranks: a longtime Hoffa vice president, Fred Gegare, made it a three-person race.
As the votes are counted this week, Hoffa is headed for winning a majority of the vote against Gegare and the TDU-backed reformer, Sandy Pope, a local union president in New York.
Vote Results
Despite a decade of declining Teamster standards, contract concessions, and pension cuts, Hoffa is winning re-election—a fact that shows, most obviously, the power of incumbency.
Hoffa raised $3 million, according to his slate's financial reports, most of it from officials who owe their positions or power to him. He did multiple mailings to the 1.3 million members, the bulk of them devoted to vicious attacks on Sandy Pope. He could afford to pay professionals to place phone calls to all members.
Pope raised about $200,000, and TDU contributed its own independent campaign support. She could afford a mailing to less than 20 percent of the union's membership. Her phone banks were staffed by volunteers.
The union itself spent millions for a supposedly nonpartisan get-out-the-vote program, featuring multiple mailings and automated phone calls from Bill Clinton and Danny DeVito (yes, the one who made the movie Hoffa). Their message—with the not-subtle implication that opposition is divisive—was that the purpose of voting was to show employers and the government how unified Teamsters are.
If that was the message, it failed. Turnout was the lowest ever. Some 249,000 Teamsters mailed in a ballot. Hoffa's vote is down, from 175,000 in 2006 to about 140,000 this time (the vote count is still in progress).
A decade of corporate attacks and member demobilization in the Teamsters took a toll on the turnout, and on Hoffa's vote total. But more important is the toll on Teamster power.
The TDU-backed candidate in the 1990s, Ron Carey, could tap a sentiment that Teamster power is real, and just needed someone willing to unleash it. And we began to do just that, including in the victorious 1997 UPS strike.
In the current environment, our argument is more difficult: that Teamster power can be rebuilt. Thousands of Teamsters are up for the challenge, and are the heart and soul of the TDU movement and the Sandy Pope campaign. But most Teamsters are hunkered down, disgusted with the decline of union power, but without great hopes of transforming the union to take on their employers.
In this tough context, Sandy Pope launched a strong campaign last year, taking on contract concessions, the need for coordinated bargaining, broad and active alliances, and, above all, tapping membership power.
Thousands of members pitched in, with donations in raffles, showing up at meetings, or passing out leaflets at work.
Pope's third-place finish understates the influence and impact of the reform movement.
Where Pope and TDU had volunteers on the ground, voter turnout was higher, the majority voted against Hoffa, and Pope's vote was decisively higher.
Sandy Pope's candidacy inspired thousands of Teamsters, many of whom have given up on our union. Without her campaign, voter participation would have been even lower. Many more Teamsters would have sat out the election and Hoffa would have won easily.
A New Campaign Strategy
In this difficult environment, Sandy Pope's campaign team came up with a different approach: run as an individual against Hoffa, not with a slate.
It was a hard sell to some TDU leaders and activists, because they know that in every previous election, over 90 percent of Teamsters marked the slate square on the ballot. But it would have been very difficult to put together a strong slate, and one which could get nominated in the five regions of the union.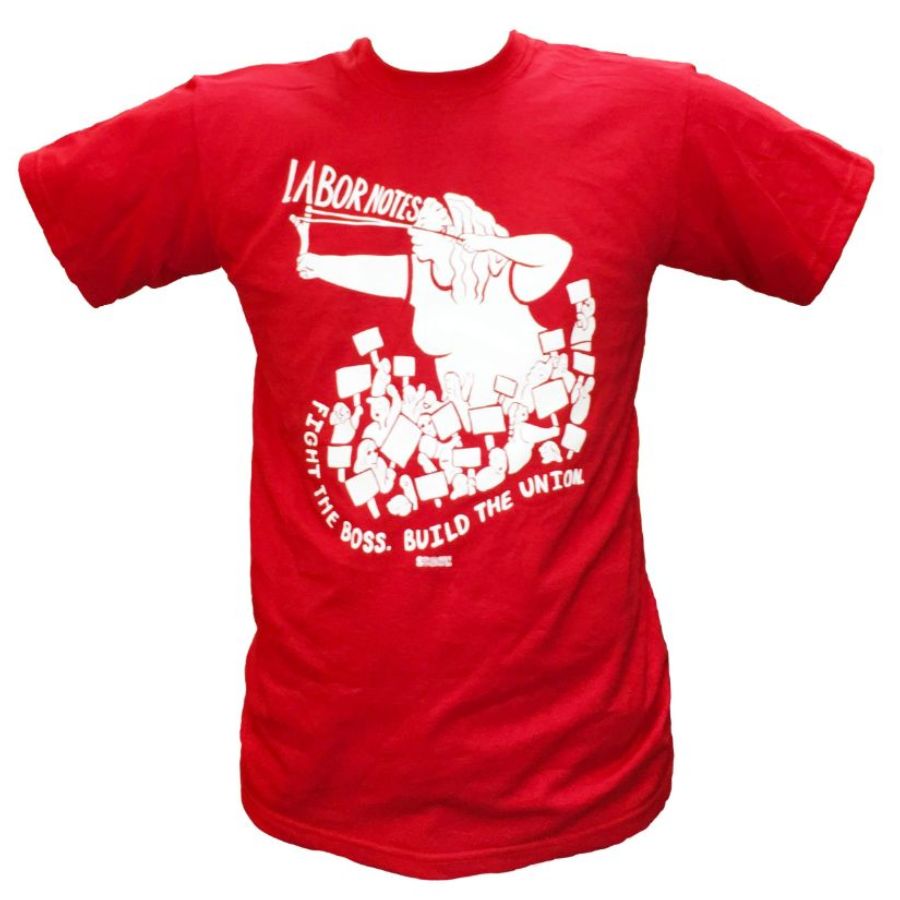 The strategic idea was to take on Hoffa, letting some 27 regional Teamster officials off the hook in the election. (These 27 run as regional or at-large vice presidents as part of the Hoffa slate.) This would allow them to win unopposed and diminish their motivation to go all-out for Hoffa. Many of them are in fact tired themselves of his celebrity-without-substance leadership.
In a head-to-head contest with Hoffa, we felt Pope had a strong chance. Unopposed candidates do not appear on the ballot, hence Hoffa's slate would vanish, and he would have to run on his own fading popularity.
But Fred Gegare, a vice president from Wisconsin, decided to run and became a huge factor. In the past, officials who have broken with Hoffa have backed out of the race when it soon became clear that few top officers would ally with them. Vice President Tyson Johnson did just this in 2006—briefly running against Hoffa, and then dropping out.
But Gegare stayed in the race even after it was clear he could not win. Instead of dropping out, he turned his fire against Pope. He campaigned in her stronger areas and targeted her for attack.
Gegare played right into Hoffa's hands: he offered voters the "safer" alternative to Hoffa, who was also directing his fire against Pope. He had a slate, and that is what members were used to voting for. And his slate's presence kept Hoffa's running mates on the ballot and saved Hoffa from running on his own.
Why No Coalition?
Under different circumstances, it might have been possible to form a broad coalition of anti-Hoffa forces. But Gegare's long track record of supporting every concessionary deal, and his attacks on progressive and minority Teamster leaders, made him an unlikely coalition partner for Teamsters who want a new direction. Gegare, in fact, had been a point person for the international, to attack local officers who wanted to take on corporate power.
Gegare refused even to meet with Pope to discuss what a broad anti-Hoffa coalition might look like. Instead, he made Pope a throwaway offer of one seat on his slate, with no input on strategy or platform. Gegare wanted to pick up the reform movement's support, while sidelining the reform movement.
A Base Made a Difference
In the areas where TDU and the Pope campaign had active campaigners, the results were dramatically different from the national election outcome.
Today, as the results were coming in for local unions in the East, we saw that in the 13 locals targeted by our New York-New Jersey group, Sandy Pope won a plurality, easily topping Hoffa and Gegare. She didn't win all of them, but won overall in that group. These locals include 38,600 Teamsters: brewery workers, school bus drivers, warehouse workers, public employees, refinery workers, and movers, as well as UPS and freight drivers.
The active campaign in these locals made all the difference, starting from a TDU presence that has been built over time.
When votes were counted in the South, Pope got the most votes in the seven Tennessee locals, narrowly winning the state total. But in Florida, Hoffa won across the state by a big margin. The difference? In Tennessee, we had that active TDU presence, whereas in Florida it was very thin.
In the Central Region, we saw that in the 29 local union areas that Pope visited to campaign, she came close to beating Hoffa, and held his total vote to 42 percent among the 150,000 Teamsters in those locals.
For good reason, Pope's campaign was stronger in the national units, such as freight, where Teamsters have their contracts bargained by the international, not their local. Hoffa lost a number of freight and trucking locals badly, taking only 15-25 percent in such locals in Akron, St. Louis, Memphis, Portland, and others.
The upcoming contracts at UPS (with 260,000 Teamsters, the largest labor contract in the U.S.), in freight, and in carhaul are critical for the future of the union, and of the reform movement.
TDU will be in those battles.
Labor's future depends on our ability to link up with other movements and make labor the center of a wider movement. The Hoffa administration often says the right things about Occupy Wall Street, Wisconsin, and the 99%. We need to move beyond press releases and into grassroots mobilization.
This is TDU's vision. We will build on the foundation laid in this election campaign, and continue to do our part to make that movement come alive.
---
Ken Paff is the national organizer of Teamsters for a Democratic Union.