Canadian Government Pulls a Wisconsin on Postal Workers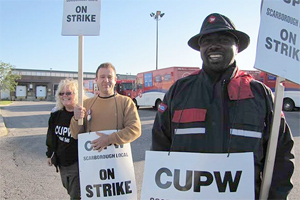 After 48,000 Canadian postal workers launched a rolling strike in response to unproductive contract negotiations, the country's Conservative government is pushing back hard.
Prime Minister Stephen Harper has introduced back-to-work legislation that bears the smell of Wisconsin and Ohio, where Republican legislators stripped public employee collective bargaining rights this spring.
The law, which comes at the request of Canada Post management, would not only end the Canadian Union of Postal Workers' rolling strike, but would also compel a settlement, eliminating all avenues for bargaining.
The attack on collective bargaining rights is less severe than in the states, because Canadian workers will still have a contract—but it won't be one they've been allowed to bargain.
In response, CUPW has launched sit-ins at offices of some members of the Conservative majority, and is planning a rally in Toronto tomorrow.
While producing results that mirror Wisconsin and Ohio, the Canadian government applies a more sophisticated method.
Stacking the Deck
As CUPW third vice president George Floresco explains, the Harper bill would appoint an arbitrator to decide the contract settlement, but under conditions that favor the employer.
First, the arbitrator would be picked by the Conservative government. Second, the arbitrator would be permitted only two choices: he could choose the union's offer in its entirety, or the employer's offer in its entirety. The alternative method of "interest arbitration," in which the arbitrator shapes a contract issue by issue, often splitting the difference between management and union, is explicitly forbidden.
Third, the law dictates wage increases that are below the employer's last bargaining offer. Canada Post's four-year contract offer included a 1.9 percent raise in both 2011 and 2012, but the law reduces this to 1.75 percent and 1.5 percent.
Marc Roy, an organizing committee member in CUPW's Winnipeg, Manitoba local, said the government's wage terms, which would cost the average full-time postal worker $875 over the contract, "is about teaching us a lesson for taking action."
More than two dozen locals have undertaken one- or two-day walkouts during a rolling strike that began in early June, while student and labor groups have held support rallies across the country.
The harsh terms of a government-imposed contract would go well beyond shaving raises, however. Canada Post's final offer includes a two-tier scheme. Instead of a uniform $23 hourly starting rate, Canada Post wants new hires to start at $19, with less vacation and a weaker pension plan. A current employee can retire with a pension at age 55 after serving 30 years; a new hire would have to wait until 60.
"The members know that two tier means selling out the future," said Ken Mooney, CUPW's western region grievance officer. "Maybe 10 years from now, most Canada Post employees would be subject to the second-tier plan."
Another Canada Post proposal would cut sick leave and start a short-term disability plan in which worker absences are managed by an insurance company. Sick leave has been a huge issue at the bargaining table, said Winnipeg acting chief steward Darren Steinhoff.
"We're not office workers. We're out there in all kinds of conditions," Steinhoff said. "We need to have a decent sick plan because we get sick. We can't afford to be at the whim of some company who decides whether my absence is valid."
Bundle Burden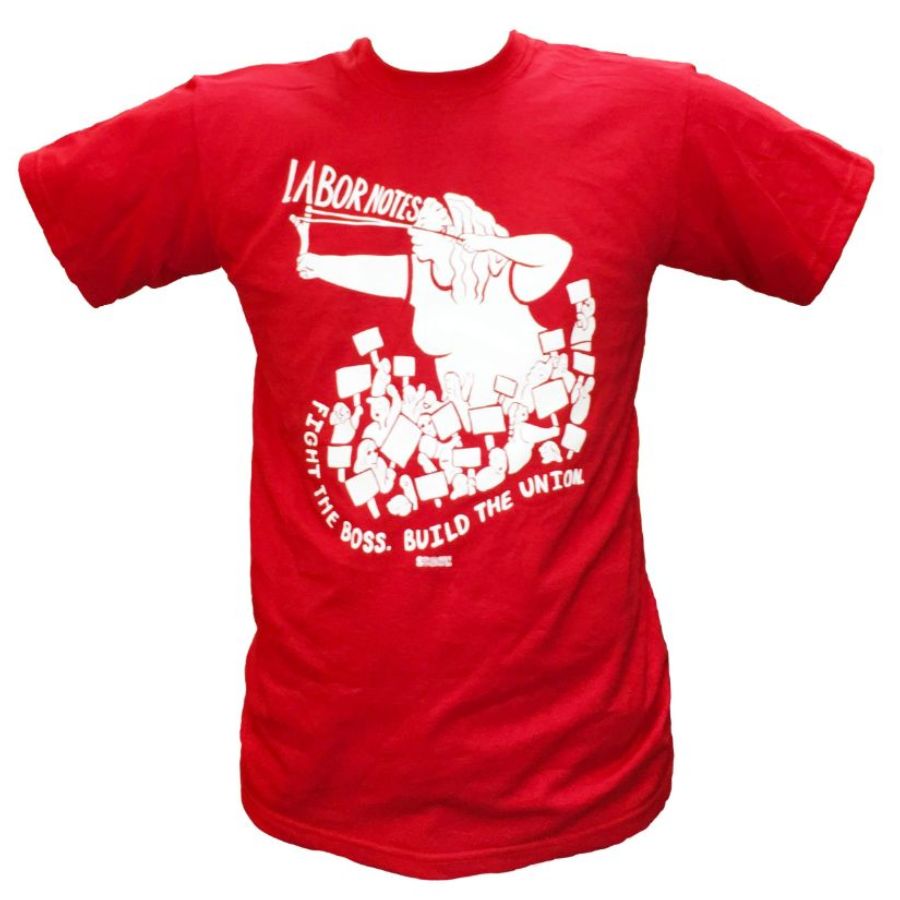 Postal worker health and safety rose to the top of CUPW's agenda last November, when a spontaneous one-day walkout of 70 Winnipeg postal workers ignited a wave of solidarity activity across Canada and internationally.
Canada Post had made Winnipeg its guinea pig site for a reengineered job process. This included forcing letter carriers to manage multiple bundles—one balanced on the arm and another carried in hand. The new method led to neck and shoulder strains, repetitive stress injuries, and slips and falls.
"You just become crippled up from staying in that position for a long time during the day," explained Steinhoff. When a worker who refused to continue the unsafe work was suspended, two shifts of workers went home for the day in solidarity. In the weeks that followed, all eyes were on Winnipeg.
The method was then introduced in Montreal, Steinhoff said, and carriers there complained of a skyrocketing injury rate. Canada Post plans to introduce the multiple-bundle method as widely as possible in the coming years, as part of its "Modern Post" restructuring plan.
When CUPW came to the bargaining table last fall, its demands included single-bundle delivery and ergonomic studies to promote safe working conditions. Management countered with its package of sick leave takeaways.
Provocations
CUPW put health and safety front and center by selecting Winnipeg to launch its rolling strike. The Winnipeg local walked for 24 hours on June 2, followed by a 48-hour action in the Hamilton local, west of Toronto, and then a 24-hour strike by Montreal.
Canada Post pounced, with a series of measures aimed at provoking a full national strike that would give lawmakers a justification for back-to-work legislation. These included a partial lockout with the announcement that urban mail delivery would be reduced to three days per week. Workdays were cut from eight hours to four, senior employees were reassigned to junior positions, sick leaves and health coverage were canceled. (Such measures were allowed because the contract had expired May 25.)
On June 14, Canada Post moved to a complete lockout, and the country's postal system currently remains shut down.
Mooney notes that the targeting of sick leave and medical coverage has been "horrible" for people who are vulnerable at the moment. "We have members in the hospital," he said. "One woman has cancer and is getting a bone marrow transplant." Now the company has ended her sick leave payments and discontinued coverage for her prescription drugs.
While CUPW kept discipline and avoided a national strike, the lockout by management achieved its political aim: the Harper government could now justify back-to-work legislation as necessary to "protect essential services."
The union faces harsh measures if it disobeys the looming back-to-work order, with daily fines of $1,000 for members, $50,000 for officers, and $100,000 for the union.
Sitting In
CUPW has responded to the Harper legislation with regional actions, including occupations at the offices of Conservative lawmakers in Vancouver, Winnipeg, and Edmonton.
In Winnipeg, Marc Roy camped in with four co-workers at the office of Conservative legislator Shelly Glover on June 20, while supporters rallied outside. Police finally forced them out at 1:30 a.m.
Floresco sees the postal worker struggle as critical for labor, which needs to draw the line against concessions: "If we go down on this one, we're going to be the first of many."