Amazon Albany Warehouse Worker: Why I'm Organizing a Union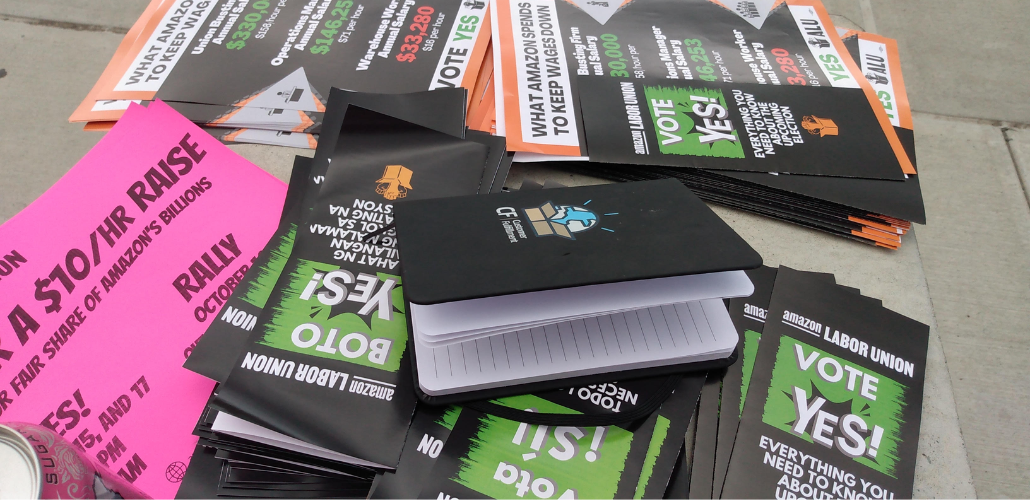 Workers at the ALB1 Amazon warehouse in Albany, New York, are voting October 12-17 on whether to join the Amazon Labor Union. The National Labor Relations Board is set to tally the votes October 18. –Editors.
I started working at Amazon out of desperation. $15.70 an hour, with a 60-cent weekend shift differential plus health insurance, seemed decent compared to other entry-level jobs in my area—Schodack, New York. So I applied, interviewed, took a drug test, and did the paperwork.
I sat in New Hire Orientation, excited at the prospect of paying my overdue bills, eventually getting college tuition assistance (I'm 18), and perhaps someday getting promoted. I was already a leftist, and I had seen a viral video showing the warehouse's safety hazards from More Perfect Union. I decided I would build my life up from scratch and quietly vote yes.
But it turned out that a starvation wage didn't end my struggle with overdue bills. I worked full-time, sometimes overtime, yet I was still financially insecure. To resolve a simple pay issue, I had to call a 1-800 number that H.R. gave me and wait an hour on hold. Despite having health insurance, I had to pay full price for prescription medication. It set me back.
I dismissed the scratches on my arm, the bruises on my thighs and arms, and the items that barely missed my head—I figured it came with the territory of doing manual labor in the Pack Department. Then a handheld Hoover vacuum fell on my head. What if it had been a Furinno bookshelf?
STRATEGIZED OVER CHIPS
I had been looking into the Amazon Labor Union—independent and grassroots, composed entirely of current and former Amazon employees, the only U.S. union yet to beat Amazon in an election (which impresses me even more now). This is a new labor movement, bigger than anything I've ever known, and I could be a willing participant.
I awkwardly approached my co-worker Kim in her yellow "Amazon Labor Union Lead Organizer" vest (most employees at the warehouse wear orange vests), and in my small, hesitant voice, I told her I wanted to get involved.
The next day I told the same to another worker, Heather, as she was passing out flyers in the break room for the Labor Day March For Recognition in New York City. At the march, leaders and supporters of the ALU and Starbucks Workers United marched to the penthouses of Starbucks CEO Howard Schultz and Amazon founder Jeff Bezos to demand that the companies recognize the unions.
I spent the next breaks with other organizers, listening to them strategize through bites of overpriced chips.
I met a worker named Sam, who gave me a copy of Labor Law for the Rank and Filer to read and a pile of pro-union literature to pass out during lunch. As soon as everyone in the break room had copies of the literature, I sat down and started reading Labor Law through hurried bites of scalding food.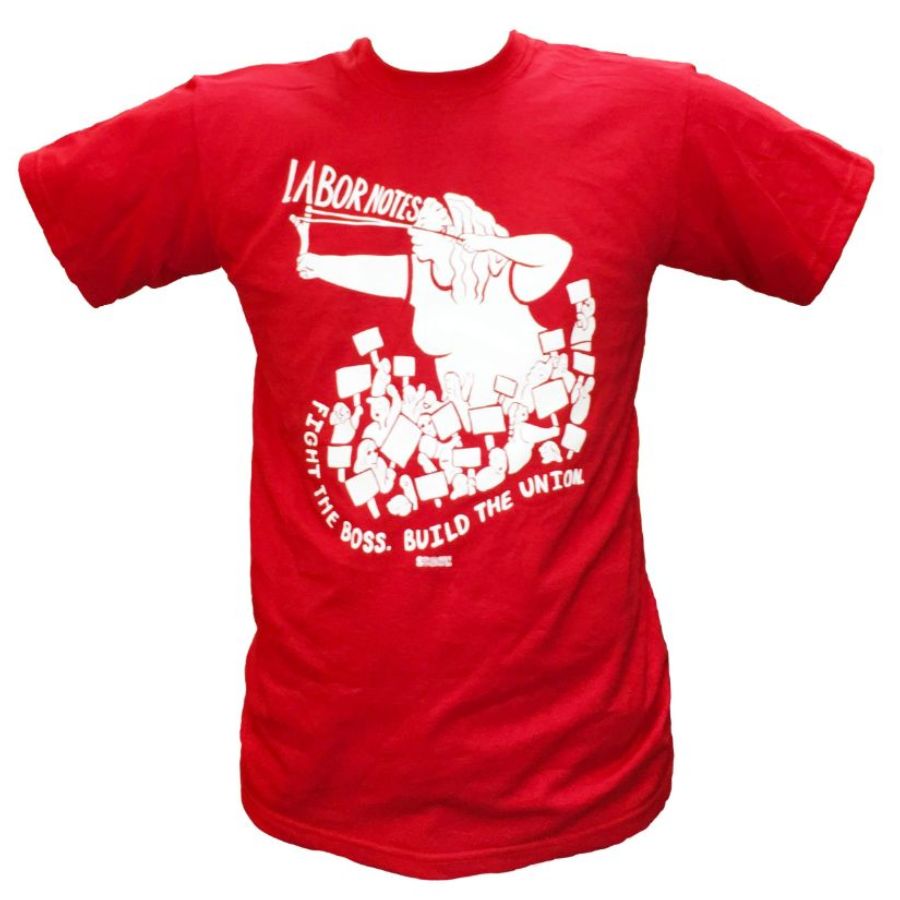 Sam got a concussion three days later, which could have been prevented if hard hats were provided throughout the Pick Department. It made me so angry.
DONNING THE VEST
Days later, Heather gave me a yellow "ALU Lead Organizer" vest. I felt anxious putting it on for the first time, but that anxiety was quickly replaced by pride and motivation.
My co-workers have been bombarded with Amazon's electioneering. Once they could easily identify me as a representative of the union, they approached me with questions and concerns—what a union is and what this union demands; how much union dues will be, how they will be charged, and how they will be spent; how a union victory could smoothly lead to contract negotiations with a company notorious for union-busting.
Most times I had an answer; other times, I had to ask more experienced committee members. But as I read, talked, and listened, I became increasingly informed and confident.
Of course, it wasn't all questions and fists raised in solidarity. I have been ridiculed, scoffed at, mocked, and yelled at. But there were also many people who had been wronged by their employer and needed my help, whether immediately through mutual aid or gradually through the union process.
Single mothers who take every Voluntary Extra Time Opportunity, yet struggle to put food on the table. Overqualified Tier Ones who have not seen a promotion opportunity for at least a year. Workers with chronic illness whose accomodations were ignored if not denied; Amazon's "open door policy" sent them back out the door with no more than they came in with.
Worker solidarity is the core of the ALU, and thanks to that solidarity, I no longer have to be dissociated between monotonous scans, or bitter about packing 60 boxes for $16 an hour.
I am just one of many faces making up the new labor movement, built on solidarity and mutual aid. The ALU at ALB1 has hosted free dinners, offered rides to individual workers, fundraised weeks of pay for wrongfully terminated workers, and connected co-workers with workers' compensation lawyers and labor lawyers, among other acts.
I am writing this as the election to unionize ALB1 is taking place. No matter the outcome, and despite all the union-busting and unfair labor practices, I will continue to fight for my fellow workers' rights.
Sarah Chaudhry is a worker in the Pack Department at the ALB1 Amazon warehouse in Albany, New York.