Richard Trumka, 1949-2021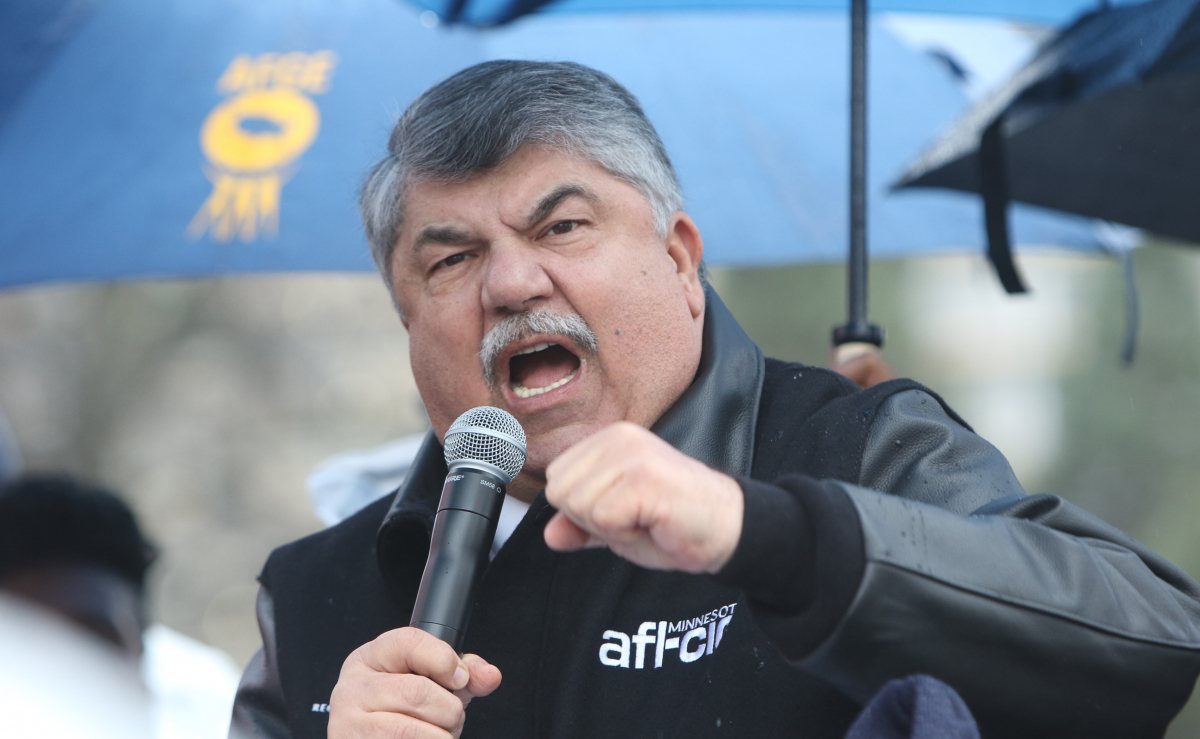 Richard Trumka, AFL-CIO president since 2009, passed away from a heart attack August 5. Born in 1949 outside Pittsburgh, the son of a coal miner and a homemaker, Trumka worked in the mines before becoming a lawyer and then president of the Mine Workers (UMWA) at age 33. 
 
Trumka was UMWA president during the nine-month Pittston Coal strike in 1989, which ended in a rare labor victory during the Reagan-Bush era. The union beat back Pittston's bid to force dramatic concessions and to pull out of industry-wide pension and health care funds.
 
In the Labor Notes book A Troublemaker's Handbook, Dan La Botz describes how miners prepared for battle by training in nonviolent civil disobedience. Each time the company got a court injunction against one tactic, the strikers gamely switched to another, from roving pickets to mass demonstrations.
 
Five months in, the strike had cut production by 30 percent, yet Pittston was still refusing to bargain. That's when the union broke out a new tactic: a thrilling, meticulously planned occupation of the company's Moss 3 processing plant, one of the largest such plants in the world, where all its coal mined in southwest Virginia was sorted and cleaned.
 
A thousand supporters massed at the plant gates before dawn one morning; 98 miners and one minister, all clad in camouflage but unarmed, marched in and took over. The two security guards fled. Word spread fast; by nightfall, solidarity caravans from neighboring states had swelled the cheering crowd outside to 2,000. Within days the occupation turned the tide, forcing Pittston back to the table.
NEW VOICES
Trumka was elected AFL-CIO secretary-treasurer in 1995 on the New Voices slate, in the federation's first-ever contested election. New Voices emphasized the need to organize millions of new union members and pushed unions to devote 30 percent of their budgets to the task.
 
During Trumka's tenure the labor movement took more progressive positions on a host of issues, in particular aligning itself with immigrant workers. "Did an immigrant move your plant overseas?" Trumka asked in a 2010 speech. "Did an immigrant take away your pension or slash your health care?"
 
And after a policeman killed Black teenager Michael Brown, the son of a union grocery worker, in Ferguson, Missouri, Trumka challenged union members to openly discuss the reality of racism in American life. The federation formed a Commission on Racial and Economic Justice that traveled the country to kickstart these conversations.
 
Trumka had planned to step down as president at next June's AFL-CIO convention. There has long been speculation that Flight Attendants President Sara Nelson would challenge Secretary-Treasurer Liz Shuler for the top post. Shuler is now the acting president.
 
Under Trumka's leadership, the hoped-for turnaround in labor's fortunes never arrived. Union density today stands at 10.8 percent; it was 14.9 when Trumka stepped up at the AFL-CIO. Revitalizing the labor movement will undoubtedly require more battles like the one waged at Pittston.
This article ran in Labor Notes #510, September 2021.