After Four-Year First Contract Fight, Northern Illinois Faculty Secure COVID Protections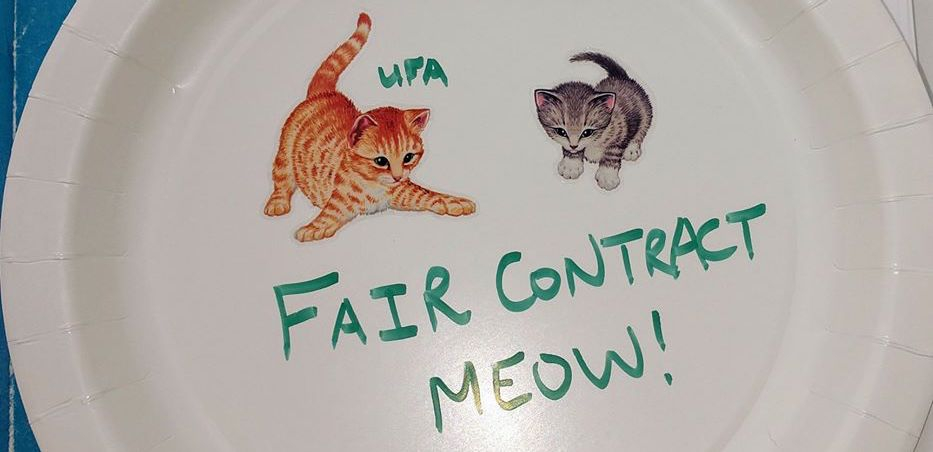 Five years ago, it was hard to imagine a successful union drive on our campus at Northern Illinois University in DeKalb, Illinois. But this spring, as the COVID-19 shutdowns and conversions to online teaching began, the United Faculty Alliance bargained protections that were more than what seemed commonplace at other campuses.
We bargained tenure clock extensions, adjustments to expectations for research productivity, intellectual property protections for online course content, faculty choice over whether student evaluations would be used in assessing us, and agreement to follow state mandates to ensure everyone's health and safety.
Today, 65 percent of the tenured and tenure-track faculty at our university are members of the UFA, a chapter of the University Professionals of Illinois local and the American Federation of Teachers (AFT). How did we go from nothing to a strong union with a solid contract in half a decade?
MANAGEMENT ATTEMPTS TO DIVIDE LEAD INSTEAD TO A UNION
Interest in forming a faculty union had percolated for many years, but organizing efforts had never gained traction among the tenured and tenure-track faculty (although instructors had been unionized for decades).
As usual, management became the best organizer of the workforce, by creating problems that struck our campus with particular force. At the same time that the state's financial support for public higher education was plummeting, NIU experienced dramatic administrative bloat, stagnant faculty wages, shared governance structures that were often ignored, vanishing research and travel budgets, and unaddressed racial and gender inequities.
This situation—common to many universities—led to increasing unrest among faculty who had previously been fairly quiescent.
Political changes affected us as well. In 2014 Illinois elected a governor with clear antipathy toward unions, following the example of Wisconsin. In the summer of 2015, he held the entire state budget hostage. This manufactured crisis lasted for more than two years and deeply damaged the state. It included draconian funding cuts to public universities and deprived a quarter of our students (more than 5,000 individuals) of state assistance grants.
Added to this, NIU had a president eager to enforce an austerity agenda. He refused to address faculty compensation, while subjecting the university to so-called "program prioritization," which made faculty devote countless hours responding to often-inaccurate data that pitted departments and other units on campus against each other. In the midst of this, he managed to overpay some of his old friends for "consultant" work. Such corruption eventually led to his ouster.
These challenges helped the faculty build solidarity. On a campus where we tended to isolate in our separate silos, people from different departments began talking to each other about common concerns. We began a card drive with the assistance of the AFT in 2015 and were certified the following summer. It seemed time to celebrate, but the struggle was just beginning.
SWITCHING STRATEGIES TO RECRUIT THE ORGANIZERS
The most important job for the newly elected union executive board was to establish a bargaining team and decide how much autonomy it should have. After finding members to serve from units across campus, including the colleges of Engineering, Education, Health and Human Services, Liberal Arts and Sciences, and the Visual and Performing Arts, the executive board empowered them to negotiate. It vowed to provide the team with assistance, but not to micromanage. The executive board then solicited input from faculty about their priorities for a contract and relayed this information to the bargaining team.
When contract negotiations began in summer 2017, we never expected they would take more than two years. The administration changed its lead negotiator four times. On our side, learning contract language and writing contract articles was a slow and painstaking process, especially as bargainers were still doing their full-time jobs.
In June 2018 the Supreme Court handed down the Janus v. AFSCME decision that ended the collection of fair-share dues from non-union members who benefited from union gains.
Our organizing efforts had lost some steam. In the rush to get to the 50 percent threshold for union certification, we had not developed the infrastructure needed to maintain long-term organizing. The experiences of other unions have been both an asset and a potential barrier in figuring out a strategy for reaching out to faculty on our own campus.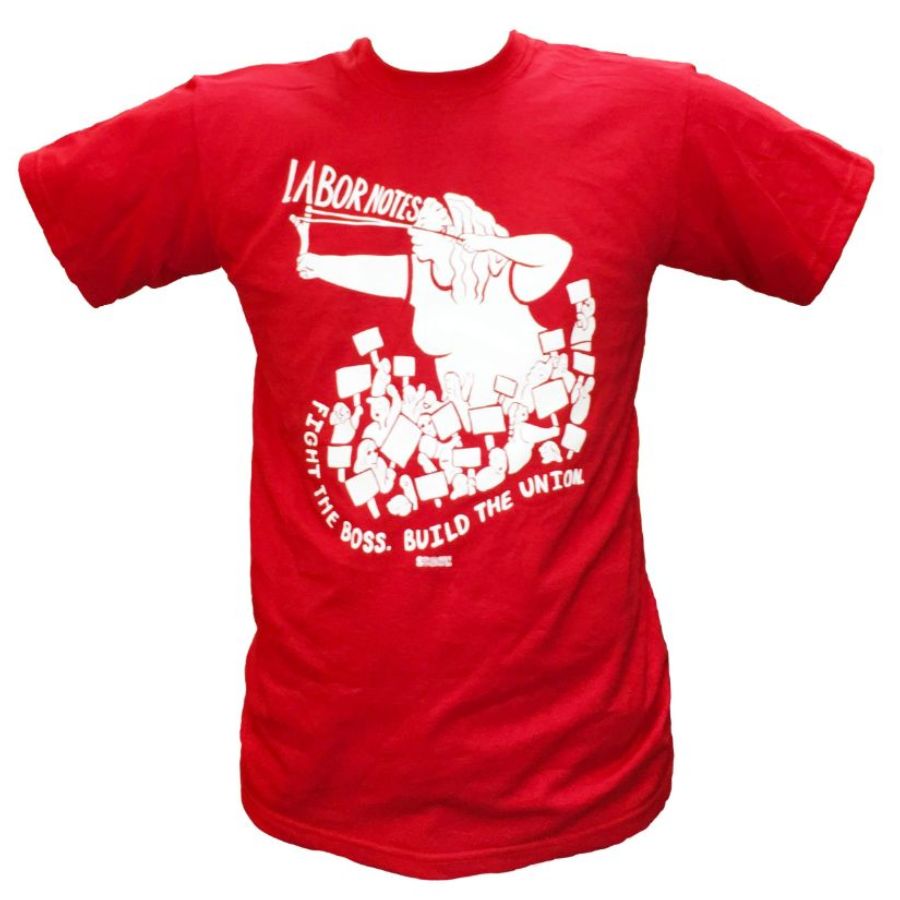 For instance, we moved from focusing exclusively on departmental representatives for each unit on campus to recruiting "member organizers." Often coming from departments with strong union support, these member organizers devoted themselves not only to representing their own departments but also to building union power across campus.
We also actively sought out new members in places with low representation, including the College of Business and the College of Visual and Performing Arts. Our membership numbers began to grow steadily through this strategy and, just as important, we learned more about what was going on in different corners of the university. A collective identity as a union grew.
MOBILIZING FOR A FIRST CONTRACT
This organizing work was the most decisive factor in the final run-up to winning our first contract last fall. But we also had political fortunes shift our way. A new governor who owed his success to labor's support was elected. The university hired a new president who genuinely seems to want to work with the faculty rather than against us. This new situation emboldened us to negotiate more forcefully for a strong contract.
We mobilized the members to ratchet up the pressure by targeting specific issues. During one bargaining session in February 2019, 30 members lined the hall leading to the meeting room and cheered our side as if they were a sports team entering an arena. Soon, rank-and-file members began regularly attending bargaining sessions themselves.
On the day we presented our counterproposal on paid family and medical leave, members of the university's Presidential Commission on the Status of Women came to show their support. When we negotiated faculty workloads, union members who had been recognized by the university for their high research productivity packed the room.
By the end of last summer these efforts paid off, as we tentatively secured many significant gains and approached a final contract. As members learned of what we were achieving they became even more excited to help push through to the end. Seventy of us packed a Board of Trustees meeting in September wearing union T-shirts. We delivered our message in an upbeat and unifying fashion, but the power of our numbers made the situation clear. Soon the administration found an additional $1 million to meet our remaining demands.
The contract included long awaited raises, but it also addressed many of the structural and equity issues that led faculty to unionize in the first place. We won five weeks of paid family and medical leave—the most among all Illinois public universities. We won layoff protections, a new professional development fund, and commitments to redress salary inequity and compression. Members voted by 99 percent to approve, with 87 percent voting.
WE WERE READY WHEN COVID CAME
When the COVID-19 pandemic hit, we were in the midst of transitioning from fighting for a contract to enforcing it. Our readiness to reopen discussions with the university given the change in working conditions speaks to the new strength that we had developed, and that management, at least sometimes, now seems to recognize.
While other institutions have seen dramatic cuts to faculty positions, we have avoided layoffs in our bargaining unit. We have been able to protect the gains we made through the contract that improved workload, compensation, and equity. However, we are still working to increase security for our most vulnerable colleagues and for adequate safety protocols as we lurch toward some face-to-face course delivery.
On top of the COVID-19 pandemic, many in the United States have begun to reflect on the already existing "pandemic of anti-black racism" and structural and institutional racism. Our chapter and local have begun to do that work, to be consciously and deliberately anti-racist in our actions. At the chapter level, we are looking to find ways we can hold both ourselves and our institution accountable in creating policies and practices in hiring, pedagogy, and curriculum that are anti-racist.
The very lengthy negotiation process for our first contract was necessary due to the steep learning curve for the bargaining team—but it also turned out to be essential for building support and membership. Mobilization, and faculty buy-in, take time and patience. These are some of the lessons we've learned. We hope they might inspire faculty at other universities to organize for more just workplaces.
Andy Bruno, Beatrix Hoffman, Mark Schuller, and Simón Weffer have served on the executive board or the bargaining team of the United Faculty Alliance at Northern Illinois University.