Plexiglas and Union Power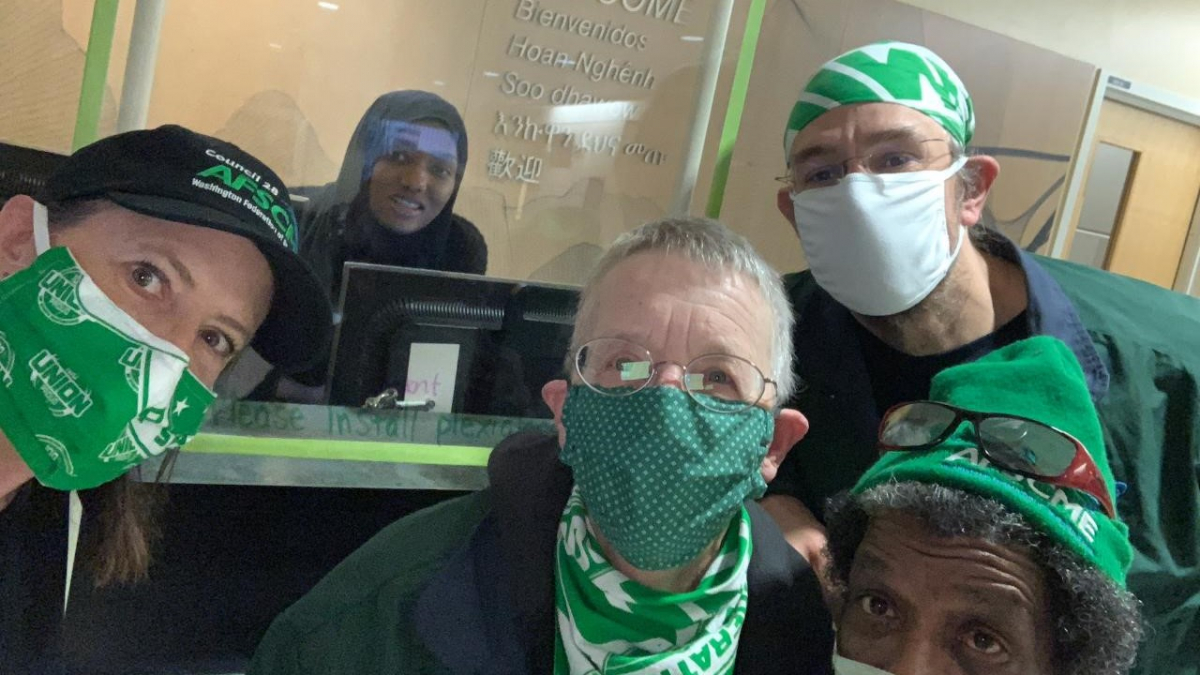 Unions at the three hospitals on the University of Washington campus asked management for protective Plexiglas barriers similar to what we are seeing at grocery stores. When management said no, we built them ourselves.
On April 14 our unions in AFSCME Council 28 asked Labor Relations for the barriers. We asked for barriers on main campus and at the UW and Harborview Medical Centers, in all public-facing areas, including registration in the emergency departments and cashiers at all points of sale.
On April 17 Labor Relations said they had consulted the infectious disease doctors for UW Medicine, who said the barriers were ineffective and gave people a false sense of security. Of course, they originally said that about our request for masks.
Our unions decided to do a campaign for barriers. I posted a rant on Facebook and union leaders asked members to sign on to our letter to the top decision-makers.
MAKE OUR OWN
Yesterday leaders of Council 28 were on the phone when executive director Leanne Kunze came up with the idea to make our own Plexiglas barriers and try to install a few at the Harborview Hospital ER.
Kunze wrote, "Fed up with UW Medicine's lack of action to protect workers, I said "F it, I'll build some. Let's make a statement about who is protecting the workers at UW—it's their AFSCME Council 28/WFSE union siblings.
"Hung up the phone, masked up, went to the local essential hardware store to cut Plexiglas and PVC to build some protective barriers, and a few hours later met up with this crew to deliver and install the protections the employer has failed to provide."
MEMBERS LOVED IT
Security members let us through. The members at the ER department were thrilled to see the barrier and we set it up. They asked for more.
We wrote the UW president's phone number on the Plexiglas with a message urging people to call her and demand more barriers. We wrote, "This shield was provided by my union siblings, not by my employer."
If the grocery stores and hardware stores can figure it out, you'd think a nationally acclaimed medical university—that also happens to employ talented trades workers—would have installed barriers by now.
I'm a plumber on main campus who is considered essential and we trades employees have been told to do critical work related to COVID-19. Right now our carpenters don't have much critical work to do. They could be putting up these Plexiglas barriers. Our salaries are covered in the budget no matter what job we do, so the only extra cost is the Plexiglas and the hardware, which is cheap, just like UW.
We the workers are taking action to protect ourselves since our employer won't.
Paula Lukaszek is president of AFSCME Local 1488 and treasurer of AFSCME Council 28/Washington Federation of State Employees.