Get Your Protest On: Tips for Taking It to the Streets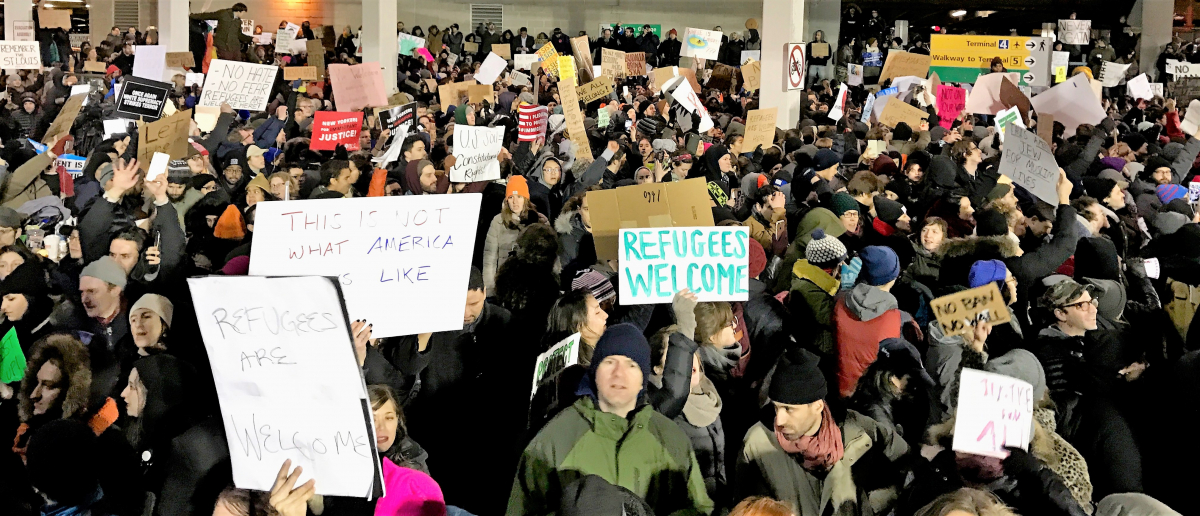 On January 28 I woke up, heard the news about immigrants being detained because of the president's executive order, and decided to head over to New York's JFK Airport.
Part of why I wanted to act is that members of my own union, which represents university professors at Rutgers, and their families are from the targeted countries and will be directly affected by this order.
But beyond that, attacks on immigrants affect all working people. Clamping down on certain immigrant groups because of their religion is another version of the divide-and-conquer strategy that bosses use to keep us disorganized.
Many of us are descended from immigrants who came here seeking a better life. Our day-to-day lives still depend on the work of immigrants who help keep the country running. And if we care about maintaining our constitutional rights to free speech and free assembly—essential to union activity—it's crucial to defend other constitutional rights as well.
My union often participates in actions beyond our own workplaces, but because this executive order happened so suddenly, we had no time to get organized.
I arrived at the airport around 12:30 p.m., when the crowd was small. By the time some friends and I had worn ourselves out and headed home around 10 p.m., the crowd had grown from a few dozen to a few thousand, and had blocked all traffic to the airport's international terminal.
This was a large, safe protest where many participants didn't have much protest experience. Here are a few lessons and observations:
1. Dress warmly and flexibly. We didn't know if we'd be inside the terminal or outside, so I wore layers.
2. Wear your union logo on your sleeve, sign, or shirt. I was wearing a hat from my union, which made it easy to connect with other members. You may meet people from your own or other unions. My sign also thanked the airport workers who were experiencing disruption because of the protest, which helped me start conversations with protestors who had supported the Fight for 15 campaign at this airport.
3. Bring your own sign. The media loves cool signs. Protestors love them too. My weary spirits were lifted by the arrival of both The Illuminator, a giant projector that can project logos onto buildings, and the Light Brigade, which makes those bright signs made of LED lights that you can see from far away. Your union may have signs that you can modify with slogans relevant to the current issue.
4. Bring supplies to share with others. People are kind, and like to share. Among the items passed around in this crowd were paper and markers, pizza, cough drops (great for tired voices after hours of chanting), water, coffee, hot chocolate, hand warmers, and cookies. People were also sharing battery packs. Especially if you're arriving to take the late shift at a long protest, bring something to share with the people who've been there for hours already.
5. Manage your food and water intake. Early in the protest it was easy to come and go. Protestors could leave their signs behind and head into the terminal to seek out food, drinks, bathrooms, and power outlets to charge our phones. But as the crowd grew, this became impossible. At some protests, if you have to go find a bathroom, you may not be able to rejoin your friends afterwards.
6. Trust community groups and organizers. While this protest might have seemed spontaneous, it was actually the result of years of organizing by groups like the worker center and community organization Make the Road New York and the Taxi Workers Alliance. Both groups have deep roots in immigrant communities, and both mobilized many people rapidly.
No matter what you're protesting, there are community groups and organizers who have been working on the issue for a long time. Let them speak first. They have the background and the contacts to speak knowledgably and strategically.
7. Affected communities to the front. In a labor dispute, you might be the expert. In other protests, recognize who the experts are—the people most affected by the issue. Let them lead chants, speak, and suggest strategies. Sometimes your role is to follow.
8. Elected officials help. Early in the day, U.S. Representatives Nydia Velazquez and Jerrold Nadler were at the airport trying to secure the release of detainees. New York City Councilmember Carlos Menchaca was a constant presence.
Rightly or wrongly, the presence of elected officials lends your protest some moral authority. The media will broadcast whatever they have to say. Police are less likely to act aggressively when they're around. After the protest, write or call their offices to thank those elected officials who showed up and took the right stand.
9. Numbers matter. Protestors were able to shut down terminal traffic nonviolently for one reason: our numbers. It was simply impossible for the police to stop this massive crowd. We didn't rely on a few people risking arrest. Instead the masses slowly and peacefully took the road.
10. Lawyers can work in parallel to protestors. At the airport, lawyers from the International Refugee Assistance Project, Make the Road, and the good old American Civil Liberties Union were working directly with the detainees and families and filing paperwork that secured an emergency ruling from a judge to block part of the executive order. They also provided helpful updates to the protestors throughout the day.
Labor activists know all too well that sometimes our union lawyers will urge caution when action is needed. Still, take the lawyers' advice into consideration.
11. Use what you've got. The lottery of birth gives some of us social advantages that improve how the police treat us—for instance, being white or a U.S. citizen. If you have these advantages, don't assume that others share them. If some protestors are volunteering to be arrested, think about whether you're in a safer position than others to take such a risk.
12. Use social media well. Major media outlets love to embed certain kinds of tweets, such as witty protest signs or pictures of elected officials with quotes from their speeches to the crowd. Spread the word using whichever hashtags are getting the most traction. Your union can share your posts on Facebook and Twitter.
13. Share good news. Use social media or the people's mic. After hours in the cold and the snow, the news of the taxi strike and the judge's ruling lifted everyone's spirits.
14. When you get home, tell people you were there. Tell them it was safe, loving, and inspiring. Share your story at your next union meeting; point out why immigration issues are worker issues.
Talk to your co-workers, even those who might disagree with you. Let them hear how strongly you feel about the issue and what drove you to act. Help them see how the problem affects real people by sharing individual stories. In this case the stories of families separated and individuals detained—including some union members—were quite compelling. Encourage everyone to join you next time.
Rebecca Givan is an associate professor of labor studies and employment relations at Rutgers, the State University of New Jersey and a member of Rutgers AAUP-AFT.