Lips Sewed Shut, Colombia GM Workers Will Not Be Silent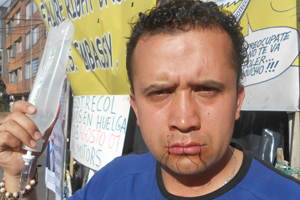 UPDATE August 8 : Today three more workers, Rafael Ángel Jiménez, Wilson Fabio Blandón, and Ferney Rodríguez, will sew their lips closed, as the original four GM workers reach the seventh day of their hunger strike.
On August 6 the Colombian Ministry of Labor convened a mediation session between the disabled GM workers' association and GM Colombia, "Colmotores." The mediator was a commission recently established pursuant to agreements Colombia has made with the International Labor Organization, consisting of a Colombian jurist and an Argentinian ILO official; this commission has achieved some success in three other conflicts. But the Colmotores representative walked out of the mediation, and no continuation is scheduled—unless General Motors receives more pressure.
Last week four disabled former General Motors workers in Bogotá, Colombia, sewed their lips closed to begin a hunger strike that they say they will continue until GM responds to their demand for other jobs, or until they die.
Each week without resolution, four more hunger-striking members of the association of injured GM workers will sew their lips shut.
For the last year, GM has ignored the group's peaceful protests as they occupy the sidewalk in front of the U.S. embassy. "It's practically the same," said worker Jorge Parra "whether we die of hunger or die waiting for them to solve this problem."
For workers at GM's Bogotá assembly plant, getting hurt on the job has meant losing your job. And many of them did get hurt on the obsolescent production line that essentially handcrafted different models of vehicles. Injuries were rife from repetitive motions, lifting excessive weights, the contorted postures necessary, and the sped-up pace of the assembly line.
By controlling workers' medical treatment and records the company knew who got hurt and how to make it appear their injuries didn't occur inside the plant. With a combination of pressure tactics against individual workers and corrupt labor inspections by the Colombian government, those individuals were soon unemployed, coerced or deceived into "voluntarily" giving up their rights under Colombian law and left without compensation, retraining, or medical benefits.
This racket was imperiled when the disabled workers began organizing in an association to defend their rights, and in retaliation, GM Colombia fired the association's president, Jorge Parra—a panelist at this year's Labor Notes Conference.
Having been kicked to the curb, Parra and his compañeros decided to occupy the curb, and not any spot at random. They chose the curb across the street from the United States embassy, calling attention to the fact that they were victimized by a corporation not only headquartered in the U.S. but still owned to a significant degree by the government.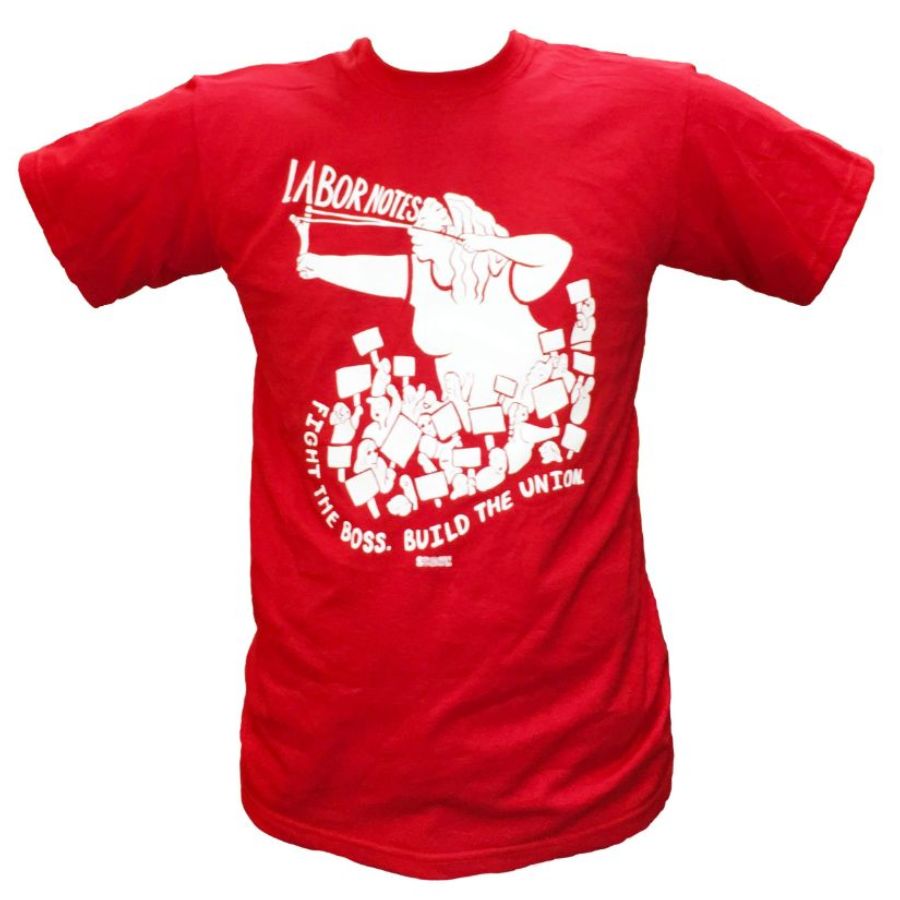 On August 1, the disabled workers of ASOTRECOL, the Association of Sick and Injured Workers and Ex-Workers of General Motors Colmotores, reached the one-year mark in their continuous peaceful occupation.
These fired workers have endured much, sleeping out in the cold and rain in Bogotá. Some have metal rods in their spines from the surgeries they've had to repair injuries from the GM plant.
The hunger strike is their final attempt to get General Motors to respond to their requests for compensation, medical care, and retraining for jobs at GM or elsewhere. They are asking the U.S. government and General Motors to comply with safety and labor standards supposedly guaranteed by Colombian laws and the "labor action plan" negotiated by the two governments in conjunction with the signing of a trade deal last year.
Four of the disabled workers had their mouths sewn shut with black thread August 1 and began an indefinite hunger strike. Four more plan to join them August 8.
The association announced it will attend a mediation at the Ministry of Labor today and urged North American supporters to keep up the pressure by signing their petition and sending messages to government and corporate officials.
Colombia has long been the most dangerous country in the world to be a union member. A recent AFL-CIO report says, "Approximately 3,000 Colombian trade unionists have been murdered since 1986—with the vast majority of cases still unsolved and the vast majority of perpetrators (both those who ordered the killings and those who carried them out) still unpunished."
In June, the International Trade Union Confederation reported that of the 76 murders of unionists worldwide in 2011, 29 happened in Colombia.
Workers say they fear for their lives and the lives of their children because of their actions. They say they experienced labor abuses, falsified papers, bribed officials, and corruption at the hands of General Motors.
---
John Walsh is a member of the Teamsters Graphic Communications Conference in Portland, Oregon, and hosts a labor radio show on KBOO.
/>