Kentucky Auto Workers at Ford Are Preparing for a Strike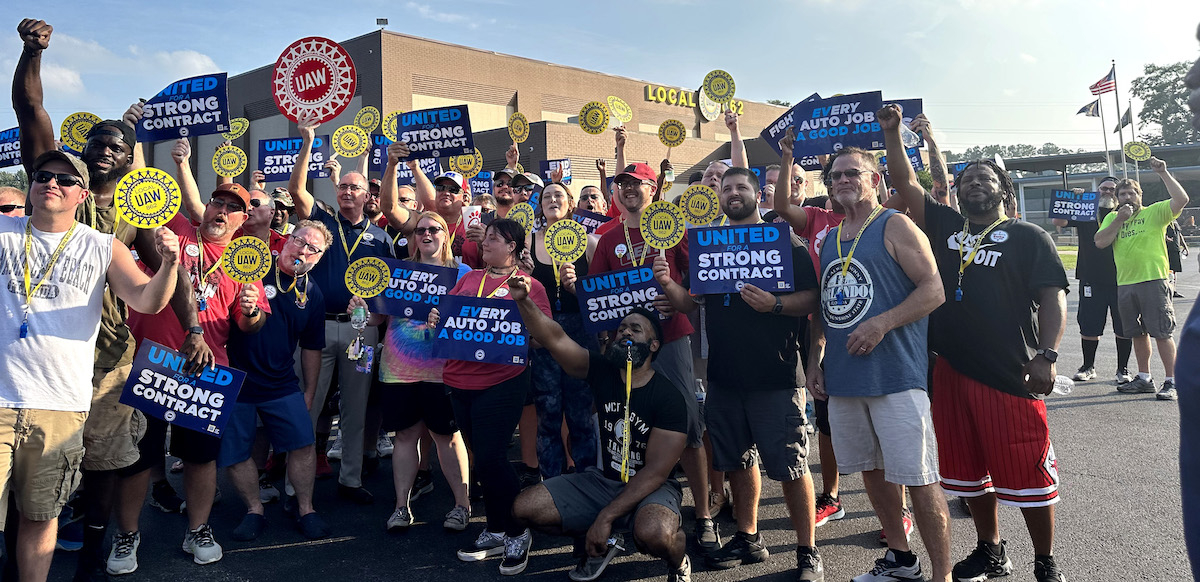 Five hundred Auto Workers (UAW) from Local 862 held rallies in Louisville, Kentucky, August 24 and 25, part of a wave of practice pickets and rallies around the country.
Class struggle was on everyone's lips. A variety of issues brought them to the picket, but the auto workers there were unanimous about turbocharged wealth inequality leaving workers behind.
At the Thursday picket, Local 862 member Aaron Webster said he's grown tired of feeling squeezed, describing the contract fight as a fight between the rich and the poor.
Webster started working at the Kentucky Truck Plant in 2014 building Ford Super Duty Trucks, Ford Expeditions, and Lincoln Navigators. "As much as I may not want to strike, I believe it's necessary," he said. He has been saving money and talking to his co-workers in the event Ford is one of the strike targets when the September 14 contract expiration deadline arrives.
NEAR UNANIMOUS VOTE
In past negotiation cycles, the UAW has picked one of the Big Three legacy automakers (Ford, General Motors, and Stellantis) as a strike target, picking the company the union believed would agree to the best deal in order to set a pattern for the remaining two.
This time, the UAW has broken from this practice—UAW President Shawn Fain has said all three companies are targets, leaving the companies guessing.
Local 862 members almost unanimously voted to authorize a strike. Across the country, 97 percent of UAW members at the Big Three who voted, voted in favor of strike authorization.
Webster said his main contract issues are raising the low pay, ending tiers, and getting to choose vacation dates to spend with his family. Many workers were forced to take time off in July as Ford retooled the plant for next year's model. Workers want to spend their vacation when they want throughout the year, instead of at the company's whim.
The UAW has made shorter work hours and a good quality of life key themes of the contract campaign. "We have to work longer and harder just to maintain the same standard of living that we had before," Fain said in a Facebook Live video August 1. "That means more time at work, and less time living life. That means missing Little League games and family reunions. It means less time outdoors, less time traveling, less time pursuing our passions and our hobbies."
'WALKING LIKE ZOMBIES'
James White works 10-hour shifts at Ford's truck plant putting leaf springs on the beds of the full-size trucks. The job is so grueling, he's canceled his gym membership.
"I'm basically putting the big springs that are the payload for the back of our trucks," he said. "They're really heavy pieces of steel. And I lift them all day. Luckily, I have a hoist." He says the hoist lifts the steel, but it doesn't push or pull it. That's where the momentum of human brawn comes in. "They're making our trucks really strong," he said.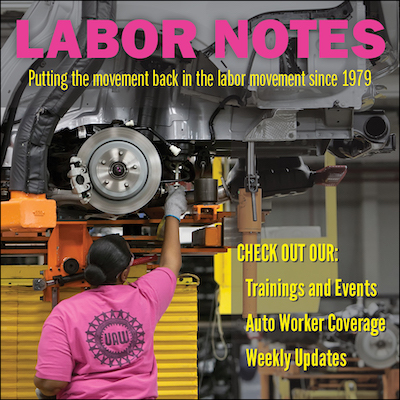 The heavy work means lots of injuries. "That's why we want our health care to improve," White said.
He's especially concerned about the older workers, because the physical demands of the job have broken down their bodies. When workers leave the assembly line at shift change, he says they look like the people in Michael Jackson's Thriller video: "People are walking like zombies. They're in pain. They're sore. They're tired.
"Some of the injuries they get are life-altering," White said, and the company's response is to tell them to take pain pills. "You can't live off pain pills."
Workers say they've given up much over the years to help the auto companies make record profits. White says he isn't willing to give up so much of his time. He switched from night to day shift to tuck his daughter in at night. But it's still not enough.
"I came in at 6 a.m. My kid gets home from daycare about 6 p.m. If she's going to bed at 9, then I get off at 5:36 p.m., I feed her dinner, talk to her a little bit—that's not enough. I have three hours of daylight."
"We should have eight hours of work, eight hours of recreation, and eight hours of sleep. I can't tell you the last time I got eight hours of sleep. I average about four and a half hours."
WORKING FAMILY PROTECTION PROGRAM
James Slonaker works as an assembler on the chassis line. He transferred from Atlanta after Ford shut down the Atlanta Assembly Plant in 2006. It was the third time in his 22 years as a UAW member he's had to pick up and plant new roots elsewhere. His main demands are ending tiers and getting job security to protect workers against plant closures, including the return of a "jobs bank," a program that guarantees wages and benefits when an automaker eliminates work or closes factories.
"The Big Three have closed 65 plants over the last 20 years," Fain said August 1. "That's been as devastating for our own towns as it has been for us. We have the right to defend our communities from the corporate greed that's killing so many cities and towns."
The UAW is proposing a "Working Family Protection Program" that requires companies to keep UAW members employed in the event of a plant closure or financial downturn in their community.
'WE DO THE SAME JOB'
Brittany Slemmons, a tier-two worker, came to the picket line with her daughter and said that she's ready to strike to end tiers: "We should all be equal. We do the same job. We work the same hours." She has been at the plant for eight years.
Aaron Crawford hired in early in the pandemic in 2020. He said he wants to fight for pension and cost-of-living increases, a raise pegged to inflation that the union gave up during the Great Recession. But he said he's also fighting for retirees. Workers hired since 2007 don't get retiree health care.
"Even though I'm still young into this career path, I'm also looking out for the older workers that have retired to get better health care," Crawford said.
Katrina Bailey has put in 30 years at the Kentucky Truck plant and is looking to retire in the next couple of years. "This plant is getting ready to face a mass exodus between now and probably another three years," she said. "Because the bulk of our workers have almost 30 years in, [this contract fight] is generational—securing both sides of the fence if you will—for the newly hired workers as well as the ones that have been here for some time."
Bailey supports ending tiers to bring union members together because "a house that's divided can't stand." She said she's been saving up to strike. "Am I afraid? I'm not." She pointed to the pin on her overalls: "I don't want to strike, but I will."
She referred to a quote from Malcolm X, which Fain has repeated on a number of occasions: "Whenever you hear a man saying he wants freedom, but in the next breath he is going to tell you what he won't do to get it, or what he doesn't believe in doing in order to get it, he doesn't believe in freedom. A man who believes in freedom will do anything under the sun to acquire…or preserve his freedom."
Bailey watched from Louisville how auto workers enforced picket lines during the 2019 GM strike and said she's ready to do the same at Ford. In the event of a strike, she said, "We're out here fighting for our rights. Don't you come over here trying to put in an application at this time!"
FIGHTING MOOD
Many issues brought people out to the picket line, but the unmistakable was that the union's top leadership and membership are in a fighting mood the likes of which the UAW hasn't seen in decades.
UAW Local 862 President Todd Dunn said he hadn't seen such a turnout in his 28 years in the union. "Half the time we can't get two people together," said Dunn. "But what you're doing right here today is a total commitment. No matter where we're at—if you're entry level, middle level, side level… it doesn't matter. We are one union."
Local 862 represents about 12,000 workers between Ford's Kentucky Truck Plant and the Louisville Assembly Plant where workers build Ford Escapes and Lincoln Corsairs.
"A lot of members here at Local 862 said they are tired of being left in the dark. It's time to connect the top [of the union], all the way down. And we've done that," Dunn said.
The bonds of solidarity also stretched to other unions, with UPS Teamsters fresh off their contract fight joining the practice picket.
"We just took on UPS and won," said James DeWeese, central region assistant director of the Teamsters and business agent for Local 89. "And now we are standing with you."
"Our purpose here today is to show Ford Motor Company that while we appreciate their paycheck, we also work long and hard to be treated fairly," said Dunn. "They owe it to us. They can't do it without us. And we are the union that keeps their Ford Motor Company alive."