Shocking Death on Set Shows What's at Stake in IATSE Film and TV Crew Contract Fight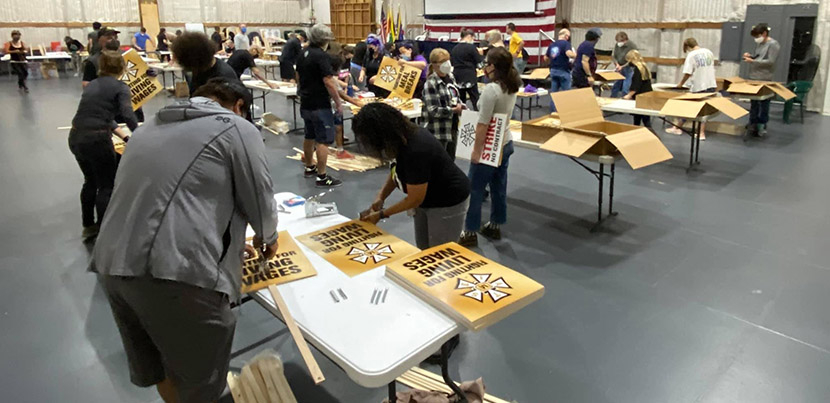 The union representing 60,000 film and television crew workers reached a tentative agreement with Hollywood producers October 16. The deal averted a first-ever national strike by the Theatrical and Stage Employees (IATSE), which was set to begin the next night—at least for the time being. The contracts will be voted on in the next several weeks.
Matthew Loeb, IATSE president since 2008, hailed the agreement as "historic." But though Loeb calls the agreement a "Hollywood ending," for the tens of thousands of members who voted to authorize a strike, the credits aren't rolling yet. Initial responses on social media seem mixed at best, and many members are publicly calling on their colleagues to vote no.
'Five Hours of Sleep a Night': Dangerous Conditions on the Set Where Member Was Killed
A horrific accident on a film set in New Mexico yesterday illuminated the dangers that crew members face.
In the course of filming, a gun shot by actor Alec Baldwin struck and killed cinematographer Halyna Hutchins, a member of the Cinematographers Guild (IATSE) Local 600, and wounded the director and writer, Joel Souza.
Below-the-line crew members on social media are pointing out the direct relevance of their contract demands to this tragedy.
The day before the shooting, the first assistant camera on the set, Lane Looper, had commented on Facebook, "The show keeps arguing they don't have to do anything because contract minimums don't force them to... Most folks on my show are getting five hours of sleep a night."
An anonymous post reportedly by another camera team member on the same set said the camera team had resigned together from the production citing a lack of payment, of Covid protocols, of hotel rooms after long days, and of safety standards generally.
In 2014 another Local 600 member, camera assistant Sarah Jones, was struck by a train while making a film and killed. It was later determined that the film's producers had been denied permission to use the tracks, and that various other safety protocols had been violated. The director spent two years in jail for his role in the death, and two other producers also pled guilty and received penalties of fines and community service.
The "Safety for Sarah" movement sparked conversations about set safety across the industry, and even led to the launch of an app called "ICG Safety" that allows quick reporting of set safety hazards, including long hours, to the union.
FRATURDAYS
IATSE has never called a national strike in its 128 years. But film and TV workers were eager to make history this year to end some of the industry's most exploitative practices. In September, 99 percent of voting members authorized a strike, with a huge 90 percent turnout. Two different master agreements covering 36 locals both expired, and the strike authorization tally includes both: the Hollywood Basic, which covers Los Angeles projects, and the Area Standards Agreement, which covers work outside of LA and NYC.
"Below-the-line" crew like grips, designers, makeup artists, and camera operators are anxious to end common practices like "Fraturdays"—long Friday shoots that go all night and continue into Saturday; weeks with multiple 15-plus hour days; and missed meal and bathroom breaks. Producers routinely pay the contractual penalties rather than provide breaks.
Leading up to the strike vote, a new Instagram account, @IA_stories, exploded with horror stories submitted by crew members. Contributors described car accidents from falling asleep at the wheel after long shoots, infections from delayed bathroom breaks, and the emotional toll of working while bereaved, hours after the birth of a child, or through family emergencies, just to keep their jobs.
The pandemic had changed workers' expectations of what might be possible. In March 2020, the film industry ground to a halt. When it resumed a few months later, health and safety protocols scaled back production capacity. Fewer people could be on set at a time, days were shorter, and crews got a glimpse of a better work-life balance.
Another major issue was the need to cover a $400 million projected deficit in the Pension and Health Plan, partially the result of outdated agreements with "new media" companies who make streaming content.
SOME DETAILS
Many of the agreement's details hadn't been released as of press time. But the union is publicizing a few of the improvements and the concessions it fought off. Some of the lowest-paid workers, like script coordinators and writers' assistants who currently make $16 an hour, will reportedly see their wages rise to $23.50 next year and to $26 over the three-year contract.
The deal provides for a 10-hour "turnaround," the minimum time you have from the end of your shift until your next call time, and weekend rest periods of at least 54 or 32 hours, depending on the job.
An old carve-out for streaming services, once considered risky "new media" but now dominated by profitable giants like Amazon and Netflix, has let these services pay less than the studios. The tentative agreement promises improvements there, as well as diversity initiatives, expanded sick leave, and additional penalties for skipped meal breaks. IATSE reportedly maintained the pension eligibility standard—now 400 hours a year—which the studios had proposed raising to 950 hours.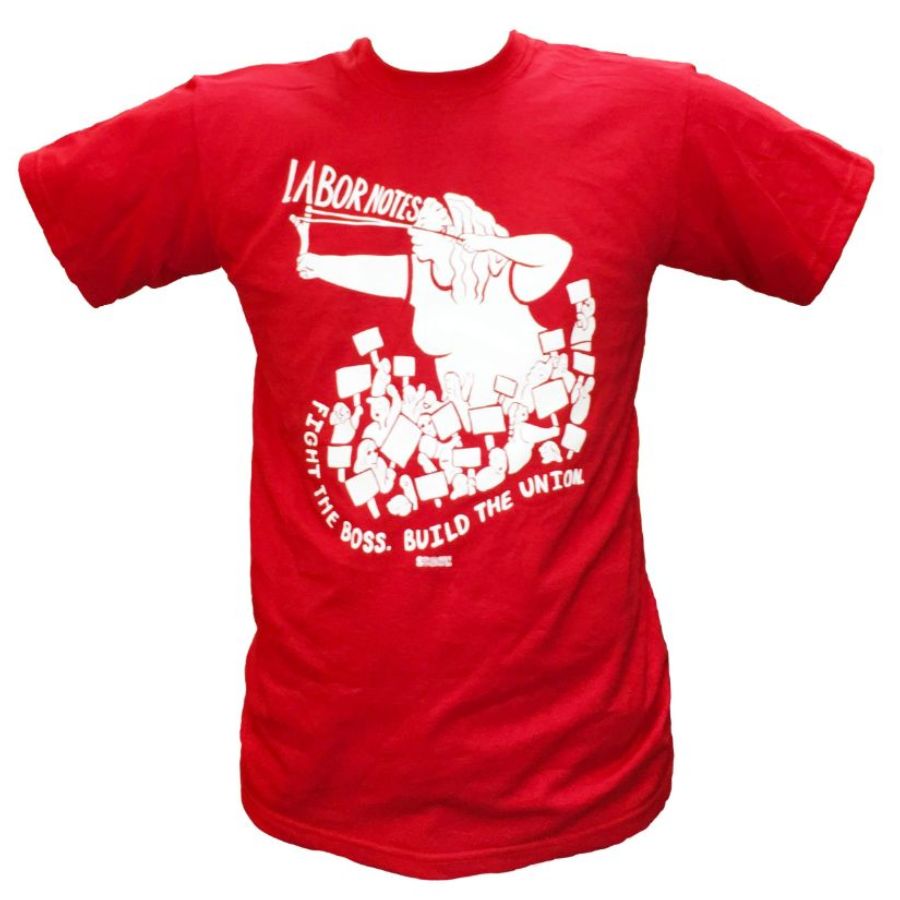 But expectations were heightened when IATSE members got a taste of their power during the strike authorization vote and the outpouring of public support. Some feel that the tentative agreement doesn't reflect this newfound strength.
"[The union started the negotiations] thinking they had a minor league team, and then realizing you have Michael Jordan in his prime," said Fae Weichel, a first assistant camera and member of Local 600.
Member Naomi Markman is not satisfied. "Ten hours [off work] is not enough," she wrote to Labor Notes. "And there are major carve-outs where turnarounds can be eight hours. Fraturdays will continue. Exhausted driving will continue." She feels the penalties for skipping meal breaks are still just a slap on the wrist, especially compared to studio profits.
"We asked for conditions that would allow us to live our lives," Markman wrote. "To see our families. To sleep a reasonable amount. This 'deal' gives us none of that."
PRESSURE TO TOE THE LINE
President Loeb is the chief negotiator for all the contracts. In the 2018 negotiations he engaged in a public, rancorous fight with a local leader who spoke out against a tentative agreement—Cathy Repola, the executive director of the Motion Pictures Editors Guild Local 700.
Repola issued a video and letter to members arguing that the agreement didn't go far enough on the demands for working conditions and excluded Editors from some provisions. She and the local bargaining team recommended a no vote. Local 700 was the only local to vote down the agreement, which still passed.
Soon after, Repola was removed from her positions on IATSE's pension and health boards, positions appointed by Matt Loeb.
During negotiations, Loeb and all the union locals maintain a media blackout. The effect was that members heard little about what was proposed or agreed to until after the strike had been called off. Bargaining had started in the spring and had included pandemic "return-to-work" negotiations as well, leaving members confused about what was on the table and when.
Labor Notes obtained a video of Mike Loomer, a Local 44 executive board member, explaining to members that to "leak" updates would violate the National Labor Relations Act requirement to bargain in good faith.
The NLRA does not require a media blackout for good faith bargaining. Negotiators must adhere to the ground rules decided by the teams, but locals in industries from schools to newsrooms to health care manage to provide members with regular updates; some even open up bargaining sessions to general member participation.
MINORITY RULE?
In 2018 the Area Standards Agreement was settled a few months after the Hollywood Basic Agreement, but IATSE tweeted on October 20 that the two agreements would vote concurrently this time. They're negotiating that agreement now, based on the Hollywood Basic pattern.
The contract is voted on by an "electoral college-style board," as described by Variety. Members of 36 locals will vote; the majority in each local will determine whether all of their delegates vote yes or no. A contract that receives a popular majority of "no" votes could be ratified anyway. Voting dates have not yet been announced.
In 2018, the Cinematographers Guild, Local 600, topped the delegate count with 76, followed by the Editors Guild, with 73. The smallest, Local 884, had just two.
Members aren't getting much information from the IA about what would happen if they voted no. Some are worried about "how strong we would be if we returned to the table," according to Weichel, or whether a no vote would automatically lead to a strike. (It would not.)
But whatever the outcome, IATSE members appear to be emerging from the pandemic and from this contract battle with a greater sense of power. "This is a turning point for IATSE," said Weichel, a leader in the union's young worker committee. "Regardless of this vote, I am very excited for the next round."
Update: an earlier version of this article referred to "script supervisors" as some of the lowest-paid workers in the industry. This has been changed to "script coordinators" for accuracy.
Luis Feliz Leon contributed reporting to this article.