Labor Fights for George Floyd in Twin Cities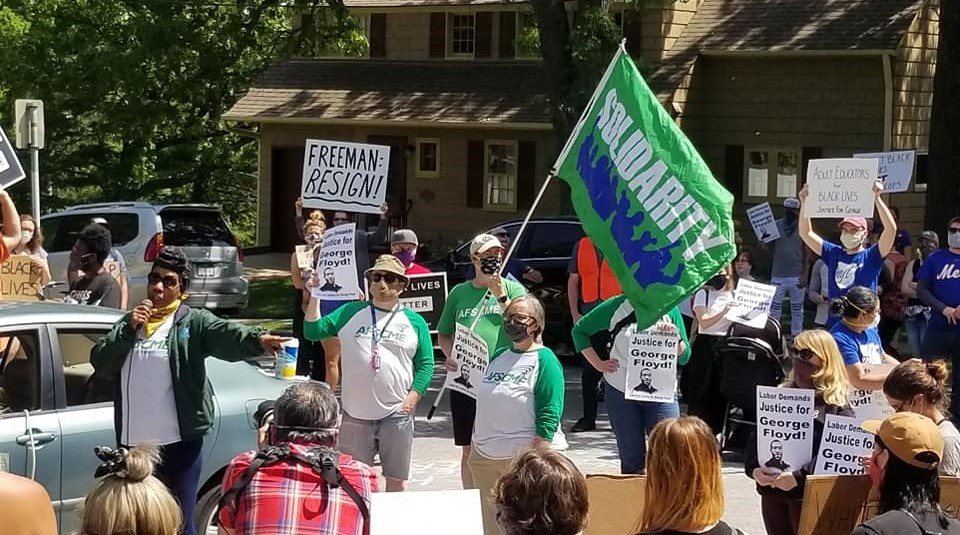 I watched with horror the video of George Floyd's murder by Minneapolis Police, so bravely captured by a 17-year-old African American woman. Seared in my brain is Officer Derek Chauvin's smirk as he knelt on Mr. Floyd's neck, ignoring his pleas for help, his calls for his mother, and his repeatedly saying, "I can't breathe." Three other officers stood by, protecting Chauvin from any intervention that might save Mr. Floyd's life. As I watched and wept, I looked more closely at the background and realized that Mr. Floyd was killed just blocks from my house.
Minnesota, and the Twin Cities in particular, have a long history of unchecked police brutality. More than 40 people have been killed by the police in the last five years, the majority African Americans and other people of color. Only one police officer has been found guilty of murder, and that was a Somali-American officer who killed a white woman in 2018.
While many rank-and-file union members and some union locals, including mine, have actively joined the call for racial justice and police accountability, the labor movement officialdom in Minnesota has largely been silent before now. Unions that have spoken out have gotten a great deal of pushback by conservative white union members and by the police unions in Minneapolis and St. Paul.
My local, AFSCME 3800, clerical workers at the University of Minnesota, has long mobilized our members to join with Black and Brown community organizations in calling for an end to police repression. When Mike Brown was killed in Ferguson, our local brought a resolution calling for justice to our state council convention, but it was voted down in an effort led by corrections locals.
When Jamar Clark, an unarmed Black man, was killed by police in 2015, our local again passed a resolution calling for justice, encouraged our members to participate in protests, and helped organize a rally of hundreds of labor activists who called for police accountability. We were criticized on Facebook and sent threatening FB messages by police officers and their supporters. The St. Paul Police Federation passed a resolution denouncing our local and calling me out individually.
When Philando Castile, a school cook and member of Teamsters Local 320, was killed by the nearby St. Anthony Police, many more unions spoke out, led by the teachers unions in St. Paul and Minneapolis; the latter organized a march and civil disobedience during the AFT national convention. They were denounced by the Minneapolis police union and called out by some conservative white union members.
IT'S A NEW LANDSCAPE
The unprecedented uprising of grief and rage over the murder of George Floyd has changed the landscape. Rank-and-file activists are pushing their unions to take action and more unions are encouraging their members to participate in actions as visible union members.
AFSCME 3800 has hundreds of members who live in the neighborhoods impacted by the uprising, and we immediately began mobilizing to support our Black and Brown members and to demand justice for George Floyd. Many of us participated in the march of 20,000+ people the day after Mr. Floyd's murder. At our membership meeting two days later, we passed a resolution demanding the arrest, charging, and vigorous prosecution of Darin Chauvin for murder, and the arrest and prosecution of the other three officers as accessories to murder.
AFSCME Local 2822, Hennepin County Clerical Workers, has been out in the streets every day as part of the protests. In the aftermath of Jamar Clark's death, a multiracial group of rank-and-file members pushed their local to take action for racial justice, and when the leadership wouldn't, these members ran against the leadership and won. They have consistently organized against racism in the workplace, such as discriminatory discipline, and against police repression.
The bus drivers union, Amalgamated Transit Union Local 1005, has publicly refused to allow its members to drive the buses hauling police or arrested protesters. Their strong stance has inspired other locals around the country as well as their international to do the same.
Minnesota Workers United, a coalition of unions and rank-and-file activists that came together to support numerous strikes over the past few years, organized a labor contingent with unifying signs and several hundred participants in the caravan for justice on Saturday. MWU also organized a "Labor Demands Justice for George Floyd" protest the following day at the home of Hennepin County Attorney Mike Freeman. Hundreds of rank-and-filers and leaders from dozens of unions came together to pressure Freeman to charge all four police. Freeman is a Democrat who has counted on labor's endorsements and boots on the ground to get elected. We put him on notice that we were holding him accountable. Later that day, Governor Walz announced that State Attorney General Keith Ellison is taking over the case.
BEREAVEMENT LEAVE
On Monday, AFSCME Local 34's Anti-Discrimination Committee wrote an email to all members, encouraging Black and Brown members to use bereavement leave as needed "to grieve, to mourn, to engage in self-care or to righteously express your hurt." They also encouraged white workers to take on their co-workers' work and donate vacation as an act of solidarity. Yesterday Hennepin County announced that all workers would be allowed to take 16 hours of bereavement leave during this time.
Yesterday the Minneapolis Federation of Teachers rallied at the city's school board to demand that it cancel its contracts with the Minneapolis Police Department, which provides uniformed officers in the schools. The board voted unanimously to cancel.
Within the labor movement, public criticism of the Minneapolis Police Officers Federation is growing. UNITE HERE Local 17 created an online petition calling for Federation President Bob Kroll to step down. Kroll has long been alleged to have ties with white supremacist organizations and has frequently gone on vitriolic tirades against protesters, calling Black Lives Matter a "terrorist organization."

Dozens of misconduct complaints have been filed against Kroll over the years. In an April interview, Kroll said that he and a majority of the union's board have been involved in police shootings and none have been bothered by it. Kroll said, "Out of the 10 board members, over half of them have been involved in armed encounters, and several of us multiple. We don't seem to have problems." In a letter to members of the Police Federation this week, he called George Floyd a "violent criminal" and described the ongoing protests as a "terrorist movement."
The Minnesota AFL-CIO on Tuesday called for Kroll to step down. Their statement reads in part, "Minneapolis Police Union President, Bob Kroll, has failed the Labor Movement and the residents of Minneapolis. Bob Kroll has a long history of bigoted remarks and complaints of violence made against him. As union President, he antagonizes and disparages members of the Black community. He advocates for military-style police tactics making communities less safe and the police force more deadly. Despite his conduct, Kroll was reelected with an overwhelming majority. If Bob Kroll does not value the lives that he is sworn to protect, then we can only expect more death under his leadership.

"Bob Kroll's actions and the ongoing lack of accountability in the Minneapolis Police union are not just. Bob Kroll must resign, and the Minneapolis Police Union must be overhauled. Unions must never be a tool to shield perpetrators from justice."
The calls for justice coming from the higher levels of the labor movement today are a direct result of the last week of unrest, but also the result of years of organizing by Black and Brown community organizations demanding racial justice and an end to police brutality. It is also the result of local unions and rank-and-file members who have taken to heart the adage, "An Injury to One Is an Injury to All."
THE VOICE OF THE UNHEARD
As Dr. King said, a riot is the voice of the unheard.
Peaceful protests the day after Mr. Floyd's murder were met with rubber bullets and tear gas by the police, provoking more and more militant responses. Dozens of buildings have burned, and hundreds of businesses have been vandalized and looted.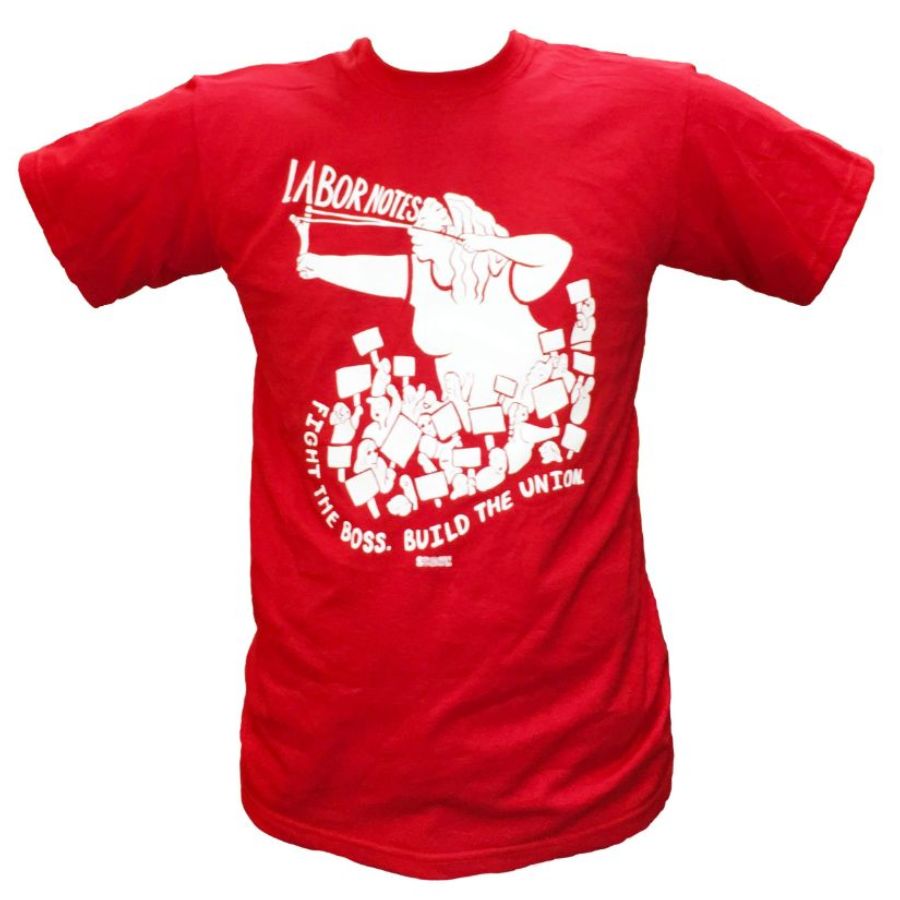 There have been a lot of reports that this is the work of "outside agitators" or provocateurs, but we say no. There is a long history of saying civil rights protests and labor strikes were organized by "outside agitators," and these claims are always proven false.
After nights of buildings being burned throughout the city, I've heard many ask, "why would people burn down their community businesses? It must be outsiders." Following the burning of the police precinct, the first buildings to go, and the ones that have been most targeted, are businesses that most exploited people: pawn shops, liquor stores, cell phone stores, dollar stores, gas stations. Target's world headquarters is in Minneapolis, and the store that was looted had been used to test all of the company's security measures—many people have reported being profiled when shopping there.
There is a high level of poverty in the Twin Cities, and many lost what jobs they had because of the pandemic or they are risking their lives as essential workers. COVID-19 is far more deadly for African Americans than for whites. The rebellion started because of George Floyd but it is also over the systemic racism that is oh so real. The rage is real. As AFSCME 3800 executive board member Mahva Jones said at the labor rally, "The system is not broken, it is working as designed. At no point in this country's origin were Black people meant to be anything other than slaves or dead."
I've lived in South Minneapolis for 12 years and have loved living in a multiracial working class neighborhood that has deep community ties. But for my Black and Brown co-workers and neighbors, what many white people have lauded as idyllic is a façade.
MILITARY OCCUPATION
The past week has felt like we are living under military occupation: curfews, freeways closed, public transportation shut down, thousands of National Guard on the streets, in addition to hundreds of police. Blackhawks and police and military drones can be heard over head 24-7 since last Wednesday. If we are able to sleep, we are frequently woken up by the sound of flash-bang grenades and tear gas being fired. The smell of fire and smoke is pervasive when we are outside.
Many are fearful of being teargassed or shot while protesting, or even while being at home on our front porches, as that has happened in some neighborhoods. The fear of the police presence is pervasive, and it is making many white folks realize that this is a fear that our Black and Brown neighbors and co-workers feel throughout their lifetimes, not just during a week of unrest.
The last week in the Twin Cities has been unlike anything I have seen in my lifetime. Though the repression and militarization has been terrifying, the power of the people demanding justice has been palpable. The crowds that have at times numbered in the tens of thousands are multiracial, multigenerational, and mostly poor and working class.
Last night, a number of AFSCME 3800 members spent several hours together at the George Floyd memorial, reading the tributes from around the globe, listening to person after person tell their stories of repression at the hands of the police, and joining the calls for justice and systemic change. The area of 38th and Chicago where George Floyd was murdered is being called sacred space, and it felt that way. In this space and in spaces like this around the country, real communities are being built.
Our unions need to be there. Our Black and Brown members need us to be there. We cannot build a strong labor movement if we do not take up the full fight for racial equality. The time is now (actually it's long past the time) for labor to stand with our Black and Brown members in demanding justice.
Cherrene Horazuk is president of AFSCME Local 3800, clerical workers at the University of Minnesota.