Lessons from the First Union Climate Strike in the U.S.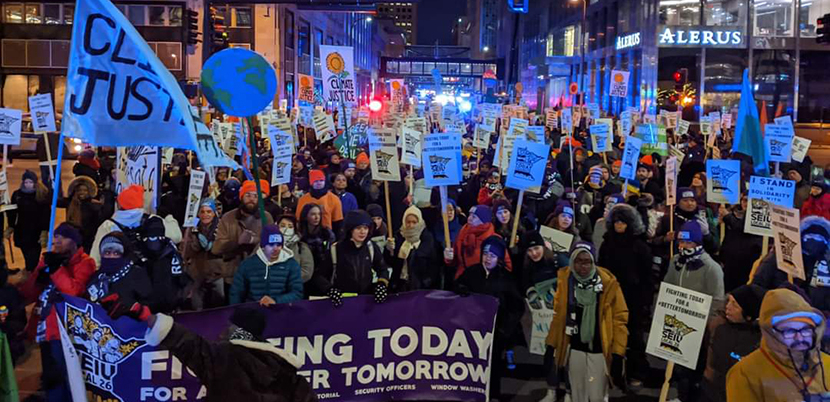 On a pitch-dark night on February 28, striking janitors led a huge march along the frozen streets of downtown Minneapolis. Any other night, the janitors would be warm inside, cleaning the buildings of the Fortune 500. Instead they were leading what some have called the first union-sanctioned "climate strike" in U.S. history.
Alongside the hundreds of striking janitors (mostly immigrants from Somalia, Mexico, Ecuador, and Nepal, to name a few) there were high school students (part of the wave of "climate strikes" around the world last year), and more traditional environmental justice allies like MN350.org and Sierra Club.
Corporate office towers account for over 70 percent of the carbon emissions from buildings in Minnesota. Together, janitors and their allies were fighting to establish a new fund focused on green cleaning techniques to reduce those carbon emissions, and a "community bargaining table" (with corporations like U.S. Bank, Wells Fargo, United Health Group, and Ameriprise) to discuss even more aggressive measures to lower emissions.
A week after the one-day unfair labor practices strike, the 4,000 janitors, members of Service Employees Local 26, won a new contract, that included many of their demands.
WHAT WE WON
The new contract includes:
Funding for a green cleaning initiative to reduce waste and water and energy consumption while transitioning away from toxic chemicals, with the goal of significantly lowering carbon emissions from buildings. To be developed jointly with the janitors who do the work.
Wage increases of $2.20 over the course of the contract for full-time workers (13 percent over four years), with some part-timers rising from $11.12 to $16 (44 percent increase)
Moving all senior full-time workers to six paid sick days by the second year of the contract
Reducing cost of health insurance for individuals and children
Incorporating sexual harassment policies into the contract
We found that thinking big, alongside the communities most impacted by climate change and workplace inequities, works. So does working across generations—it's critical and exciting and hard. Together, we showed that women and young people, immigrants and working class people of color can begin to win solutions to some of society's biggest problems.
LESSONS FROM THE UNION PERSPECTIVE
It takes hard work to build a coalition. These groups met for four months to develop joint green demands. We held teach-ins, study groups, and a day-long kick-off event a month before the strike, with 70 leaders from all the organizations making grassroots art and chants. This culminated in a week of action where each organization did separate direct actions leading up to the strike, including a week-long leadership school.
The longstanding SEIU Local 26 tradition of open bargaining works. Our union has very large bargaining committees, open to any member, with robust discussions in caucus, translated into four languages. This debate helps us develop deep agreement within the membership on what we are fighting for.
When we negotiated with the companies over the green demands, we made sure to combine them with bread-and-butter issues (wages, workload, health care) so that we could maintain internal unity as we escalated towards a fight. Students and environmental groups came to the janitors' bargaining sessions to build solidarity.
It takes hard work within the union to create the space for climate demands. The cost of this program was minor (1 cent per hour worked), but it ground negotiations to a halt for almost 12 hours (from 6 pm to 6 am) in the final session of bargaining, and almost derailed the entire settlement before our deadline for an open-ended strike the following week.
The bargaining committee of more than 100 rank-and-file workers had long, heated debates about whether to stand strong on this issue. We ultimately won, but had to compromise on the amount of funding and sacrifice other issues like additional holidays that were important to groups of the members.
As unions try to "bargain for the common good" and take positions about issues outside of traditional labor relations, the companies will simply try to ignore those demands—unless the union is willing to sacrifice and ultimately strike. Management would much rather give up more money in raises than give up control.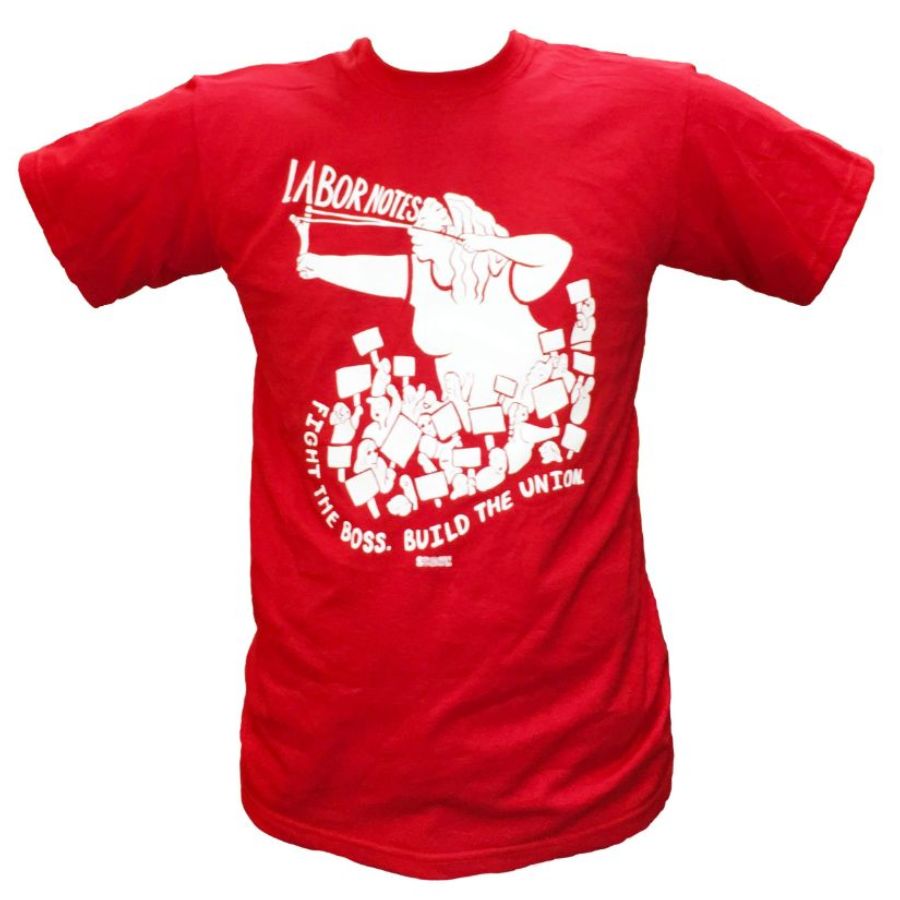 Unions have set the unfortunate expectation over the last 70 years that we exist only to win better wages and benefits for members. Helping both the larger community and our members to see the union as a vehicle to win on other issues is critical to the survival of organized labor. Otherwise our community will rightly see us as a narrow self-interested club, easily isolated, easily defeated. But to do this we must first do the hard work of education and consensus-building within the membership.
We found in our contract survey that more than 40 percent of our members say they or their families have been impacted by climate change. We made educational flyers and videos to connect climate change with members' experiences of emigrating from their countries of origin. In many cases climate change had driven them to leave farms that were once fertile.
We held discussions with our large bargaining committee. We expanded our thinking from just the use of chemicals to best practices on water and energy conservation. We saw the connection between the safety and health of our workers and that of the buildings' tenants.
Community coalitions are corporations' Achilles heel. When unions break out of the "exclusive membership club" model that focuses just on wages and benefits, and lead fights on "common good" issues that impact our whole community—like climate change, COVID-19 , housing, or racial justice—we also renew our leverage at the bargaining table. The companies have their PR and HR functions to contain and neutralize us when we stay in our traditional roles, but are caught off guard when we come at them from many different directions. This is just a sliver of what is possible.
The market has failed on climate and COVID-19. The total failure of individual, market-driven, corporate-branded solutions to our society's collective challenges is revealed by the crises of climate change and COVID-19. You simply cannot as an individual stop climate change or a pandemic, no matter how high you build your wall. Only by having a deep democratic discussion within and among our communities, and decisive collective action, can we hope to confront these challenges.
LESSONS FROM THE ALLIES' PERSPECTIVE
There are difficulties. Typically, student "climate strike" dates are announced by a national or global coalition. Then local student groups organize their peers to skip school on that date and plan actions. Often, we work backwards, choosing targets and demands after the date is set.
This strike, however, required us to plan and mobilize according to what was strategic in a very local setting. While this made the action much more effective, it made student organizing more difficult without the momentum of national/international action. It was also difficult to navigate a coalition of mostly adults, who held meetings and calls during the work day while we were at school.
There are advantages to allying with labor. SEIU has infrastructure and power beyond what we could dream of. From translation services to catering to the ability to bring thousands of people into the street on a cold night in Minneapolis, the resources and power of SEIU were inspiring and effective.
Power doesn't stem from the state capitol. So often the climate movement places the focus on politicians, who rarely make a move to stop corporations from wreaking havoc on our communities and our climate. This strike didn't focus on them. Instead, we used our collective power to directly demand that the corporations make change—and won.
Working class people of color are already taking the lead on climate solutions. Within the climate movement there is much talk about centering front-line communities, those most impacted by the climate crisis. In the end, it was SEIU that came to us with a tangible solution—the green training program—and a template for how to win it. Workers like the members of SEIU know what the problem is and how to solve it. We need to stand with them, because together we can win huge things.
Iris Altamirano is the president and lead negotiator of SEIU Local 26. Greg Nammacher is the secretary-treasurer. Priya Dalal-Whelan is a high school student and partnerships director of MN Youth Climate Strikes.
See the report on pollution and solutions produced by the coalition: "Sky High Pollution: How Minnesota Corporations Pollute Our Planet and Politics, and How Community Collaboration Can Help the State Reach Its 2050 Greenhouse Gas Emission Reduction Goals."