21,000 Strike Giant California Hospital Chains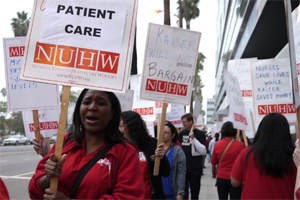 Sparking the biggest strike ever at California health care giant Kaiser Permanente, 4,000 members of the National Union of Healthcare Workers took to picket lines Wednesday through Friday.
They were joined on sympathy strikes by 17,000 nurses across California, including thousands at Kaiser facilities in Northern California who settled their contract last year.
Striking NUHW members included professional and technical groups in both Northern and Southern California, as well as RNs at the Los Angeles Medical Center who have held two short strikes already this year. They have been locked in tense negotiations with Kaiser since they left the Service Employees (SEIU) last year to join NUHW.
TAKING ADVANTAGE
Despite sizable profits—$5.7 billion in the last three years—Kaiser has been pushing health care and retirement cuts at the bargaining table, and NUHW members say they are dangerously short staffed.
"We're putting a stake in the ground to stop this slide at Kaiser," said Jim Clifford, a bilingual therapist at a clinic in Otay. "Like the rest of corporate America, they're using the economy as excuse to cut benefits."
Clifford said wait times for patients at his clinic have exploded, echoing reports across the Kaiser system.
LaNeta Fitzhugh, a neonatal intensive care nurse at the LA Medical Center for the past 30 years, said that Kaiser's staffing system regularly leaves her hospital understaffed.
Nurses routinely skip lunch and work through their breaks to cover patients, Fitzhugh said, and their 12-hour shifts are routinely stretched out to 16 or even 20 hours.
"We put proposals on the table that spelled out the staffing levels our patients need, but Kaiser rejected them," Fitzhugh said.
BREAKING THE FIGHTERS
Last year, NUHW lost a bitter election contest to take 45,000 service and technical workers at Kaiser out of the Service Employees. The election was marred by widespread intimidation, and in June a federal judge found Kaiser guilty of colluding with SEIU by withholding raises from Clifford and his co-workers after they joined NUHW. Clifford believes that is why Kaiser is taking such a hard line against the union now.
"We're an activist union willing to stand up to Kaiser," he said.
Clifford believes he and his co-workers are not an isolated case. "It's not only about our benefits and our staffing," he said. "This affects everyone working at Kaiser. We're the first target, but if other unions at Kaiser don't stand up with us, they're next."
NURSES IN
Kaiser nurses, members of the California Nurses Association, walked out in sympathy with NUHW RNs.
CNA's members also struck at 12 Sutter hospitals and Children's Hospital in Oakland.
By threatening to cut retirement and boost health care costs, Kaiser and Sutter threaten all hospital workers, said Martha Kuhl, secretary-treasurer of National Nurses United, the national union to which the California Nurses Association is affiliated.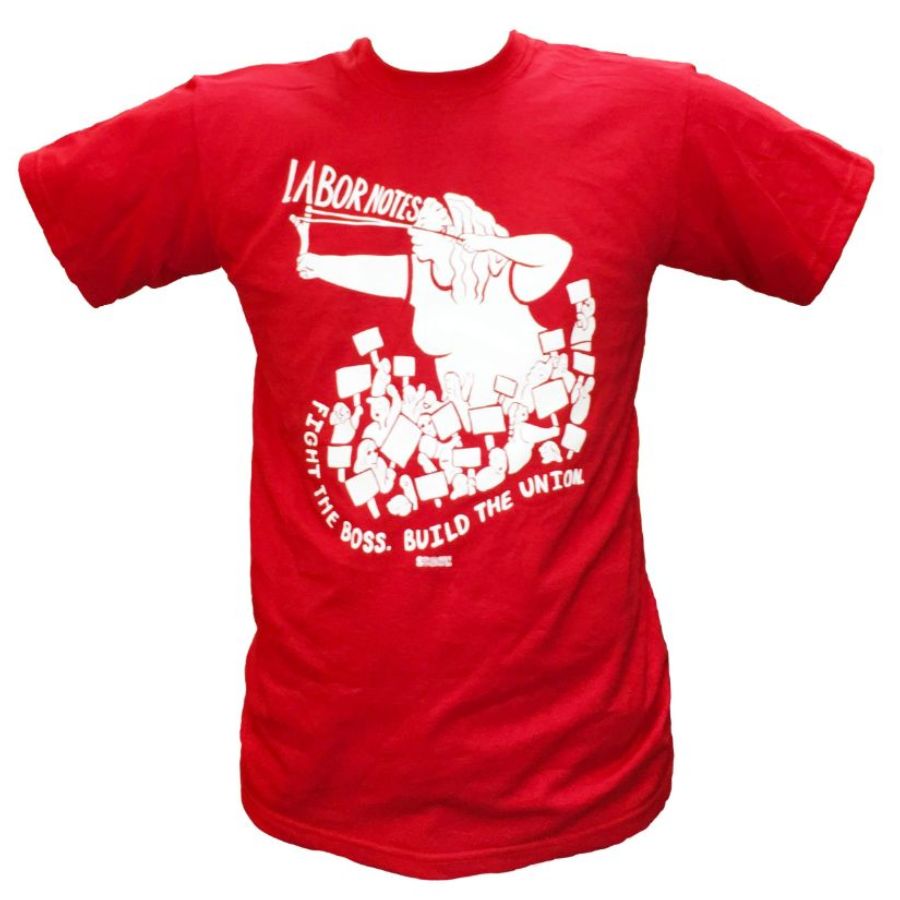 Both Kaiser and Sutter kept facilities open with nurse managers and plenty of scabs—spending so much they exceeded contractual staffing levels routinely ignored with their regular workforce. "They've got enough money to fly in strike-breakers, house them, and feed them. Why can't they pay us?" Fitzhugh said.
Sutter will lock out nurses for four additional days, while Kaiser welcomed their nurses back after their daylong sympathy action.
Kuhl said many of the strike-breakers are Southern nurses. One she met said she hoped crossing the picket line wouldn't harm her relationship with union nurses.
FACING DOWN 150 CONCESSIONS
Ann Gaebler, a neonatal nurse at Alta Bates Summit hospital for 30 years, said nurses realized they have to stick together to defeat the takeaways demanded by the two hospital chains. Nurses in the Summit chain face 150 concessions in their bargaining.
Picket lines were strong, Gaebler said, as honking cars and cheering picketers drowned her out.
Along with pay and benefit givebacks, Gaebler said nurses are incensed by demands to force them onto short-term disability leave, paid at a much lower rate, if they use more than seven sick days.
"They're also trying to limit our voice," Gaebler added, pointing to demands to eliminate committees where nurses and managers examine patterns of care and investigate problems.
Managers would prefer to make staffing decisions that maximize profits and not patient safety, nurses say, despite already enjoying healthy margins. Kaiser hospitals have made $1.6 billion already this year, and giant bonuses are the norm for top executives. Sutter has booked $3.7 billion in profits over the past six years.
Eileen Prendiville, a nurse at Sutter's California Pacific Medical Center in San Francisco, decried full-page newspaper ads purchased by the hospital association that claim nurses make $150,000 a year.
"Nobody makes that much," Prendiville said, unless they're working nonstop overtime on a night shift.
Sutter is seeking a two-tier pay scheme, dropping pay for entry-level nurses by 5 percent.
The work of CNA and NUHW to fight concessions is made more difficult by SEIU, which instructed tens of thousands of members to cross picket lines. NUHW broke away from SEIU after its leaders were ousted for challenging SEIU.
Kuhl noted that SEIU had agreed to many of the concessions sought by Kaiser and Sutter at her hospital, Children's in Oakland, and is believed to have agreed to similar takeways elsewhere. Yet its "me-too" agreement with Kaiser would pull its members up to higher contract standards—if CNA and NUHW achieve them. "It's the height of cowardice," Kuhl said. "They want the benefits but don't want to fight for them."
Nurses at the Sutter facility in Novato, a small Marin County hospital, were so intimidated by management they wouldn't give their names. They said they struck because they're outraged by management's demands to "float" them to different units of the hospital irrespective of training—and by the offer of a four-year contract with a pay freeze.
"Employers like Sutter are declaring war on workers," Prendiville said. "The implications for safe staffing if they succeed are horrifying. We can not and will not accept it."