Verizon Strike: As Billions Roll In, Workers Walk Out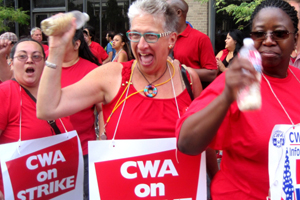 At Verizon locations throughout the Northeast, 45,000 workers started walking picket lines Sunday.
Their strike, brought on by a flood of concession demands the Communications Workers say will pick $20,000 from each worker's pocket, is the largest the country has seen in four years.
Verizon, which has made $19 billion in profits in the last four years, announced July 29 its wireless unit would pay a special $10 billion dividend to shareholders. At the same time, its negotiators were pushing for $1 billion in concessions from workers.
"We're on strike for our bargaining rights, just like Wisconsin or Ohio," CWA President Larry Cohen told members on a union-wide conference call Sunday. "We can never end this recession by cutting the wages of workers."
The company proposed to eliminate pension accruals for current workers and defined-benefit pensions for new hires. Its bargainers want to eliminate job security and shift the cost of health care to workers.
They demanded to replace regular raises with management-determined productivity measures. They want the right to shift more work away from union members and out of the country. They look to axe paid sick days and take away Martin Luther King, Jr. Day and Veteran's Day as paid holidays. They want to fight items as small as a $3 parking reimbursement.
A hundred concession proposals still sat on the bargaining table shared by the CWA and Electrical Workers (IBEW) as the contract expired Saturday night.
The strike appeared to surprise some, on both the union and management side. One pair of managers rushed into the field "fixed" a shorn phone line with duct tape.
Patti Egan-Walters, a business agent for CWA Local 1005 in New York, said another manager confided that he had been dispatched to drive around the city in a Verizon truck—but without any training in how to fix or install anything.
His orders? "When you run out of gas, come on back."
Negotiations in 2003 and 2008 ran through contract expirations. The company flew in a replacement workforce and housed them, but when the unions stayed inside, the cost of keeping a scab workforce idle quickly escalated, prompting a settlement. This time, members say the company's demands are so severe, the unions had little choice but to walk out.
"They want to take 60 percent of the contract and dump it," said Ed Fitzpatrick, president of IBEW Local 2222 in Massachusetts. "These boys are making billions and all they want is cheap labor."
Tashauna Jackson, a CWA Local 1105 steward, noted that the chairman of Verizon's board took home $55,000 a day last year—and that in four years, the company's top five executives bagged $258 million between them.
Yet Verizon says union members must suffer to bring labor costs into line with non-union competitors, prompting members to point out that the union would rather lift cable and wireless workers up to their standards. "We're not going the way of Wal-Mart," said John Colleran, a Local 2222 steward.
Verizon signed a neutrality agreement as part of the settlement ending the 18-day strike in 2000. It promised to allow the unions to organize its wireless workforce—but the company violated the agreement as soon as the ink was dry, fighting viciously against every organizing drive. Today, only 50 Verizon wireless workers have a union.
MOBILE PICKETS
At the Manhattan headquarters Monday, passing cars and trucks honked in support of picketers, to loud cheers and whistles. Workers chanted and booed as managers entered and left office doors just feet away.
Two cops stood watch under the Verizon sign, while others directed anyone wearing a red shirt into an area enclosed by metal barricades. In Albany, a tight group of picketers blocked doors until police forced them to let managers through. One injury was reported in Monday's picketing.
Thirty managers in Manhattan, some with suitcases, entered the building at 7 a.m. Later a group of seven managers in workboots and backpacks (presumably filled with tools) were seen leaving. A dozen picketers followed them into the subway. "Are you kidding, you're going to follow me?" said one manager to a striker.
Workers from the headquarters office normally travel on foot to do installation and repair in lower Manhattan. The pickets would follow struck work throughout the day, said Local 1101 steward Ron Spaulding, making life as difficult as possible for scabs.
The "mobile picketing" strategy, honed in a four-month strike in 1989, is under way in Massachusetts, too. Techs track the vehicles leaving garages and send out the call. "We can get 50 people in a heartbeat," Colleran said, surrounding a manhole or scab truck in the field.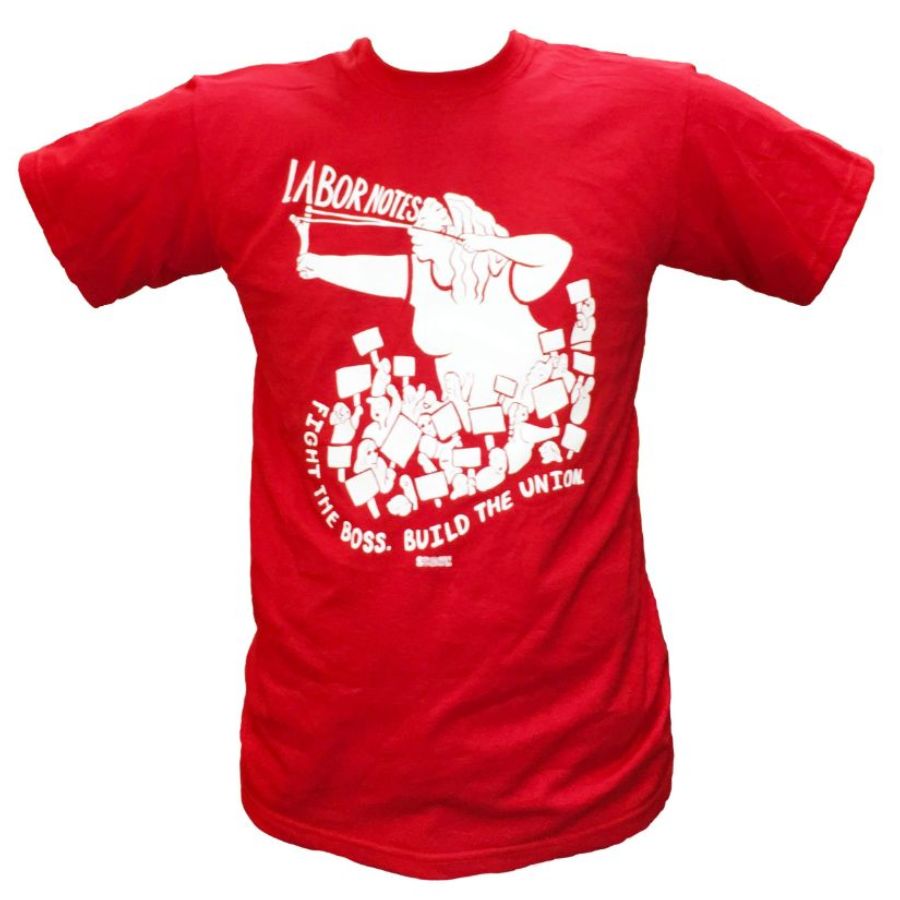 Members have noticed that many safety precautions have fallen away in Verizon's rush to get managers into the field, and mentioned their concerns to OSHA.
Strikers said Verizon's attacks would spread to other unions, and push down non-union workers even further.
Union members don't pay health care premiums at Verizon, a plum they have defended through previous strikes—and one which is increasingly hard to defend, because President Obama's 2010 health care reform will levy a tax on their so-called "Cadillac" plans.
"We fought for those benefits for all those years," said Brian Tyrrell, a special services technician in Manhattan, recalling the sacrifices of past strikes, including the 219-day strike in 1972.
Although the tax won't be levied until 2018, thanks to union lobbying, Verizon is demanding that union members start paying thousands of dollars now.
Some leaders, like CWA Local 1400 President Don Trementozzi, argue that the unions should instead push the companies to back single-payer health care plans in East Coast states, which would take the issue off the bargaining table—and off the company's back—without decimating workers' paychecks or coverage.
OFF THE PICKET LINE
Both CWA and IBEW leaders are clear that traditional strike tactics won't win this walkout—and that they're not going to play by the usual rules. Heavy automation and outsourcing enable the company to maintain the network and send struck work, especially the sales and service work of call centers, flying around the globe.
"Our work is going to India, China—with globalization, the company is at an advantage," Jackson said.
So the unions are targeting Verizon wireless stores, where pickets are turning away customers and denying the company revenue at its most profitable source.
Union negotiators met with the company Monday. Rebutting Verizon's claims, they say the company canceled bargaining sessions leading up to the strike, and that they are prepared to talk.
Cohen has said the goal of the strike is not necessarily a contract settlement but simply to stimulate serious bargaining.
This leaves open the possibility that the unions could submit an unconditional offer to return to work, coming back inside to restart talks—and holding open the possibility of walking back out if Verizon's bargaining stance doesn't improve.
If Verizon, frustrated, locks the workers out, their access to unemployment insurance is triggered and the union could file unfair labor practices over the company's bad-faith bargaining position. Leaning on state benefits would take some of the pressure off the CWA's $400 million strike fund and help the IBEW—which has no fund—stay in the game.
"It's possible to carry out a guerrilla strike campaign—though there are some risks," says Boston labor attorney Bob Schwartz, author of Strikes, Picketing, and Inside Campaigns. The company could discharge strikers if it convinces the National Labor Relations Board that the union is engaging in premeditated intermittent strikes.
But the unions are in uncharted territory, he said.
He pointed out that the unions maintain their right to shut down all parts of their employer's business—union and non-union—and apply pressure to its suppliers, which both unions are pursuing aggressively.
On Sunday's call with members, CWA District 1 Vice President Chris Shelton promised more.
"We're going to use some tactics we're not used to," he said. "But we have to, because the old tactics don't work anymore."
Jenny Brown contributed to this piece.