Corporate America in a Tizzy over Labor Board's Boeing Order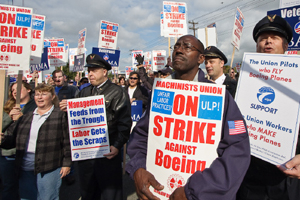 When the National Labor Relations Board told Boeing in April that it couldn't retaliate against workers who exercise their right to strike, Republican lawmakers and the Chamber of Commerce reacted as if Stalin himself had taken over the federal government.
"This goes against everything we know our American economy to be," said South Carolina Governor Nikki Haley. "This is an unbelievable attack on not just right-to-work states but every state that's attempting to put their people to work."
Of course, the right to withhold your labor by striking is a fundamental right guaranteed by labor law for 75 years. Just as employers are barred from retaliating against a worker who signs a union card, they may not legally discriminate against workers who use "concerted activity" to try to better their conditions.
The airplane manufacturer took assembly work on the 787 Dreamliner away from union shops in Washington state, shifting its production to right-to-work South Carolina, where executives had already crushed the Machinists union.
Boeing execs left no doubt about why they moved work, telling a reporter, "We cannot afford to have a work stoppage, you know, every three years." IAM spokesperson Connie Kelliher said she has two notebooks seven inches high filled with newspaper articles and press releases where the company made clear its reason for moving work. The IAM brought the unfair labor practice charge to the NLRB in March 2010.
After the Machinists struck for 57 days in 2008 over the company's concession demands and out-of-control outsourcing, Boeing campaigned aggressively to keep it from happening again, demanding a no-strike pledge.
Washington state coughed up $3 billion in subsidies to try to secure production of the Dreamliner, Boeing's next-generation jet. The Machinists offered a 10-year no-strike pledge.
But that wasn't good enough for Boeing, which chose to build in South Carolina instead. South Carolina officials, desperate for industry, laid out a $450 million welcome mat to entice the company. South Carolina's unionization rate, 4.6 percent—sixth from lowest in the country—was a big part of their sales pitch.
HARDLY OVERREACH
Michael Goldberg, a labor law professor and longtime NLRB watcher, said the agency's ruling was "well-established law"—hardly a groundbreaking overreach.
Corporations that create "runaway shops" to retaliate against workers who exercise their rights are committing an unfair labor practice, he said.
What's unusual about the Boeing case is that "usually employers are smart enough not to say that's what they're doing," Goldberg said. The Boeing case is news because such cases usually involve small companies who don't have lawyers to tell managers to shut up.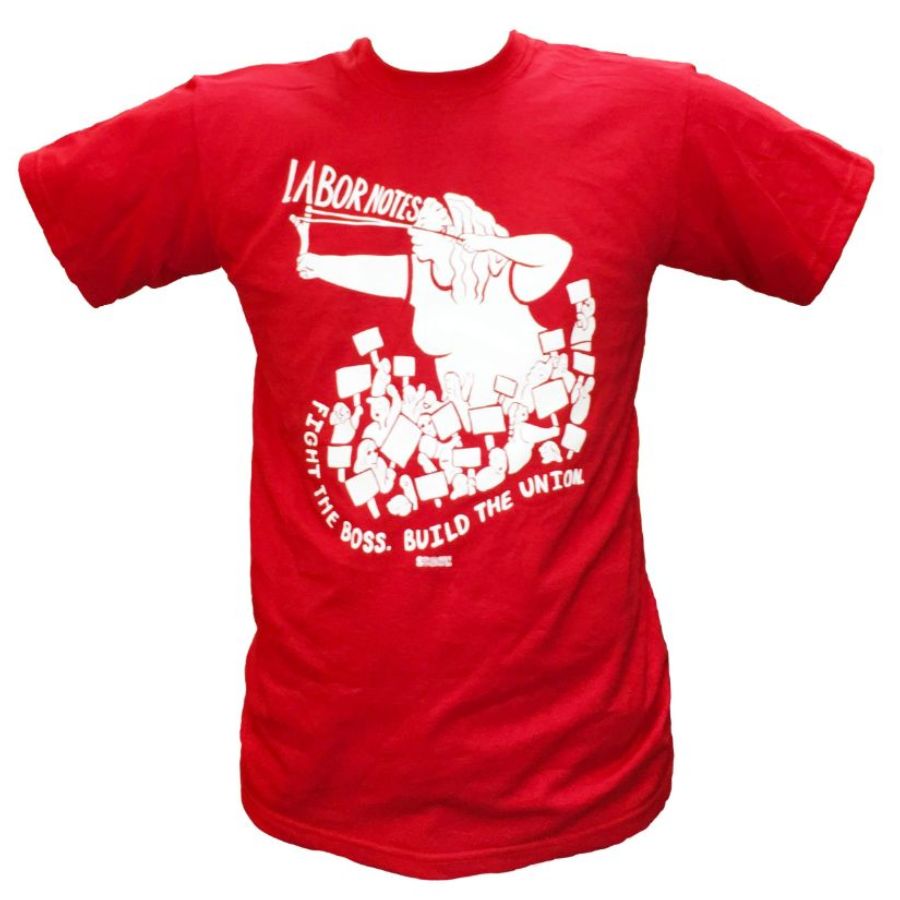 Republican lawmakers have seized the opportunity to bash the Obama administration, holding a mid-May press conference at the Chamber of Commerce in Washington, D.C.
Kentucky Senator Rand Paul asked whether the White House was retaliating against states that voted Republican. South Carolina Senator Jim DeMint introduced a bill to keep the NLRB from ordering employers to relocate jobs. It would protect an employer's "freedom" to bombard workers with fear-mongering about the "costs associated with having a unionized workforce."
DeMint declared the "malicious attack" against right-to-work states is "nothing more than a political favor for the unions who are supporting President Obama's re-election campaign."
UNION NEED NOT APPLY?
Donna Dewitt, president of the South Carolina AFL-CIO, is used to her state's extremist politicians and employers. "They are so accustomed to being able to do whatever they want to," she said. "They're not used to abiding by the law when it comes to unions."
Boeing's plant is scheduled to open this summer. Workers are now in training at a local technical school. Dewitt said she had to contact the school on behalf of a man who was told if he was interested in a union he need not apply.
Dewitt bemoaned how Boeing had "created a pool of hate between workers in Washington and workers in South Carolina," enabled by social media. She accused the Boeing administration of stirring up trouble among workers on the ground in both Charleston and Washington.
Governor Haley was already in hot water for announcing she would try to keep unions out of the Boeing plant. She appointed an attorney from a "union avoidance" law firm to head the state's labor department, specifically to help with the Boeing fight.
The state AFL-CIO and the Machinists sued, saying officers of the state can't announce an intention to block workers from exercising their constitutional and labor rights. By tasking the state labor chief to fight union organizing, "Governor Haley is requesting a state official to violate the very law she is charged with enforcing," said Bob Martinez of the Machinists. The unions asked a federal court to order state officials to stay neutral and stop threatening the rights of workers to associate and organize.
They have updated their suit, adding Haley's recent union-bashing statements. The suit will be heard June 15 in Charleston.
LEGAL FIGHT AHEAD
Union leaders in Washington state cheered the NLRB ruling, which told Boeing to move its work back to the Puget Sound. A legal fight, of course, is coming. The case will be heard before an administrative judge in Seattle June 14.
"It'll obviously be a long, drawn-out appeal process," said Joel Funfar, a Boeing engineer and council chair for the Engineers union (SPEEA). "But it's a good message to corporate America that they need to obey labor law."
The Machinists' Kelliher said the union wants Boeing to stop threatening workers that they'll lose their work if they stand up for themselves.
"If Boeing is allowed to break the law, other companies will adopt its tactic, so this is a victory for all workers," she said.
---
Jenny Brown and Mischa Gaus contributed to this story.