After Bankruptcy and Concessions at Telecom Firm, Communications Workers Push to Prevent a Repeat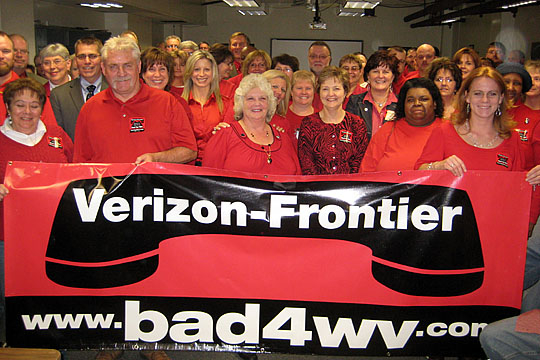 What happens when a guppy swallows a whale? In the world of phone service and internet providers, it's meant service problems for customers, then bankruptcy for the company—which spells concessions for workers.
That's the experience of the Communications Workers, so the union is working to prevent another disaster caused by giant Verizon's desire to shed its less profitable rural operations. Like before, Verizon is trying to sell to a small regional firm that would take on billions in debt.
"People understand that the sale is going to lead to quality of service issues, because it's an unreal expense for a smaller company," said Robin Young, a 30-year Verizon worker in West Virginia and recording secretary for CWA Local 2001.
The buyer, Frontier, has said it will manage its debt by trimming $500 million in costs, including by reducing staff. Young asks how the company can honor its pledges to increase high-speed internet availability while hacking away at its workforce. Frontier would have its hands full just maintaining West Virginia's deteriorated infrastructure, she says, a consequence of Verizon's disinvestment in rural areas.
POOR TRACK RECORD
In 2008 Verizon, which operates 40 million landlines in 24 states, sold 1.5 million lines in Vermont, New Hampshire, and Massachusetts to a small firm called FairPoint. Verizon took advantage of a little-known loophole to make the $2.35 billion sale tax-free. CWA and the Electrical Workers (IBEW) fought the deal vigorously, but only one Vermont regulator voted against.
The switchover from Verizon's operations systems to FairPoint's failed badly, leading to outages and service delays. As complaints piled up and economic woes flooded the region, customers fled.
As the unions predicted, in late October FairPoint went bankrupt—and now its creditors demanded that 3,500 CWA and IBEW members take $90 million in concessions over three years.
The unions deferred a wage increase and set up a joint committee with managers to find "operational savings." Don Trementozzi, CWA Local 1400 president, said the unions would push the company to dump its error-prone order-fulfillment system and seek to trim expensive contractors.
"They're paying millions of dollars for consultants to come on the property to tell them what's wrong with the system when the people they employ every day, who have been around for a long time, could have told them that for free," Trementozzi said.
A similar meltdown scenario played out in Hawaii in 2008 when Verizon sold lines there to Hawaiian Telcom, which quickly sank into bankruptcy and is still struggling to emerge.
Verizon is trying to repeat its performance by disposing of telecom infrastructure in mostly rural areas of 14 states. If regulators agree, the operations would be purchased for $8.6 billion by Frontier, another small regional player set to suddenly assume a giant increase in its service footprint.
The largest concentration of service for sale is in West Virginia—which would also be the only state where all Verizon service would switch to Frontier. By choosing a smaller company to sell to, Verizon is trying to sneak in under the same rule it used at FairPoint to avoid paying taxes on its profits from the sale.
BUCK STOPS IN WEST VIRGINIA
Verizon workers in West Virginia, members of CWA Locals 2001 and 2007, have been pushing hard since summer for state regulators to reject the sale. They've flooded the state Capitol with members on lobby days, secured letters opposing the sale from a half-dozen county governments and about 45 lawmakers, and brought forward firefighters and police officials concerned that a faulty switchover would leave residents without 911 service—as happened in Vermont during FairPoint's takeover.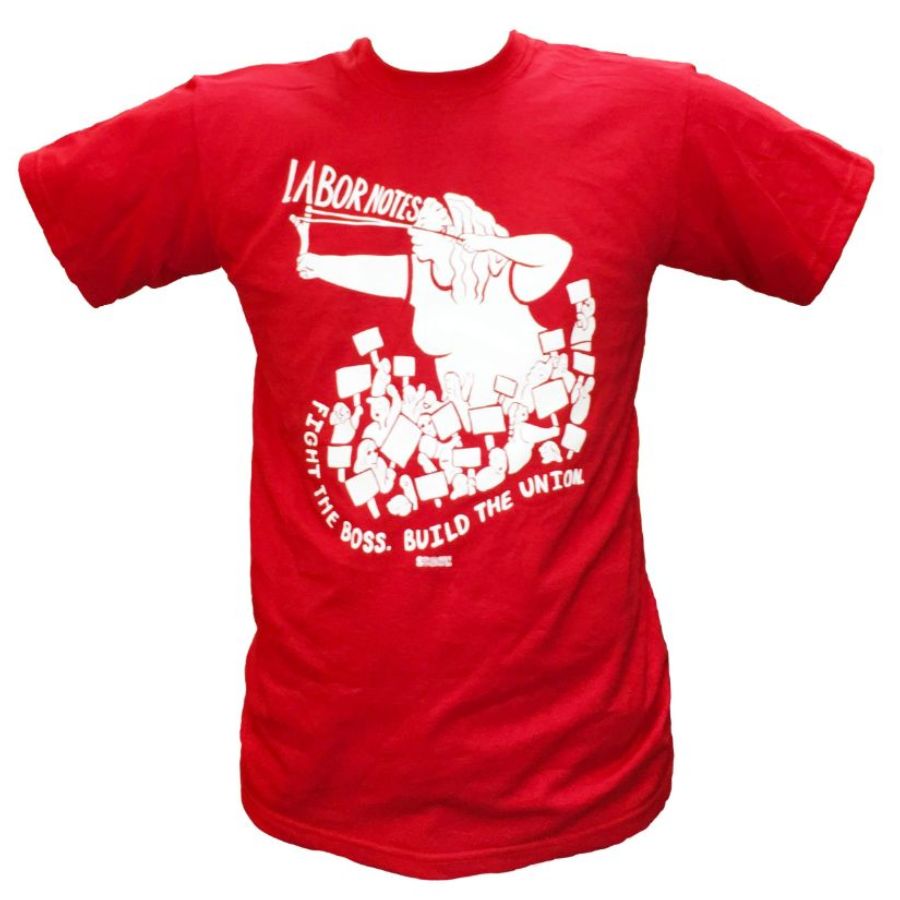 "I've been around a long time, and no new system ever works at first—and that's with Verizon, the stronger company," Young said. "With Frontier, it would keep not working."
Hearings on the sale opened in January.
"The union has elevated the issue from an obscure regulatory issue to a major political decision for the governor and state regulators," said Rand Wilson, an AFL-CIO strategist working on the campaign.
CWA has questioned how Frontier will be any more successful swallowing billions in debt than FairPoint was, pointing out that Frontier, citing the recession, placed workers in Minnesota, Iowa, and elsewhere on 12 furlough days in 2009.
Union officials have proposed that Verizon be handed federal subsidies to stay in West Virginia and build a broadband infrastructure. Other ideas include leveling competition in the state by regulating companies like Comcast that also offer bundled phone, internet, and television service but operate without oversight on signal quality, repair record, or the prices it charges.
Telecommunications analyst Christopher Mitchell said West Virginia could follow the example of Chattanooga, Tennessee or Burlington, Vermont, which built citywide broadband networks themselves instead of pleading with private companies to do it.
CONCESSIONS, JUST BECAUSE
West Virginia's CWA members have much to fear from a potential Frontier bankruptcy, say union leaders now dealing with FairPoint's fallout.
Keri Evinson, CWA Local 1400 vice president in New Hampshire, said FairPoint's creditors on Wall Street know that $90 million in union concessions can't save the company, which took on $2.5 billion in debt to buy the New England operations.
"They're trying to take as much as they can, just because they can," she said. "These are the same people who created the problem through their high-risk loans, not just at FairPoint but throughout the economy. We've already given them the $90 million several times over in the (bank) bailout."
Instead of putting the heat on the bankers who demanded the concessions, the local took the cautious route, signing a deal with FairPoint and its creditors on February 2 that says bankers won't seek a type of bankruptcy proceeding that allows a judge to rip up union contracts.
Trementozzi said that concessions "saved the sacred cows," including the health plan. The union got the company to credit it for things it was already doing, like consolidating health plans and switching to a less-expensive 401(k) provider.
"The union wages and working conditions are nothing compared to the $2.5 billion in debt they incurred," Trementozzi said. "Even if we worked for nothing and had no benefits we couldn't save this company, unless they fixed their debt and their systems up to the point where they could compete against the cable companies. That's what's killing this company—the debt and all the chaos."