Pensions in Peril, Quebec Firefighters to Boycott Montreal Police and Fire Games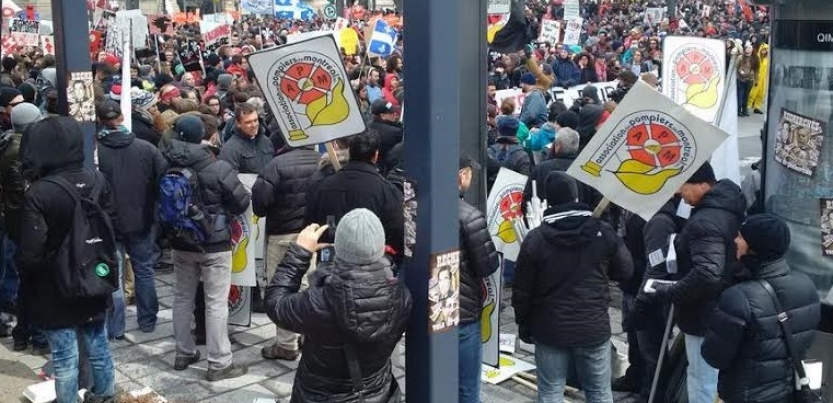 Montreal's municipal firefighters are trying a new tactic to save their pensions. They're boycotting an international sporting event in their own city that's expected to draw police and firefighters from 70 different countries.
Eight thousand firefighters and their local unions from throughout the province of Quebec have confirmed that they'll be boycotting the 2017 Montreal World Police and Fire Games.
It's the latest tack in their battle with the City of Montreal and Quebec's provincial government over Bill 15, a controversial new law passed by the Quebec National Assembly. It requires municipal employees to pay half the cost of their pension plans, while forbidding that those costs exceed 18 per cent of the municipal payroll. It also allows municipalities to freeze cost-of-living increases in pension payments to retirees.
Securing the 2017 Games—expected to bring some 10,000 participants, along with their families, event organizers, and tourists, to Quebec's largest city—was seen as a coup for Mayor Denis Coderre, who has described the event as "a priceless legacy" that will help "assert Montreal's status as an international metropolis" while "generating major economic spin-offs."
A Games minus any Montreal firefighters would be a major embarrassment to Coderre and to the province's Liberal government, which implemented the contentious bill.
THE 2017 GAMES: "ADDING INSULT TO INJURY"
"Inviting firefighters and police officers from around the world to come to Montreal and profiting economically from their presence while robbing their own is an insult to the very brotherhood and family we belong to," says Montreal Firefighters Association president Ronald Martin.
"Montreal firefighters actively lobbied to have the games and participated in its organization. The decision [to boycott] was not taken lightly, but firefighters and police officers have to send a clear message to the municipal administration—respect goes both ways."
The long history of animosity between these unions and the municipal government drew significant media attention in August 2014, when firefighters staged a protest against the pension plan reform at the Montreal city hall. Workers stormed into a council meeting chanting, blowing horns and tossing papers in the air. Six firefighters were fired shortly after for having participated in the protest. Martin and 53 other municipal employees were suspended without pay for periods ranging from one to six months.
The latest salvo against the cuts began in January, a month after Bill 15 was passed, when a coalition of 79 Quebec municipal unions launched legal challenges. They've filed a dozen motions in Quebec Superior Court seeking to have the new law struck down on the grounds that it violates the Canadian Charter of Rights and Freedoms and the Quebec Charter of Human Rights and Freedoms.

Best-Selling Book
Secrets of a successful organizer
A step-by-step guide to building power on the job. Buy Now. »
"We're prepared to take the case all the way to the Supreme Court," stated coalition spokesperson Marc Ranger.
One result of the new law, Ranger says, is that there's no point pursuing further negotiations with the government.
"Bill 15 has removed unionized municipal employees' right to negotiate their working conditions, because the law dictates the end result and removes the possibility of give-and-take through bargaining," he says.
"And because this legislation is retroactive, it also means the union's past concessions in exchange for the terms of their pension plans were for nothing."
NEGOTIATIONS FUTILE
As Montreal's firefighters are quick to point out, agreements on their pension plans were negotiated in good faith as recently as 2012.
For the unions, one of the main sticking points is the law's requirement that municipal workers and their employers evenly share the cost of any accumulated deficits in the plans. The unions see this as particularly unfair, given that their pension funds were significantly diminished during the 2008 financial crisis—arguably as the result of the government's poor investment decisions, not anything workers did. These changes now make Montreal firefighters accountable for a total of $22 million dollars in past deficits.
The law also negates any benefits for unions in going to arbitration to try and settle the pension issue. "Under the new law, arbitrators must render decisions that respect the requirements of the law," says Martin, "meaning an arbitrator can only decide what must be cut, but the end result of the value of those cuts is already dictated in the law, essentially rendering arbitration useless."
According to the Montreal Firefighters' association, over a career these mandated changes will cost the average firefighter $225,000.
Chris Barry is a freelance writer and journalist based in Montreal. See more of his writings at http://looselips.ca.