Feb 1 /
Here's how a transparent contract campaign is breathing new life into the Concord Teachers Association. "We're seeing greater participation in the union than ever before."
»
Jan 28 /
We're told it's every worker for themself in the new "gig economy." But these Uber, Lyft, and taxi drivers banded together to pursue an old-fashioned goal: collective bargaining.
»
Jan 27 /
In a brand new industry, this union is starting off on the right foot. Bikeshare mechanics, drivers, and dispatchers have already gotten some practice confronting managers on the job.
»
Jan 21 /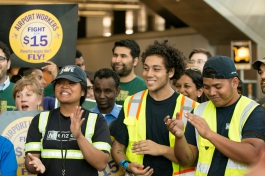 Dec 15 /