Rite Aid Warehouse Workers Win Contract after National Push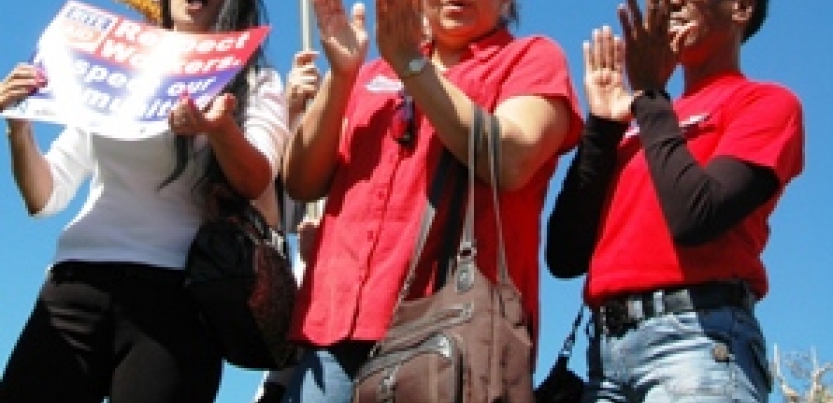 If winning a union is half the battle, the other half is securing a first contract.
A tired but happy union negotiating team at Rite Aid's huge Southwest Distribution Center warehouse emerged with a tentative agreement May 1, following three years of talks. They unanimously recommended the proposal to their 500 co-workers, who will vote May 12.
"It's a big victory for the labor movement in California—one of the biggest pure private sector wins in a long time," said Peter Olney of the Longshore and Warehouse Union (ILWU).
Chico Rubio, a member of the bargaining team, credited "tremendous outside support," while the AFL-CIO's Rand Wilson cited unity inside the warehouse. "Everything flows from the determination and unity of those workers to win," Wilson said. "That's what inspired people across the country to stand up and support them."
The campaign spread to other unions and other states, and included dockworkers in L.A., union Rite Aid clerks in Ohio, student anti-sweatshop campaigners in D.C, and Jobs with Justice chapters all over the country.
Cross-Union Unity
Rite Aid stores in more than 40 cities saw several national days of action over the course of three years, involving community and labor groups, United Students Against Sweatshops, and other unions representing Rite Aid workers, in particular the Food and Commercial Workers (UFCW).
"This victory really shows the importance of building solidarity among all the union organizations within a company regardless of their initials," said Wilson, who coordinates an ongoing cross-union Rite Aid campaign for the AFL-CIO.
Five unions represent workers at Rite Aid, accounting for about 30 percent of the company's workforce.
The company has been in financial hot water since it borrowed deeply to acquire two other drugstore chains in 2006. The merger was disastrous and management has been attacking its unions and jacking up health insurance contributions, trying to herd workers into an expensive company-run plan.
Rite Aid put 400 Teamsters out of work January 1 when it closed a warehouse in Rome, New York, shifting the work to a non-union shop near Syracuse.
But only the workers are getting scalded—the CEO pulled in $4.5 million last year.
Ohio workers in six stores went on strike in March as negotiations dragged on at 25 Cleveland-area drugstores. Health care is the big issue. Store managers used intimidation to extract promises from workers that they would vote for a concessionary contract. Those workers are still walking the line, and contracts are expiring at other Midwest stores.
Fast, Hot, and Dangerous

Best-Selling Book
Secrets of a successful organizer
A step-by-step guide to building power on the job. Buy Now. »
The new California warehouse contract puts the brakes on speed-up, a serious concern for the workforce. Armed with second-by-second reports from electronic monitoring, Rite Aid management pushes workers to speed through their tasks, creating stress and injuries. "If you don't make rate, you incur discipline and you get fired," Olney said.
The contract provides that the union can bring in its own industrial engineer to do time studies. Any changes will be negotiated. If no agreement can be reached, the issue will go before an arbitrator picked by both parties.
Heat is often stifling in the warehouse, which is located in the high-desert town of Lancaster. The new contract increases water breaks as the temperature rises. And workers can go home if it hits 100 degrees inside.
Workers have hardly been waiting for a contract to do shop-floor enforcement on safety issues. When a box of liquor fell on a worker from three levels up, resulting in a nasty head wound, 300 signed a petition to get the liquor down to ground level and a group of workers marched on the plant manager, securing the change.
New-Model Boycott
What won the day? "Perseverance, national networking, and mobilizations," Olney said. But the final straw was a "pinpoint boycott" in San Pedro near the Port of Los Angeles, he said.
Longshore organizers took a tip from the strikers in Ohio, who are making it a priority to get customers to move their prescriptions from the struck stores to nearby union shops.
The ILWU targeted two Rite Aid stores where many ILWU members hold prescriptions. Hundreds "stripped their scripts," moving them to neighboring union pharmacies.
This gave the company pause, Olney said: "They realized we could move that model up and down the West Coast where ILWU has considerable density."
Olney expects the victory will have larger repercussions. The Teamsters recently won a vote to represent 700 workers at a CVS warehouse near Modesto, and they're now bargaining their first contract. Longshore organizers expect to extend solidarity there.
Walgreens and CVS are the biggest U.S. drugstore chains, with Rite Aid in third place.