Buoyed by Local Solidarity, Apple Factory Strikers Seek National Support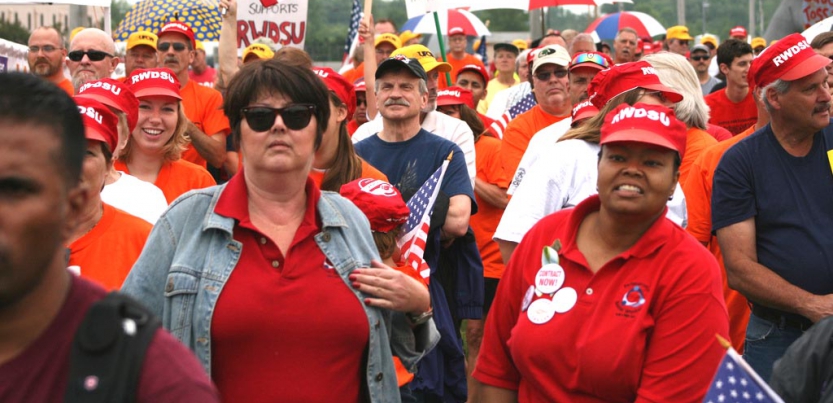 As their strike pushes into its third month, the workers who make Mott's-brand apple sauce in upstate New York have rallied local labor behind them, and taken their show on the road.
The 300 workers, members of Retail, Wholesale, and Department Store Union (RWDSU) Local 220, have been on strike at the plant outside Rochester, New York, since May 23, after the company attempted to impose its final offer, which would slash wages and benefits.
The RWDSU says the strike has effectively strangled production at the plant, as scabs and supervisors have been unable to meet quality standards or production targets. Local 220 president Mike LeBerth estimates the company is operating at 18 percent of normal capacity. "There's lots of bad product," LeBerth said, adding he recently watched scabs empty nine full pallets into the dumpster.
This has forced the company to move work elsewhere, including co-packing with their competitors. The union has followed the work, most recently picketing National Fruit's plant in Winchester, Virginia, and Bowman Apple Products' nearby plant in Mt. Jackson.
"We're there to make sure everybody—including the shareholders— knows that the company is lying," LeBerth said. "Are we getting our product or a competitor's product with our label stamped on it?"
Mott's workers have also set up informational picket lines at a bottling plant in Northlake, Illinois, owned by Mott's corporate parent Dr. Pepper-Snapple, after they found out that the company had been recruiting scabs from that facility. They've leafleted the company's Pennsylvania and Illinois plants to raise awareness with other workers at Dr. Pepper-Snapple, too.
In addition, more than 50 locals of the United Food and Commercial Workers (UFCW)—the RWDSU's parent union—have leafleted grocery stores to raise consumer awareness about the strike, and strikers continually have a presence at Mott's-sponsored events across the country.
LOCAL SOLIDARITY BUILDING
Dr. Pepper-Snapple pulled down $183 million in profits in the last three months—a 15 percent boost from this time last year. But that's not enough for the Texas-based beverage giant.
The company's last proposal included wage cuts of $1.50 an hour, higher employee contributions for the health care plan, elimination of the traditional pension, and a 20 percent cut in the company's 401(k) contributions.
Jim Bertolone, president of Postal Workers (APWU) Local 215 and head of the Rochester Central Labor Council, said the company's ruthless bottom line-approach has united the local labor movement and provoked a backlash in the community.
"If a corporation that made $550 million last year can use the recession and competitiveness to justify this race to the bottom, then everybody's at risk," he said.
Since the strike began, several locals, such as Workers United members from the nearby Xerox plant, have been daily fixtures on the picket line. In June the local labor council held its monthly meeting in strike headquarters, voting to put its staff to work full-time for the strike. Other big locals—including the teachers and public employees—have organized special delegations to the picket line, and on June 26 close to a thousand people from across the state came to town for a rally in support of the strikers.
"There isn't a union around us within a hundred miles that hasn't shown their support, walked the picket line, or raised money for us," LeBerth said.

New Book
Secrets of a successful organizer
A step-by-step guide to building power on the job. Buy Now. »
Meanwhile, the company has been running full-page ads in the local paper touting its record as a good corporate citizen while playing hardball with local merchants.
LeBerth chuckled as he recounted how Mott's management gave an ultimatum to a local pizza parlor—stop delivering to the strikers or else. "They will use their authority, money, and power to hurt anyone who showed us support," he said.
NEW OWNER, NEW RULES
According to workers in the plant, the trouble started when Dr. Pepper-Snapple took over Mott's in 2008.
"Before Dr. Pepper-Snapple, we used to have holiday parties and summer family picnics," LeBerth said. "And if we made a lot of money that year we'd get a percentage of that as a bonus. With the new owners, all that was gone in one fell swoop."
Cutting wages became a top priority for the company. "They told us we're just commodities," LeBerth noted. "According to them we cost too much and they're going to make adjustments."
The company also pushed to eliminate various on-the-job protections, like a clause that guarantees workers transferred to lower paying jobs inside the plant cannot have their wages cut for the first month in the new position.
"They made it clear what they were supposed to do—provide more profits for their shareholders," he said.
Last year Dr. Pepper-Snapple reported more than $500 million in profits, and CEO Larry Young pulled down more than $6 million in compensation.
The strike's implications for workers in the rest of the region are clear.
"This is a line in the sand for what's left of good manufacturing jobs in western New York," said Bruce Popper, vice president of 1199 SEIU and the Rochester Central Labor Council. "We've been losing nationally and locally to globalization, but you can't move apples to China or Mexico. These workers are saying, this is where we live. We're taking a stand here."
LeBerth agreed, saying the company backed itself into a corner because it thought the union was weak and wouldn't fight. Now he hopes their fight will spread.
"Other unions need to do the same thing we're doing," he said. "They need to stand up and say, 'if they can do it, we can do it, too.'"