Not Quite Quiet on the Waterfront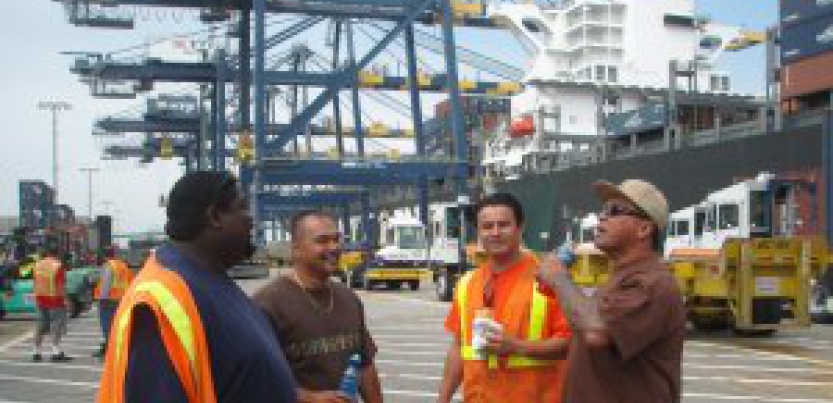 Longshore workers will consider a contract offer in mid-August, signaling the end of two weeks of job actions that slowed work at some West Coast ports. This year's talks occurred as both dockers and port bosses worried about the economic downturn.
Both sides agreed not to release details of the contract, which covers 26,000 members of the International Longshore and Warehouse Union. The dock workers will review the proposal August 18 when about 100 delegates elected to the Longshore Division Caucus from each local decide whether to recommend the contract.
Until then, dockers at 29 ports will work under the old contract, which expired July 1. The union did not agree to extend the contract day-by-day once it expired, but had told members to work as usual.
The deal ends slowdowns that started July 14 after frustrated longshore workers in Southern California began using group coffee breaks to add some pep to talks with the dock bosses, the Pacific Maritime Association.
West Coast longshore workers generally stagger their coffee breaks so that trade isn't interrupted. But "unit" breaks disrupted work for two weeks on otherwise well-oiled docks.
"The coffee breaks expressed the growing frustration that members felt up and down the coast," said Craig Merrilees, ILWU spokesman.
Soon after the group breaks began, workers ramped up their job action, driving tractors slowly and delaying placing containers on trucks.
Longshore members in Tacoma, Washington, staged a four-hour picket on July 11, after a PMA official walked out of local-level negotiations. Work resumed after management agreed to continue talks, but not before a ship had left without 82 scheduled containers.
ECHOES OF LOCKOUT
The talks at first had seemed unusually courteous for the aggressive ILWU and the antagonistic PMA. But the caffeinated revolt brought reminders of the union's last negotiation six years ago, when the PMA locked out longshore workers for 10 days after a series of slowdowns.
That lockout ended only when the Bush government issued a rarely used back-to-work order, Taft-Hartley, citing "national security"—the military was ramping up Iraq war preparations at the time.
Dozens of container ships were unable to leave the docks and many more could not enter. After the contract was signed, it took longshore workers weeks to clear a backlog of at least 200 ships.
Bargaining in 2002 was heated from the start, with the PMA's lead negotiator seeming intent on forcing an impasse. Tensions were heightened by the involvement of the West Coast Waterfront Coalition, an alliance of major retailers dependent on imports, such as Target, Home Depot, and Gap.
The coalition tried to stir up public sentiment against the dockers, endlessly repeating that the lockout would cost $1 billion a day. (The PMA now says the 10-day lockout cost $1.5 billion.)
The 2002 contract was widely seen as a victory for the ILWU. Labor-saving technologies, some yet to be implemented, were accepted, at a potential cost of 400 to 600 jobs, but the PMA agreed that any new work created by technology would be union.
In exchange, workers demanded a share of the increased profits generated by higher productivity. Pensions rose by almost 60 percent and wages by almost 11 percent.
DOWNTURN FEEDS WORRY

New Book
Secrets of a successful organizer
A step-by-step guide to building power on the job. Buy Now. »
This year talks occurred as both sides worried about the economic downturn. Trade volumes had boomed since 2002, sparking expansion plans at most ports and creating jobs.
But recently, "there has been a fall-off in container volume up and down the coast of roughly 5 percent compared to this time last year," Merrilees said.
Even though the contract had expired, there had been no reports of job actions until mid-July.
Working without a contract made the companies nervous, especially in light of the historic strike on May 1, when workers shut the ports by taking a day off to protest the war in Iraq. ILWU members have a rich tradition of exerting their power to stick it to the boss over both work-related and social justice issues.
TABLE TALK
According to an ILWU member, a sticking point for the PMA was the power longshore workers wield through their strong grievance system. "The grievance process as it stands provides rights to both sides, making it thorough and fair. The PMA wants to restrict our rights by short-circuiting the process," he said.
He said old, unresolved jurisdictional issues were another concern for the union.
Pensions and pay were other major considerations. "The ILWU has a longstanding tradition of trying to help pensioners at contract talks even though retiree pensions are not a mandatory subject of bargaining," Merrilees said. The ILWU won better pensions for already retired members in the 2002 contract.
The ILWU also sought stronger health and safety rights. For years, speed has been a factor in accidents and fatalities, yet companies have resisted installing speedometers in vehicles that operate on the docks.
The union is sensitive to this issue because 12 workers died on the job during the last contract, making the fatality rate for West Coast dockers now higher than that of police and firefighters.
"Reginald Ross, from Local 13 in San Francisco, was killed while he was lashing a container on a ship," said one ILWU member. "When our bargaining team wanted a new safety rule that would have avoided that death, the PMA said Reginald's death was his own fault."
The new six-year contract is likely to include wage increases, continuity in the union's benefits package, and some productivity-boosting measures—but is "not expected to include any surprises," said the Journal of Commerce, a trade publication. Both sides had agreed to a media blackout during talks.
No date has been set for a ratification vote, and won't be before the caucus meets, Merrilees said.
"Those delegates need time to evaluate the agreement on its merits, without pressure," he said.