No Patience Left for InkStop's Wage Theft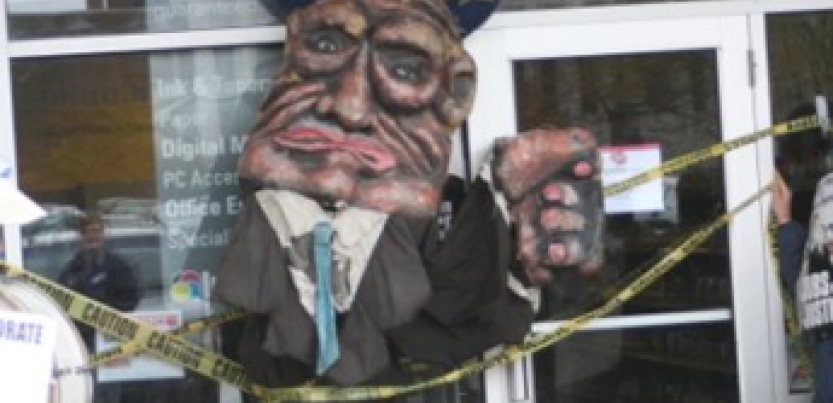 InkStop, a chain of ink cartridge and small electronics stores, closed its 152 locations nationwide on October 1—without warning. The company had set out to open in communities where big box office supply stores did not exist. But what was supposed to be the "Sleeping Beauty" business story of the decade has turned into something more like "Psycho."
InkStop's owner Dirk Kettlewell had predicted profits by the end of this year thanks to over $80 million from private investors. Now he and the company's board have shut it all down, bilking those investors and leaving 550 employees without pay for their last three weeks of work.
This was all the information Cleveland Jobs with Justice needed to hit the streets. Our Mobilization Team rallied 50 activists in front of the closed Lakewood, Ohio store, including a member of Lakewood city council, local clergy, and lawyers pursuing a class action wage theft suit against InkStop.
We called on Dirk Kettlewell to do the right thing and pay his employees, and had help from the lively Bread and Puppet Theater, a social action performance group from Vermont who, fortunately for us, happened to be in town. We marched with them to the front of the store to create the "scene of the corporate crime," putting a huge caution tape "X" on the store window, wrapping the tape around a big puppet called Uncle Fat Cat, and drawing a chalk outline with the number of jobs on the sidewalk in front of the store.
We also gathered letters from our activists demanding that the employees be paid their back wages. We will be sending these letters to Kettlewell and the board.
The day before the company went kaput, workers left stores with no indication of what they were about to lose. The devastating news was delivered by fax and email to workers: No more jobs and no pay. The company asked for patience "during this trying time."
Other than two letters outlining what the employees would not be getting, Kettlewell his business partner and wife Dawn Callahan and the Board have been silent. They have not communicated in any other way with the employees. No apologies. No explanations.
Though managers had keys to the stores, many of the security codes were changed under the cover of darkness. Employees could not get back in to the stores to collect personal belongings, which remain locked away in the closed stores—some of which have been chained by landlords who have not received rent for at least a couple of months. And the employees are supposed to be patient.

Best-Selling Book
Secrets of a successful organizer
A step-by-step guide to building power on the job. Buy Now. »
Then a second blow came: the letter informed workers that their health care insurance for their last month of employment had not been paid. To add insult to injury, they would be ineligible for continuing coverage under COBRA. If the company had at least kept the health care premiums current, employees would have been able to receive continuing health coverage at the newly reduced rate.
Wages, rent and health care have not been paid, but Dirk and Dawn are still living in a house worth $850,000 in an exclusive country club community and driving new cars, while the employees' credit is being wrecked and they are counting the days until their first unemployment check reaches their bank accounts.
Don't forget, be patient now.
Now we thought this story was bad enough, but the plot thickens…
The third blow was delivered the morning before the protest. Another story about InkStop appeared, tucked in the business section of our local newspaper. An investor was suing Kettlewell and the board for fraudulently withholding financial information when the investor gave them $250,000—right before the company's collapse. Where did the $250,000 go Mr. Kettlewell? We know he did not pay the rent. He did not pay the health insurance for his employees. And he did not make payroll. So what happened to that money? It certainly feels as if a crime has been committed but will charges ever be filed? We probably need to be patient.
The employees have filed a class action lawsuit, but that will take years to resolve and by then, who knows where Mr. Dirk Kettlewell and his accomplices will be? Justice certainly needs to be served in this case, and hopefully there will come a time when someone will be saying, "Be patient, Mr. Kettlewell, three to five years will go by before you know it!"
Debbie Kline is coordinator of Cleveland Jobs with Justice, a coalition of 64 labor, faith, and community organizations working together to promote workers' rights and social justice in the Cleveland area.