Airport Screeners Ready to Vote This Fall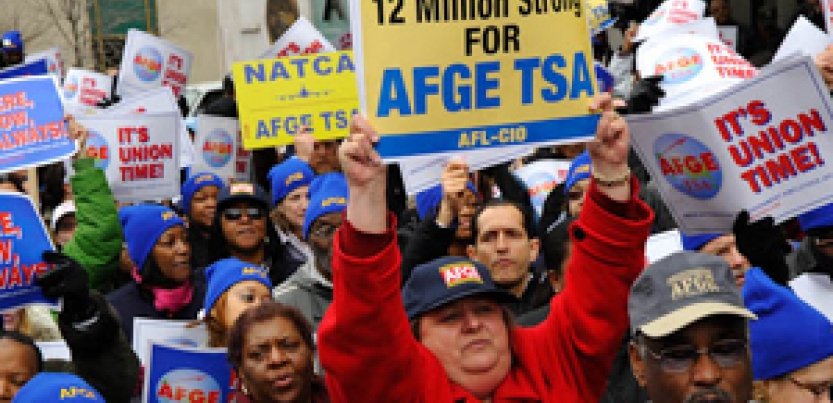 Ask airport security workers who runs the Transportation Security Administration (TSA), and the "good old boys' club" comes up a lot.
As in many non-union workplaces, the trouble comes from the top. Checkpoint staff and baggage security personnel at the nation's airports say they face a domineering, military-driven management.
Unlike other federal employees, TSA staff were not given collective bargaining rights by Congress. The agency was formed eight years ago as rubble was cleared away from the sites of the 9/11 terrorist attacks.
Union organizers say management is populated by former military officers and staffers from George W. Bush's administration who bring cronies into high-paying positions in the agency, regardless of experience. Few checks and balances exist, leaving employees vulnerable to power plays and dirty games like sexual advances that have been ferreted out of most union workplaces.
The TSA received a dismal rank of 220 out of 224 in a "best places to work" survey released by American University and the Partnership for Public Service in September. A union could help things go from worst to better.
The Federation of Government Employees (AFGE) and the Treasury Employees Union (NTEU) are jockeying to be that union and represent TSA's 40,000 screeners.
The unions hope TSA Administrator John Pistole will soon grant collective bargaining rights so they can square off in an election. At the same time, AFGE is attempting to gain exclusive representation rights in an administrative procedure, too. Collective bargaining rights could also be granted by Congress, or by President Obama, though neither is likely, given the Democratic leadership's unwillingness to be seen as too friendly to labor.
A CULTURE OF FEAR
Before Charlie Bent came to the TSA, he spent 24 years at Eastern Airlines and 20 years on the executive board of the Machinists union, walking the picket line in the 1989 strike. He was surprised by the fear his new co-workers showed of being disciplined and losing their jobs.
Now he's interim vice president of AFGE Local 912 at the St. Louis, Missouri, airport. It's not the union he's used to. AFGE has worked out a de facto grievance procedure that allows workers to take complaints to management along with a representative. Interim reps like Bent are allowed to attend hearings to witness the proceedings, though management insists they have no power to argue the cases.
The complaints are many. Employees who use their worker's compensation and family medical-leave protections become targets for removal, according to AFGE organizer Terry Meadows. To get back on the job after an injury, a member in Minneapolis was required to pass a physical at higher standards than required for hiring, he says. Older workers and union supporters are often targeted for retesting in a similar manner.
Screeners want to end management's arbitrary power, which takes the form of unsustainable schedules, low bonuses, and uneven standards for performance review. Work schedules favor management's friends and keep screening areas understaffed, as management receives bonuses for holding down costs.
Bonuses are distributed via a pay-for-performance system that screeners say is used unfairly. Screeners report that favorite employees get high scores, while being active in the union almost always means a lower score and smaller bonus.
Bent says the work is stressful, with long hours on your feet in a constant state of high alert. "You know management's watching every step and there's cameras everywhere," he said. Even more, "you're always aware that you don't want anything happening on your watch."
EXPERIMENTAL ORGANIZING
AFGE first filed to represent screeners in 2002, for workers at the Baltimore-Washington airport. The petition was dismissed by the Federal Labor Relations Authority (FLRA), which claimed to have no jurisdiction over TSA.
After that early defeat, AFGE started what organizing director Sharon Pinnock called a "grand experiment"—attempting to organize a massive, multi-site union without recognition from the FLRA. The union put dozens of staffers in the field to hold meetings in airports, appoint interim local officers, and assist workers in fighting discipline and terminations.
It's been a quiet success: AFGE's 11,000 TSA members pay full union dues, $19 a month, which fuel their campaign to win exclusive representation rights and collective bargaining. The campaign is an expensive, long-term investment, Pinnock said, particularly because TSA workers need so much representation.
But rotten workplaces also produce receptive audiences for an organizing union.

New Book
Secrets of a successful organizer
A step-by-step guide to building power on the job. Buy Now. »
"Instead of standing around waiting for the government to say it's OK to organize workers, go out and find some workers to organize!" Pinnock said.
THE RUN-AROUND
Union campaigners were buoyed by Barack Obama's promise during his presidential bid to grant collective bargaining rights at TSA once in office. TSA officers like Roland Thorton, who's affiliated with AFGE in Minneapolis, have been on a rollercoaster since then.
Many screeners thought they'd have collective bargaining rights within months of Obama's election. Active hubs with members on the move will weather the disappointment, Meadows said, but the union's presence could be "difficult to maintain" elsewhere.
"A lot of people that have signed up for the union and pay dues look at it like 'OK, union, do something for me,'" said Thorton. "We're relatively new. They still don't realize that we're the union, and we're only as strong as we stand together."
In 2007, Congress approved collective bargaining rights for the TSA, but the provision was dropped from a larger bill when President Bush threatened a veto. A 2009 House bill would have granted the rights, too, but never came to a vote.
WAITING FOR A DIRECTOR
Throughout last year, the unions waited anxiously for the administration to appoint a new TSA director. Obama's second nominee, Errol Southers, walked away after conservative politicians held up his appointment, calling him too union-friendly.
Conservatives argue, as Bush did, that union rules shackle management and harm its ability to respond to threats (never mind all those police officers, firefighters, and emergency-responders who belong to unions, organizers fume).
The third nominee, John Pistole, formerly the FBI's second-in-command, finally made the cut. Pistole met with both unions separately in August. That month, more than 80 Democrats in the House called on him to grant workers' rights. The agency is now investigating how collective bargaining could impact services.
Workers and organizers feel sure Pistole will answer their call, which would lead to an election between NTEU and AFGE. NTEU President Colleen Kelley said her union is gaining support because of contracts it already has among customs and border protection officers, some in the same airports as the TSA.
It seems that AFGE's long-term non-majority strategy and AFL-CIO sponsorship give it the clear upper hand, though Kelley claims to have 12,000 members who've signed cards showing interest. Pinnock said the Treasury union showed up in 2006 in an attempt to jump the path AFGE blazed.
AFGE is also trying to knock NTEU out by convincing the FLRA to declare it the exclusive representative of TSA screeners—even before a contract is on the horizon.
MAKING NEW FRIENDS
TSA employees are active on another battlefront: keeping their jobs away from contractors cozy with their military-trained bosses.
The TSA has rolled out a program to privatize and subcontract screening work. But the program's shepherds met resistance at the Glacier Park International Airport in Montana, where AFGE has strong support. Once screeners heard of the airport's decision to go private, they began meeting with local and state legislators. They agitated at airport board meetings, and got a more union-friendly member instated.
Screeners argued that running security for profit could lead to cutting corners and that promised savings might not materialize. They won an agreement to put privatization on hold.
FINISH LINE
Both unions are poised to run hard this fall if collective bargaining rights are granted. If Pistole falters under pressure from Republicans, the unions could dust off the legislative strategy and try Congress again.
Either way, the unions are determined this fall will bring big news for the folks handling X-rays and pat-downs.
Screeners "had a sense of pride in the beginning, but through the years they've lost it," Bent said. "They see the same old management tactics. They want a union so bad."